CUP: Victory A Huge Relief For Kahne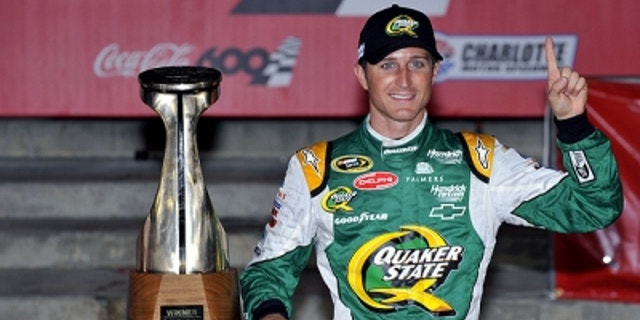 The monkey — or was it an 800-pound gorilla? — is officially off Kasey Kahne's back.
Kahne's dominant victory in Sunday night's Coca-Cola 600 at Charlotte Motor Speedway was Kahne's first since joining Hendrick Motorsports, and it alleviated the pressure the driver had put on himself to perform.
It also justified the faith team owner Rick Hendrick showed when he signed Kahne in mid-2010, knowing he couldn't join the team until this season. The long wait between signing the deal and getting into the car probably increased the pressure Kahne felt at the start of the season.
"Earlier in the year, I definitely felt like you're going somewhere, coming into a spot where you know you have the best of everything, and everybody out there knows that 5 car is as good as any car on the racetrack every single weekend and now I'm driving it," Kahne said during NASCAR's weekly teleconference.
"And I need to make it look like it should look," said Kahne. "So, yeah, I think there's probably been some extra bit of pressure there. But it's just what I do. I like pressure. I like putting it on myself and just being able to perform. That's really all I want to do is perform and work at winning races."
Of course, winning, or at least running up front, does an awful lot to lessen the pressure.
In his first six races of the season, Kahne was snakebitten — getting caught in multiple crashes not of his own making and losing an engine at Martinsville, where he had qualified on the pole. After six races, he was 31st in points with an average finish of 28.500.
In the last six races, though, Kahne has had a stunning reversal of fortune, posting one victory, three top fives, six top 10s and a gaudy average finish of 5.5. He's now 15th in points, just seven points behind Ryan Newman for the final wild card spot in the Chase for the Sprint Cup.
Kahne said he knew the slow start was due to bad racing luck, not a lack of speed in his Hendrick Motorsports Chevrolets, which made the slow start a little easier to cope with.
"We've been solid since the start of the year, as far as speed goes," Kahne said. "And each week we're kind of a top-10 car in practice and in the races we're a top-10 car. And it just took a while to get those finishes. But once we start getting them, I felt really good. I haven't been too nervous or anything. I've just been trying to do the best I can and figure out what I need to go fast throughout the whole race."
Still, there's no question that breaking into the victory column was a huge moment for Kahne, crew chief Kenny Francis and the rest of the No. 5 Hendrick crew.
"To get that first win out of the way, and now I've won a race for Hendrick Motorsports, and we need to figure out how to win more," said Kahne. "So it gives myself confidence and some momentum. I think it really gives our team, our whole team a lot of confidence and momentum, and we feel good about the direction that we're all headed in right now. I think HMS is really strong."
Tom Jensen is the Editor in Chief of SPEED.com, Senior NASCAR Editor at RACER and a contributing Editor for TruckSeries.com. You can follow him online at twitter.com/tomjensen100.