CUP: Veterans Have Top Numbers At Loudon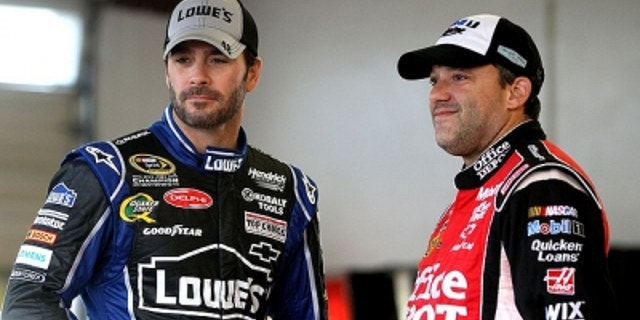 If history means anything, this is catch-up week for several drivers in the Chase for the Sprint Cup.
Sunday's Sylvania 300, Race Two in the Chase, is set for New Hampshire Motor Speedway, a relatively flat, 1.058-mile course that first hosted the Sprint Cup Series in the summer of 1993.
Only one driver in the Chase dozen has raced in all 35 Sprint Cup events at NHMS, and that's Jeff Gordon, the driver who most needs a recharge this week. He rides into Loudon last in Chase points.
Gordon is among three Chase drivers with three wins each at Loudon. Tony Stewart and Jimmie Johnson also have three wins at the track, and they're chasing new point leader Brad Keselowski, who won Sunday's playoff opener at Chicagoland Speedway in impressive fashion.
Speaking of Keselowski, he's the new kid on the block at New Hampshire. He's raced only six times on the track, the only Chase driver with starts in single digits. Like other Chasers Dale Earnhardt Jr., Martin Truex Jr. and Matt Kenseth, he has no Loudon victories.
But what Keselowski does have this week is the mighty mo – momentum from Chicagoland. Crew chief Paul Wolfe said his driver continues to climb the mountain.
"I think it's important to understand that as we continue to give him better race cars, he can give us better feedback, and I think as a team we've continued to grow each and every week," Wolfe said. "The better race cars he's driving, the better job he can do and the better feedback he can give us. If you're driving bad race cars all the time, you don't know what's good and what's bad, and now he's had some good race cars, he can give us great feedback and we can continue to make them better.
"I think that's where over time we still have room to grow, and I think overall he's just – he does a great job on restarts, and like I said, getting on and off pit road is so important these days with how important that clean air is. I've seen a lot of gain there, as well."
Keselowski has a three-point edge over Johnson and an eight-point lead over Stewart entering Sunday's race. Denny Hamlin, Kasey Kahne and Clint Bowyer are tied for fourth, 15 points back.
Opening practice for the Sylvania 300 is scheduled at noon ET Friday. Qualifying is scheduled at 3:30 p.m. Friday.
Practice rounds are scheduled Saturday at 9:15 and 11 a.m., and the race is scheduled at 2 p.m. Sunday.
Mike Hembree is NASCAR Editor for SPEED.com and has been covering motorsports for 30 years. He is a six-time winner of the National Motorsports Press Association Writer of the Year Award.