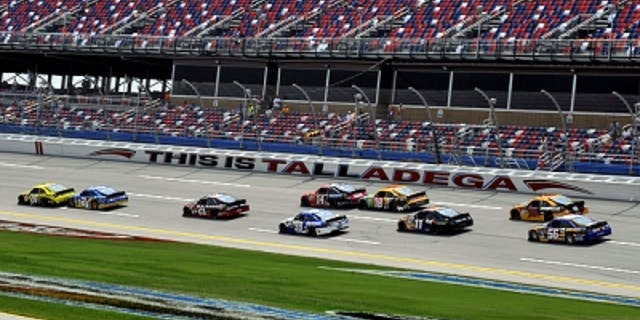 And now for something quite different…
After racing on the short track at Richmond International Raceway and "enjoying" a bumper-banging finish, the Sprint Cup tour returns to the wide open spaces of Talladega Superspeedway this week for the second restrictor-plate race of the season.
The Aaron's 499 is scheduled at 1 p.m. (ET) Sunday at NASCAR's biggest track.
Jimmie Johnson opened the season with a win in the Daytona 500 as the Gen-6 car debuted with 28 lead changes and some risky passing moves.
"I'm certainly very anxious to see [Talladega] because [it's a] bigger, wider race track compared to Daytona," Jeff Gordon said. "In Daytona, I feel like we learned a lot about being very patient and picking and choosing your moments to try to make passes. I certainly tried to make some that didn't work out and cost us a lot of positions."
Gordon led 31 laps at Daytona but eventually finished 20th.
"We saw single file through the middle section of the race, but yet still be extremely exciting in the closing laps," he said. "I think that you are going to see certainly that at the end. The unknown is with this bigger, wider track, are we going to be able to complete those passes that we weren't able to at Daytona. We did see handling be a bigger issue at Daytona when you were around other cars on the longer runs. That doesn't normally seem to be the case at Talladega, so we won't know until we get there, get in practice, start drafting and run our race."
Matt Kenseth led 86 laps at Daytona but failed to finish the race because of engine problems.
Practice for Sunday's race is scheduled at 2 p.m. ET and 3:30 p.m. Friday. Qualifying is at noon Saturday.
Nationwide Series drivers will practice for Saturday's Aaron's 312 at 4 p.m. and 5 p.m. Thursday, with qualifying scheduled for noon Friday.
Gordon has started 40 races at Talladega and has six wins, 15 top fives and 839 laps led – all No. 1 among active drivers. Much of that experience won't relate too closely to Sunday's race, however, because of the arrival at Talladega of the Gen-6 car.
Sunday's race will be the 699th start of Gordon's Sprint Cup career.
Gordon gained a position in points Saturday to 14th. He trails Hendrick Motorsports teammates Johnson (first) and Kasey Kahne and Dale Earnhardt Jr. (tied for third).
Mike Hembree is NASCAR Editor for SPEED.com and has been covering motorsports for 31 years. He is a six-time winner of the National Motorsports Press Association Writer of the Year Award.