CUP: Under The Gun At The Top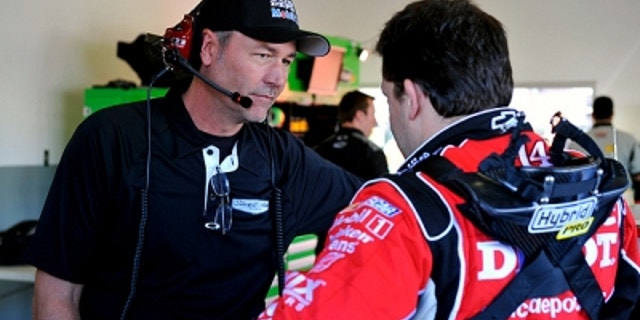 How much pressure is there on crew chiefs at the top level of NASCAR racing?
Consider this: Of the 12 crew chiefs who put their teams in the Chase for the Sprint Cup last season, four are no longer with the drivers they accompanied to the playoffs.
It's a performance business, and reaching the Chase apparently no longer is good enough in some quarters.
And that brings us to Steve Addington.
The veteran South Carolina mechanic perhaps will be under the most pressure of all those crew chiefs in new situations this season. He made the Chase with Kurt Busch and Penske Racing last season, then moved over to Stewart-Haas Racing, where he will be paired with defending series champion Tony Stewart.
Stewart decided midway through the Chase that Darian Grubb, his crew chief last season, wouldn't be returning in 2012. Even after the driver and team responded to reach the championship, Grubb still was shown the door.
So Addington arrives at SHR in a spotlighted situation. He has a proven driver and a proven team, and many will consider him less than successful this season if the Stewart championship is not repeated.
Addington, 47, is used to being in tough positions. After all, he has been a crew chief for Kyle Busch (at Joe Gibbs Racing) and Kurt Busch (at Penske), and he has dealt with difficult situations in each circumstance.
Addington, who started racing as a mechanic for former Nationwide Series driver Jason Keller on Carolinas dirt tracks, has a calm demeanor and seldom cracks even under duress.
He seems to carry cool in his back pocket.
"My passion for the sport is to go and work really hard and use the resources I have to give the driver a good car to go out and win on Sundays," Addington said. "No matter who you work for and deal with, that's your goal.
"I had that same passion up to Homestead (the final race last season) with the 22 car with Kurt. I wanted to go out and win that last race. That's the way it's been with every driver I've worked for."
Addington worked with several current SHR employees at Joe Gibbs Racing and said he has fit in well in the new environment.
"Everybody that I've run into or worked with in the organization, I've worked with them at some point or beside them at some point, [and] they've welcomed me with open arms," Addington said. "They're giving me everything that I need to go racing with them, and that's it. You've got the supporting cast there that's going to be successful.
"This is where I wanted to come – with these racers and with these people. That was my goal after trying to get over here two years ago. The opportunity came up, and it's what I wanted to do."
Can Stewart be better with Addington?
"I don't think we know until we start," Stewart said. "The hard thing is you have to improve through the winter, and all the teams will improve. It is just a matter of if we get five percent better and someone else gets seven percent better, is that enough to put them ahead of us.
"I don't think you really know until you get two or three races into the year to exactly see what the results are from the winter and the hard work."
Mike Hembree is NASCAR Editor for SPEED.com and has been covering motorsports for 30 years. He is a six-time winner of the National Motorsports Press Association Writer of the Year Award.