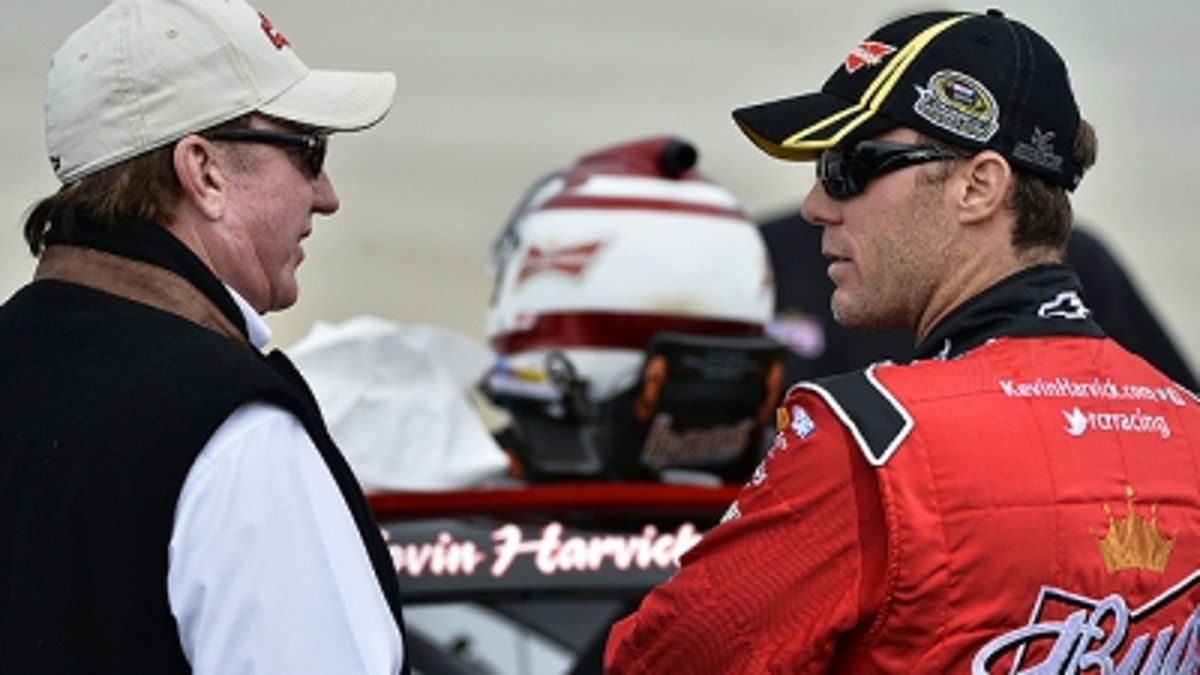 Ever since the days that Dale Earnhardt was the most feared driver in NASCAR, Richard Childress Racing has been one of the elite teams in the Sprint Cup Series.
But in 2012, RCR took a serious step backwards while at the same time beginning to look towards the future.
In 2010-11, RCR won 11 Cup races, and posted 48 top-five and 107 top-10 finishes. But in 2012, the team had just one race victory, eight top fives and 29 top 10s, way off the pace from the team's normal performance levels.
And the one time the team did win, it was shrouded in controversy: Just days before Kevin Harvick won the penultimate race of the season at Phoenix International Raceway, it was leaked that Harvick will move to Stewart-Haas Racing in 2014, a fact which has not been officially confirmed but is nonetheless a virtual certainty.
Over the years, Childress and Harvick have had an occasionally tempestuous relationship, but after the Phoenix victory, Harvick said both men would make it work next year.
"Regardless of what happens on a business side of things, Richard Childress and myself will always be friends, good or bad, and may disagree to disagree, but we still have a lot of racing left to do and we owe it to our sponsors and our company to go out and do exactly what we did today and be men and do the best we can for everybody," Harvick said after his Phoenix victory.
"You know, everybody has worked hard all year long and did a whole lot, and there's no question about it, we got a little behind on some of this skew and all this stuff that people were doing," added Childress. "It put us behind, and you know, we didn't get the year we wanted, but to come out with a win, it was big, and I couldn't be prouder of this whole team."
Without question, RCR is in the process of rebuilding, with an eye to the day when Childress' grandsons, Austin and Ty Dillon, will be driving full-time in the Cup Series. Austin, the rookie of the year in the NASCAR Nationwide Series, will return there in 2013, as well as race the Daytona 500.
"We got to get in the race first," said Austin of his Daytona 500 debut. "That's the first thing we have to worry about. We'll have some testing in January and make sure we bring a good car and do everything I can as a driver there to get in the race. Once we're in the race, it's going to be fun."
Ty, rookie of the year in the NASCAR Camping World Truck Series, likewise will spend another year there.
"We're really going good as a team," said Ty. " … It really says a lot for the future of RCR, not only just me and Austin as drivers but our teams moving up and getting stronger and stronger in every series."
To help rectify some of its performance issues, in October RCR hired Dr. Eric Warren as its competition director. Warren previously served as technical director at Evernham Motorsports, Michael Waltrip Racing and Richard Petty Motorsports.
Still, RCR's struggles in 2012 were one of the sport's biggest stories, and the team will hope to bounce back next season.
Top Ten Stories of 2012:
No. 10, 'Dinger Busted
No. 9, Silly Season
Tom Jensen is the Editor in Chief of SPEED.com, Senior NASCAR Editor at RACER and a contributing Editor for TruckSeries.com. You can follow him online at twitter.com/tomjensen100.