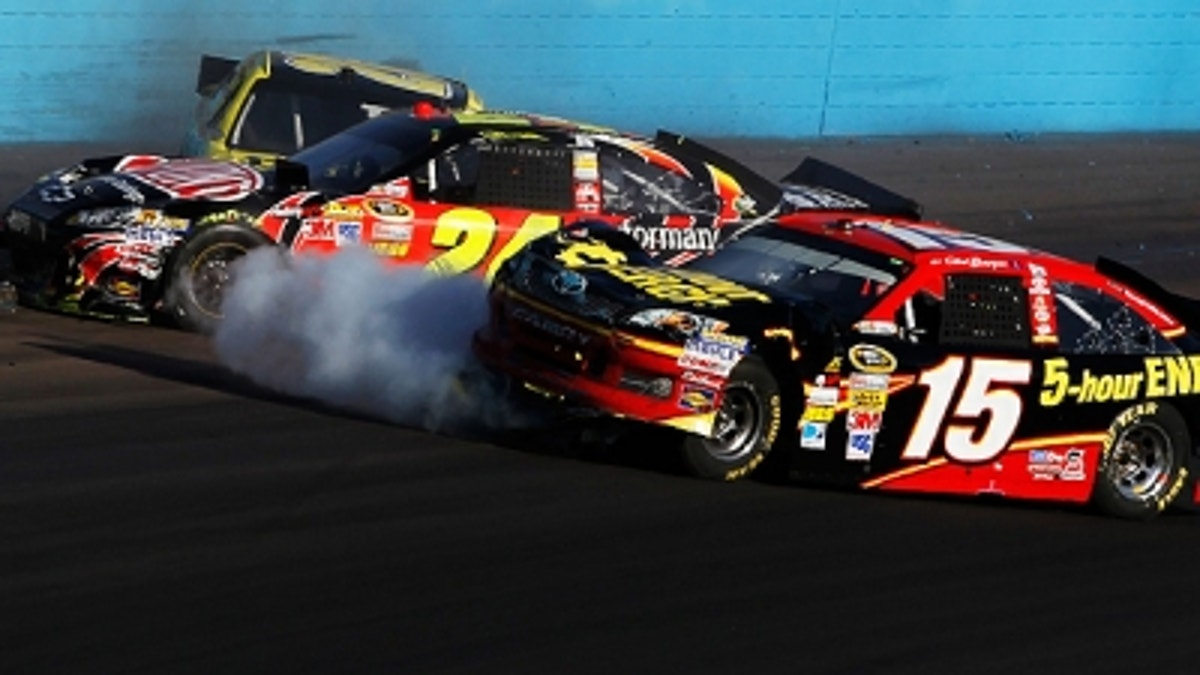 Clint Bowyer and Jeff Gordon are regarded as two of the nicest guys in NASCAR and two guys who have always gotten along. Not anymore.
Two high-profile incidents between the two soured their relationship to the point where by the end of the season, neither man was speaking to the other.
The first happened at Martinsville Speedway in April, where Gordon and Hendrick Motorsports teammate Jimmie Johnson were trying to give car owner Rick Hendrick his 200th victory at the track near where Hendrick's only son, Ricky, brother John and eight others perished in a plane crash in 2004.
Gordon and Johnson led 440 laps of the scheduled 500-lap race, but on Lap 497 David Reutimann inexplicably drove past pit road and stalled on the frontstretch, bringing out a yellow flag just seconds after Gordon had passed Johnson for the lead.
On the subsequent green-white-checkered restart, Johnson was on the outside and Gordon on the inside, both on tires that had about 130 laps on them. Behind Gordon, Clint Bowyer, who was on new rubber, got a shove from Ryan Newman and made a banzai move to go three-wide under Gordon and Johnson. All of a sudden, the Hendrick victory that seemed so certain evaporated as all three leaders wrecked and Newman held off AJ Allmendinger and Dale Earnhardt Jr. on the next and final restart.
Gordon, who led 329 laps, finished the race 14th, two positions behind Johnson, who led 111 laps.
Needless to say, the Hendrick drivers were not happy after the race, especially given that the crowd was loaded with friends and family of Hendrick Motorsports hoping to see the team's 200th victory.
"I was pretty mad at him," Gordon said of Bowyer. "And he said he got hit from behind by the 39 (Newman) and I heard that from my team as well. I didn't get the best restart, so when he showed his nose under there, I thought, 'OK, we'll make it work,' but he came through there with so much speed, there was no way. I had nowhere to go and Jimmie had nowhere to go."
"I really thought we had a chance to get Rick his 200th win today," said Johnson. "It's just unfortunate that this MyLowe's Chevrolet is all beat up and I didn't have a chance to get the trophy."
As it turned out, that was only the preliminary.
At Phoenix in November, Bowyer and Gordon had contact again, with Gordon retaliating by deliberately wrecking Bowyer, in the process ending any hopes Bowyer had of winning the Sprint Cup championship.
That triggered a melee on pit road between the crews of the two drivers, with Bowyer sprinting through the garage to Gordon's hauler, where he was stopped by NASCAR officials.
"It's about the fifth time that he's run us over," Gordon's crew chief, Alan Gustafson said of Bowyer. "After a while, you get frustrated. We work really hard on these cars. He (Gordon) had enough. If you're going to race that way, you shouldn't be upset when you get it back."
For his part, Bowyer said afterwards that the situation "made us look like a bunch of retards."
"All I was doing was riding around biding my time," Bowyer said. "For him to act like that – I barely touched him. Next thing I know he's waiting on me. It's pretty embarrassing for a four-time champion and what I consider one of the best this sport has ever seen. It's just completely ridiculous."
And in a truth-is-stranger-than fiction moment, a week after the Phoenix race, Gordon won the season finale at Homestead-Miami Speedway, with Bowyer finishing second to take second in the points.
"I felt terrible about how I went about it and still regret the way I went about it but you know what, I can't take it back," said Gordon, who won his 87th career Sprint Cup race at Homestead. "What we can do is look forward and race guys as hard and clean as we possibly can and, you know, this is a great way to get some positive things going because this year has been real up and down."
Asked by a reporter if the Phoenix incident went through his mind in the closing laps, Bowyer said it didn't.
"I just really wanted to catch the 24 (Gordon)," said Bowyer. "That was the only 'what if' that went through my mind at the end. Probably went through your mind, too. No, I wouldn't have took us both out."
And then Bowyer paused.
"But just what an unbelievable way to cap — What the hell are we doing what ifs for? It's over," he said. "We could have done what ifs last week. I'm done with what ifs."
Top Ten Stories of 2012:
No. 10, 'Dinger Busted
No. 9, Silly Season
No. 8, RCR Slumps
No. 7, Danica's Year Of Hard Knocks
No. 6, Montoya Flames Out
No. 5, Kurt Busch The Outlaw
Tom Jensen is the Editor in Chief of SPEED.com, Senior NASCAR Editor at RACER and a contributing Editor for TruckSeries.com. You can follow him online at twitter.com/tomjensen100.