CUP: Top 10 Stories – No. 2, Junior Achievement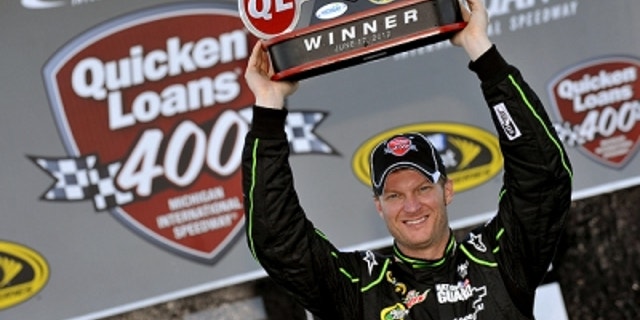 For the first time in years, Dale Earnhardt Jr. returned to real relevancy in the NASCAR Sprint Cup Series, winning his first race in four years and consistently running up front in his No. 88 Hendrick Motorsports Chevrolet.
Unfortunately for Earnhardt and his millions of fans, 2012 will be remembered as one of those best-of-times-worst-of-times deals. That's because what could have been a career season for the third-generation driver was cut short by two concussions that caused him to miss two races in the Chase for the Sprint Cup. Briefly sidelined, Earnhardt ended the year 12th in points.
The first and more serious of the two concussions occurred Aug. 29 at Kansas Speedway during Goodyear tire testing. Earnhardt lost a right-front tire during the test and had a hard impact with the wall. Initial reports indicated Earnhardt was OK, but he was later found to have had a concussion.
At the time of his crash, Earnhardt was third in points, 15 markers back of Jimmie Johnson. In the first 24 races of the season, Earnhardt posted one victory, at Michigan International Speedway in June, along with 10 top-five and 16 top-10 finishes. After the initial concussion, Earnhardt did not finish in the top five again, posting only four top 10s in his final 10 starts.
Earnhardt knew he was hurt after the Kansas crash; but it was a second concussion, this one in an end-of-race crash at Talladega Superspeedway, that put him on the bench for two races.
Despite the medical setback, Earnhardt was happy with his season. He and crew chief Steve Letarte continued to improve their working relationship, and Earnhardt was so fired up late in the year that said he didn't want it to end, not a common state of affairs for the driver.
"I wish we were going to race on," Earnhardt said prior to the penultimate race of the season in Phoenix. "I'd just race on through to February and start back over again if it were up to me. I really enjoy being at the track and driving cars. It's been a good year, but this should be par for the course. It's been a good year, but we want to be a lot better than this. I'm not ready to stop trying to be better."
As for his relationship with Letarte, Earnhardt said it blossomed in 2012.
"There's confidence between me and him that we're going to show up and do well, and confidence is real important," he said. "We work really well together. When he's on top of his game and I'm on top of my game we're a really competitive team."
One of the biggest changes for Earnhardt came in 2011, when team owner Rick Hendrick moved the No. 88 team into a garage with Jimmie Johnson and his crew chief, Chad Knaus.
It was an eye-opening experience for Earnhardt and one that paid dividends in 2012.
"It's a different environment and a different culture for sure," Earnhardt said of the 48/88 garage. "I think it helped me because they (Johnson and Knaus) do things differently and they have different expectations. I'll just say that when I went over there to work with Stevie I was intimidated. I really made myself more accountable and I think being around that group brought it out of me.
"I thought I was doing just enough to get it done, but getting in their shop showed me that, man, if you're going to do it at all, just give it everything you got," said Earnhardt. "And I found there was a lot more I could do to help the people around me who were trying to help me."
For his part, Letarte is bullish on Earnhardt's talents.
"What Dale brought is a different perspective," Letarte said. "I think we have an honest perspective of one another. I think he pushes me in areas maybe that — you know, I've always had a very, very good track record of making the Chase and running pretty good. But just pretty good. Never great. Never 48 great. Never winning five or six races a year. And I think he's that guy in practice when we're third, fourth, fifth quick in practice, he won't allow me to kind of roll back. He keeps going, keeps going, keeps going.
"And I think his personality and mine mesh very well to that. I do a very good job when the ups and downs come of kind of keeping the playing field flat. He does a good job of, 'Well, our peaks are never high enough.' He keeps pushing, pushing, pushing. That kind of sets the tone for our race team."
Despite the medical setback, the tone on the team was very positive in 2012, probably better than it's ever been during Earnhardt's tenure at Hendrick Motorsports.
Top Ten Stories of 2012:
No. 10, 'Dinger Busted
No. 9, Silly Season
No. 8, RCR Slumps
No. 7, Danica's Year Of Hard Knocks
No. 6, Montoya Flames Out
No. 5, Kurt Busch The Outlaw
No. 4, Bowyer Vs. Gordon
No. 3, MWR's Big Year
Tom Jensen is the Editor in Chief of SPEED.com, Senior NASCAR Editor at RACER and a contributing Editor for TruckSeries.com. You can follow him online at twitter.com/tomjensen100.