CUP: Top 10 Races – No. 9, Chicago Hitman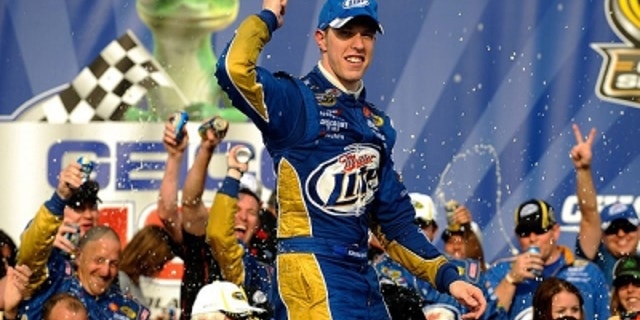 Brad Keselowski had had a great regular season, winning three times and rallying from a tough start to steadily climb the point standings.
He entered the Chase in a point tie for second, behind only Denny Hamlin, who won four times in the regular season.
There was every reason to believe that Keselowski, in only his third full season in Sprint Cup, could contend for the title, but, of course, there were doubters.
He was still too new, too immature, some said. He couldn't handle the pressure of racing for the big trophy with proven champions like Jimmie Johnson and Tony Stewart. His team raced Dodges, a make on the way out of the sport.
It was important, then, for Keselowski to make a statement early in the Chase. And he wasted no time doing exactly that – in the first race, the GEICO 400 at Chicagoland Speedway. SPEED has chosen the Chase opener as the No. 9 race on its list of Top 10 Races of 2012.
Although Johnson led a race-high 172 laps after winning the pole, it was Keselowski who stood in victory lane after the race. He led the final 25 laps and won by 3.17 seconds – over Johnson.
And Keselowski scored with a touch of pizzazz, perhaps underlining the idea that he meant to be a championship contender, not just a Chase driver.
Exiting the pits with 35 laps to go Keselowski returned to the racing line in front of Johnson, who voiced the opinion that Keselowski had crossed a blend-in line too early. The move was reviewed by NASCAR, and Keselowski was not penalized.
"It did impede my progress," Johnson said later. "But it didn't affect the outcome, I don't believe. The way he made quick work in traffic and stretched it out on me, I'm not sure I would have held him off. At the time it messed me up, but I don't think it played an outcome in the race."
The win boosted Keselowski into the point lead by three over Johnson, setting the stage for their toe-to-toe battle the rest of the Chase.
Top 10 Races of 2012:
9. GEICO 400, Chicagoland Speedway, Sept. 16
10. AAA Texas 500, Texas Motor Speedway, Nov. 4
Mike Hembree is NASCAR Editor for SPEED.com and has been covering motorsports for 30 years. He is a six-time winner of the National Motorsports Press Association Writer of the Year Award.