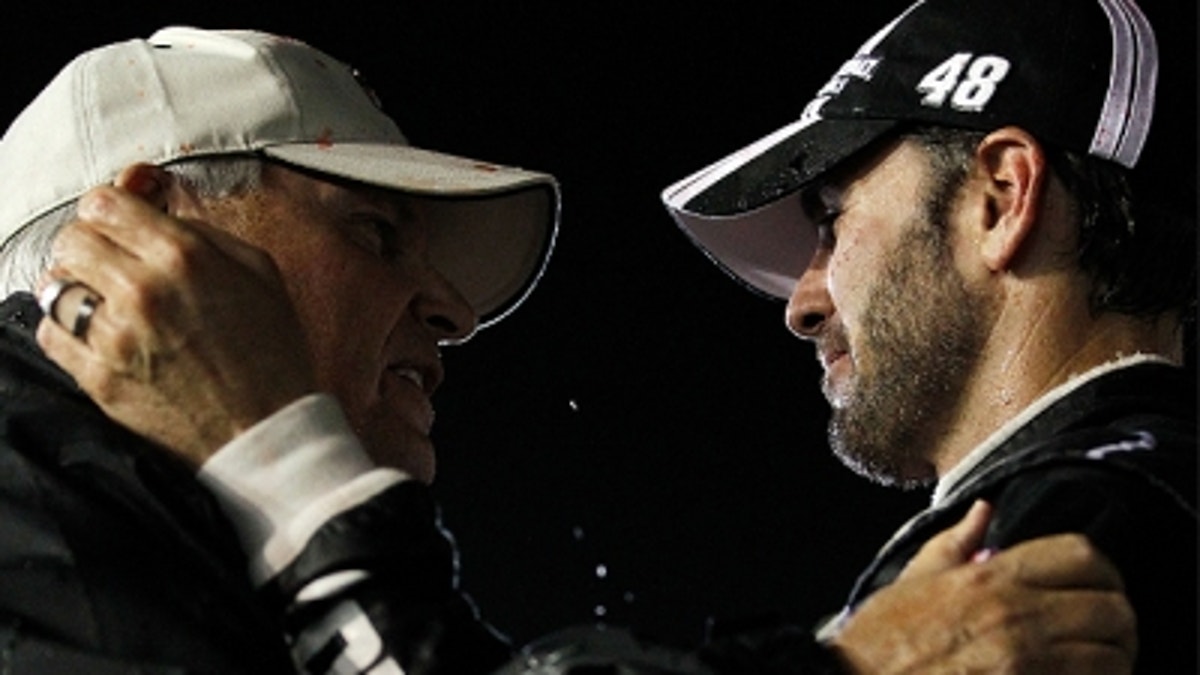 It was a running – although somewhat unsettling – joke around the Hendrick Motorsports shops.
After the team scored its 199th Sprint Cup victory with Jimmie Johnson winning in October 2011 at Kansas Speedway, Hendrick Motorsports' "200th victory" caps were ordered in anticipation of the landmark win.
The joke was that those caps were carted around the country for far too long.
Win No. 200 finally came seven months later in the Bojangles Southern 500 at Darlington Raceway, as Johnson held off late-race challengers to win in a green-white-checkered finish.
"I can't believe it took this long after 199," Hendrick said. "I am kind of numb, but I am glad it is over. I think we are going to win a few more now."
Hendrick drivers have scored at least one win in 28 straight seasons. Geoffrey Bodine scored the organization's first win in April 1984 at Martinsville Speedway.
Johnson led 134 laps at Darlington but had to work for the win late as a parade of caution flags bunched the field. A final caution extended the race one lap beyond regulation as Johnson, stretching fuel, pulled away from Tony Stewart to seal the win.
The victory ended a 16-race drought for Johnson.
As a sideshow to the big Hendrick win, the aftermath of the race included a scuffle between the pit crews of drivers Kurt Busch and Ryan Newman, who wrecked late in the race.
After the wreck, Busch, while leaving his pit stall, almost hit several members of Newman's crew.
As cars returned to pit road after the checkered flag, Busch ran into the back of Newman's car, and members of Newman's crew were there to meet Busch, leading to a brief scuffle.
Top 10 Races of 2012:
7. Bojangles Southern 500, Darlington Raceway, May 12
8. Quicken Loans 400, Michigan International Speedway, June 17
9. GEICO 400, Chicagoland Speedway, Sept. 16
10. AAA Texas 500, Texas Motor Speedway, Nov. 4
Mike Hembree is NASCAR Editor for SPEED.com and has been covering motorsports for 30 years. He is a six-time winner of the National Motorsports Press Association Writer of the Year Award.