CUP: Top 10 Races – No. 6, Talladega Troubles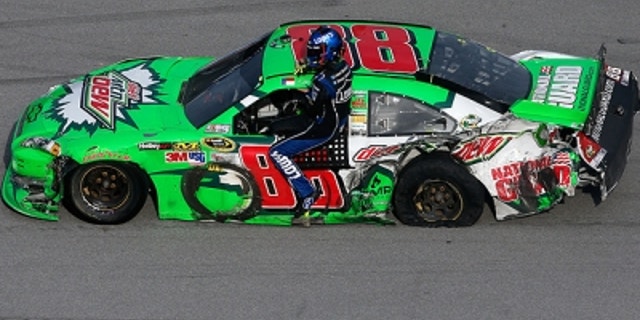 The biggest story from the Good Sam Roadside Assistance 500 at Talladega Superspeedway in October didn't emerge, oddly enough, until days after the race.
That was when the NASCAR world learned that Dale Earnhardt Jr. had suffered a concussion in a late-race, multi-car crash at Talladega and that, because of the injury and an earlier concussion he suffered at Kansas Speedway, he would miss two Sprint Cup races.
Earnhardt Jr. was involved in the mayhem at the back of the pack as 23 cars became entangled in one of the biggest accidents in NASCAR history. He was bumped a couple of times as drivers tried to find escape routes, later said he didn't recover quickly from the accident and sought medical advice. He sat out the next two races.
Tony Stewart held the lead on the next lap and appeared to be on his way to a relatively rare win on a restrictor-plate track. But that hope evaporated as Michael Waltrip and Casey Mears tried to advance and Stewart moved to block. Contact between Stewart and Waltrip started the sort of massive pileup that has become commonplace at Talladega.
Matt Kenseth was the ultimate survivor of the chaos as he maneuvered his way through spinning cars to collect the victory, his second of the year.
Stewart, who admitted his mistake after the race, wound up 22nd.
"I just screwed up," Stewart said. "I turned down and cut across Michael and crashed the whole field.
"It was my fault, blocking and trying to stay where I was."
The huge accident led Earnhardt Jr. to describe Talladega racing as "bloodthirsty. If that's what people want, that's ridiculous."
Following Kenseth in the top five were Jeff Gordon, Kyle Busch, David Ragan and Regan Smith.
Earnhardt Jr. finished 20th.
The circuit moved on from Talladega with six races remaining in the Chase, with Brad Keselowski in the point lead – and with Earnhardt Jr. on the sidelines.
Mike Hembree is NASCAR Editor for SPEED.com and has been covering motorsports for 30 years. He is a six-time winner of the National Motorsports Press Association Writer of the Year Award.