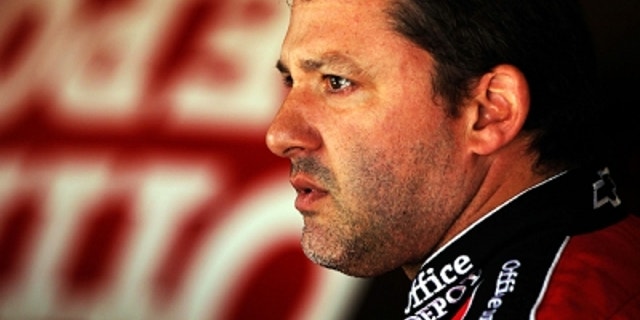 Tony Stewart had heard just about enough about the relative lack of car interaction – read "crashes" – in recent Sprint Cup races.
Stewart used an unusual platform – a post-race interview Sunday at Talladega – to cleanse his palate. After wrecks marred the last quarter of the Aaron's 499 and produced yet another green-white-checkered finish at one of NASCAR's most dangerous tracks, Stewart, one of those involved in the mayhem, used a sarcasm-laced post-race interview to make his position on the matter clear.
It was Tony being Tony, but this time he moved away from his favorite target – the media – to hammer fans.
Asked if he had fun, Stewart said, "Absolutely. I had a blast. It would have been a lot more fun if I could have gotten caught up in one more wreck. If I could have done that, it would have been perfect.
"I'm upset that we didn't crash more cars. I feel like that is what we are here for. I feel bad if I don't spend at least $150,000 in torn-up race cars going back to the shop. We definitely have to do a better job with that."
Asked if Talladega races would be better if they were shortened, Stewart said, "I don't think it really matters. I think if you made it 20 laps, we would all still crash with five to go or eight to go. If we did that, we would be able to fill the time that the fans deserve. I mean they deserve to see us run 500 miles.
"Like I said, if we don't crash half of the field by the end of the race, they really need to extend it because that is what the fans want. They want to see that excitement. I feel bad that as drivers we couldn't do a better job of crashing enough cars for them today."
Stewart ended the session by making a few "interesting" suggestions about the track.
"I think we ought to make it a figure eight," he said. "I mean, if we could make it a figure eight, it would be perfect. It would absolutely be perfect here. It would be better than what we have.
"That is going to be my vote next week is that we make it a figure eight and/or we can stop at halfway, make a break and turn around and go backward the rest of the way. Then, with 10 to go, we split the field in half and half go the regular direction and half of them go backward."
And then he was gone.
Mike Hembree is NASCAR Editor for SPEED.com and has been covering motorsports for 30 years. He is a six-time winner of the National Motorsports Press Association Writer of the Year Award.