CUP: Title Hunt - The Case For Kahne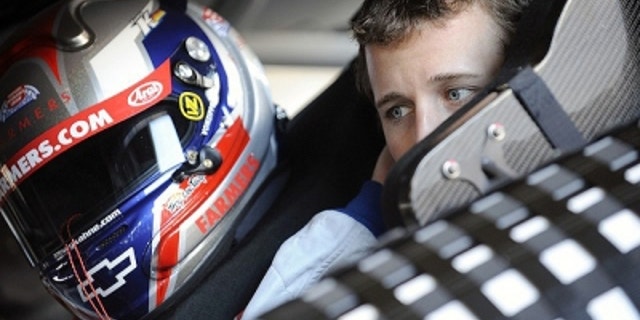 NEWYou can now listen to Fox News articles!
Article by NASCAR Wire Service
The 2012 NASCAR Sprint Cup season hasn't started yet, and they're already selling Kasey Kahne short.
The collective "they" represents a consensus of reporters who picked Kahne to finish a modest eighth in the standings this year, but there are plenty of reasons why the Hendrick Motorsports newbie can make a solid run at the Cup title.
It's true that Kahne has qualified for the Chase for the Sprint Cup in just two of his eight full seasons at NASCAR's highest level. It's also true that Kahne has never finished higher than ninth in the final standings, with his best result coming in 2006.
There are mitigating factors. Stability has never been part of the Kahne vocabulary, when it comes to the teams that have fielded cars for him. To call his career turbulent is akin to referring to Niagara Falls as a trickle.
Nonetheless, Kahne has overcome some questionable rides with exceptional talent. He's a 12-time winner in the Sprint Cup series, good for 55th on the career victory list. Driving for a Red Bull team facing extinction last year, Kahne won two poles and took the checkered flag at Phoenix in the next-to-last race of the season.
Combine that talent with the stability of Hendrick Motorsports, and you have an instant contender.
Add to the mix Kahne's long-standing relationship with crew chief Kenny Francis, who has accompanied his driver through the various incarnations of Ray Evernham, Gillett-Evernham and Richard Petty Motorsports Motorsports to Red Bull and now to Hendrick.
Francis already has made an impact at his new team. Last year, he made suggestions that were incorporated into Dale Earnhardt Jr.'s cars, and the changes helped improve Earnhardt's performance late in the season.
"He's just a thinker," Kahne told the NASCAR Wire Service during a Thursday media session at Daytona International Speedway. "He's really just spot on about a lot of things because he thinks about it for a long time and really looks into it and figures it out before he talks about it or before he tries it.
"So he brings a lot to the table, and I think it's neat to see how much Hendrick Motorsports welcomed Kenny to organization, and how much he thinks of those guys as well. It's been a great position that we've been in over this offseason in preparing, and I think we're in really good shape."
You can expect Francis' perspective to expand the critical mass of know-how that has propelled the organization to 10 Cup championships in the past 17 years. Francis brings a new way of looking at things to a team that already has developed a successful methodology.
"I think, from what I've seen, there's a few aspects of how the cars work that I look at from a different perspective than the guys here do," Francis told the NASCAR Wire Service during an interview in late January. "Most of the people in the company — not just the crew chiefs, but everyone — have kind of grown up here. There's very little turnover here. Most of the people that are here have been here a long time, so they've kind of developed their own way of working on the car.
"It's kind of their adaptation of how the car works and how the physics of it work. It's all how you interpret it. There's some fundamental physics behind it, but a lot of it's kind of how you interpret how you want that to work, what you feel is important and how you prioritize that. So I think some of the systems in the car I look at and prioritize a little bit different than they do. That's been interesting to them, I think."
Yes, Kahne just underwent his fourth knee surgery — two on each — to repair a torn meniscus in his left knee. He carried an Ace bandage to his media session on Thursday and walked gingerly to and from the various broadcast stations.
"The left one's really sore; the right one's really good," Kahne said of his knees. "Last year at this time, the right one was sore, and the left one was really good. I went in Thursday (Feb. 9) because I'd torn it before, but it wasn't a big deal, and then I tore it worse last week. It swelled up really bad, so I knew I needed (surgery), so I got it first thing Friday morning."
Kahne tore the meniscus during a training session.
"My legs were exhausted, and I was doing intervals on three different machines," Kahne said. "I was running, and kind of just twisted my knee and tore it more . . . In 15 months, I've had four (surgeries). Before that I never had anything."
Kahne, however, doesn't expect the knee problem to slow him down.
"I don't think it will," he said. "I sat in the car (Wednesday) and felt pretty good about it. As fast as our bodies heal, I think by Saturday night (in the Budweiser Shootout), it's going to actually probably feel pretty good.
"But I'm going to ice it after the race — that's for sure."
Kahne thinks finishing eighth in the media voting is a fair assessment — to start with.
"I feel like that's probably a good starting point," he said. "You never know how long it'll take to get used to some of the new changes, some of the new parts and pieces that we haven't worked with in the past. You just don't know how long that will take.
"I think eighth's a pretty solid spot for us. At times last year we were better than that. At other times we were worse, and we were right around eighth to 10th sometimes, too. Hopefully, we're eighth early in the year, and we keep getting better as the season goes."
Kahne won't have to get much better than eighth to vault into championship contention over the final 10 races. He has the talent, and now he has the stability to support his ability.
"You just feel really confident," Kahne said. "You know what you have, and you know what your owner expects. And he can expect it, because he gives his employees and all the guys that opportunity to build and prepare cars capable of doing what he expects out of it.
"When you're in that situation as a driver, you just can't not be happy about it."