CUP: Thursday Charlotte Notebook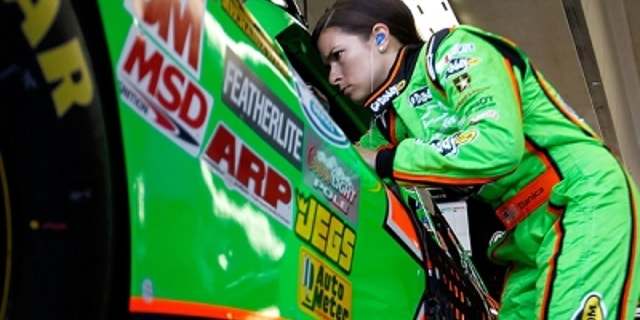 DANICA DOESN'T MISS INDY — With missing the Indianapolis 500 for the first time in years, one might think Danica Patrick would be longing for the Brickyard this weekend. But Patrick, who is doing double duty this weekend in the NASCAR Sprint Cup and Nationwide Series races at Charlotte Motor Speedway, insisted she's over IndyCar racing.
"The reason why I came to race NASCAR was to do all of these things. I was ready to leave IndyCar," Patrick said Thursday at CMS. "I wanted to be here. When you are not missing something, longing for something you don't really think about it that much. It's like that girlfriend you didn't want to have anymore. You don't think about her anymore. Or ex-husband, we all seem old enough to be of that point. You just don't. Indy, I have lots of great memories from there and probably the part of me that doesn't feel quite as longing for it is that there is still a chance that I could do it again. It's not gone. I'm excited about this weekend."
Patrick had a busy Thursday with two rounds of Nationwide practice, one round of Cup practice and Cup qualifying.
"I'm sure it's going to be a challenging weekend obviously putting the Cup schedule together and doing this race is going to be a challenge," Patrick said. "In practice I go from Nationwide to Cup car to Nationwide to qualifying the Cup car. On Saturday I go from two practices straight into the race of the Nationwide. That is going to be my challenge. That is something that I have only experienced, I mean I experienced it at Darlington and a little bit at Daytona. ... That is going to be my challenge. For me it's just a matter of staying focused, staying positive and staying hydrated."
HAMLIN REGROUPS — With two victories and five top-five finishes in just 11 NASCAR Sprint Cup points races so far this year, Denny Hamlin is having a very solid season. His fourth-place position in the points reflects that. But when Hamlin and his new-for-2012 crew chief Darian Grubb have missed it, they've tended to miss it big.
While Hamlin ran a strong second two weeks ago at Darlington Raceway, he was a disappointing 20th of 23 drivers entered in last week's Sprint All-Star Race at Charlotte Motor Speedway. The field returns to CMS this week for Sunday's Coca-Cola 600, but Hamlin said his Joe Gibbs Racing Toyota will be set up very differently this time out.
"We didn't run that well in the All-Star race," said Hamlin. "It's time for us to revamp our setup. We come here this week with nothing from the past weekend."
ROUSHKATEERS READY — Roush Fenway Racing teammates Greg Biffle and Matt Kenseth head into Sunday's Coca-Cola 600 at Charlotte Motor Speedway first and second, respectively, in points. And both of them feel very confident about their teams.
"This is the car I won Texas with and it's a long race where anything can happen," said Biffle. "We're targeting, like always, finishing up front and finish in the top-five — only two positions between Matt and I. I'm sure at some point we'll both lead a lap, so that will be one point, but it is super-tight at the front of the field. We're not gonna worry about the points lead. We're gonna worry about our car and doing the best we can. If we give up the lead, then the important part is to make the Chase and be leading it after Homestead."
"I feel pretty good about where we're at," said Kenseth. "There are certainly a lot of things we could do better. There are a lot of things we could be doing worse as well, so you just keep working on all those things. I don't think the season could be a lot better starting off, but certainly you look back and can't help doing that."
KAHNE COMING ON — With a string of five consecutive finishes of eighth or better, Hendrick Motorsports driver Kasey Kahne is rapidly putting his slow start to the season in the rearview mirror. Thursday at Charlotte Motor Speedway, Kahne said he didn't let his stumble out of the gate weigh him down too much.
"It never really got to me too bad because the situation I was in I don't feel like we've performed to our capability yet at all," said Kahne. "I feel like we are running pretty well since the start of the season, we really haven't made those big gains yet. I think as a company it's obvious that we have the speed and it's all right there. We just need to put it together."
JR BOOKING IT — SPEED host John Roberts will sign copies of his new book, "The Great Book of NASCAR Lists," Friday at 1 p.m. at the NASCAR Hall of Fame in uptown Charlotte. Roberts, host of NASCAR RaceDay, NASCAR Victory Lane and NASCAR Live on SPEED, will be set up in the Gear Shop at the Hall of Fame.
Roberts co-wrote the book, which explores everything in NASCAR from the strangest autograph requests received by drivers to the best and most bizarre trophies, most controversial races, top racing quotes, best Daytona 500 moments, oddest sponsors, inside stories, strangest things seen in a track's infield and practical jokes played by drivers such as Dale Earnhardt, Sr. Roberts has been with SPEED and the FOX Sports family since 2001.
NOTES —On Friday, a 1.6-mile segment of I-85 from the city of Charlotte corporate limits to the Cabarrus County Line will be dedicated as the Jeff Gordon Expressway in honor of Gordon's 85th NASCAR Sprint Cup Series win, and his commitment to public service in North Carolina through charitable contributions and the Jeff Gordon Children's Hospital at Carolina's Medical Center-NorthEast. ... The fourth annual Coca-Cola Family Track Walk and Summer Cookout takes place Friday from 11a.m.-2 p.m. at Charlotte Motor Speedway. Partnering with the HISTORY Channel Smoker and Grill, the cookout takes place on the frontstretch and pit road at Charlotte Motor Speedway. Several Coca-Cola Family drivers are expected to attend, including Denny Hamlin, Jeff Burton, Tony Stewart and Greg Biffle, as well as a special appearance by Ned Jarrett. ... NASCAR fans will determine which driver will grace the cover of the upcoming NASCAR The Game: Inside Line video game in the "Drive for the Cover" campaign that launches today at NASCARTheGame.com/Vote.
Tom Jensen is the Editor in Chief of SPEED.com, Senior NASCAR Editor at RACER and a contributing Editor for TruckSeries.com. You can follow him online at twitter.com/tomjensen100.