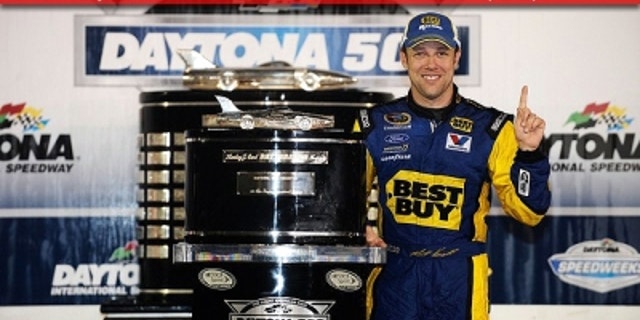 PROGRAMMING NOTE: Daytona 500 winner Matt Kenseth will be our guest tonight on NASCAR Race Hub (6p ET/3p PT).
Wow. What just happened?
They started a race that was supposed to start on Sunday on Monday, and they finished it on Tuesday.
They got enough rain to keep Lake Lloyd in the Daytona International Speedway infield at full pool for months.
They got fire. A lot of fire.
They got wrecks. A lot of wrecks.
And, in the end, they got Matt Kenseth.
In a season-opener drenched by bad weather and marked by all manner of calamity, the Sprint Cup Series crowned one of its coolest and calmest drivers as its newest Daytona 500 champion.
Kenseth probably could sleep through an invasion of bird-sized wasps and then ask, "Hey, what happened?" Built on the David Pearson model, he seldom lets excitement or stress dominate his thinking, and, at race's end, he's there to whip your butt.
On Monday/Tuesday, he won a Daytona 500 that stretched across two days and pushed weary teams to the very edge as they map plans and load trucks to head to Phoenix for Sunday's second race of the season.
Kenseth's triumph ended a long day's journey into night, one lengthened by hour upon hour of rain delays and, as if the wet wasn't enough of a problem, a two-hour extension because of – yes – a jet drier explosion in turn three. Juan Pablo Montoya's out-of-control race car hit the jet drier and sparked a raging fire that threatened to melt the track surface.
After all of the toil and trouble, Kenseth held off teammate Greg Biffle and Dale Earnhardt Jr. in a green-white-checkered finish to win the sport's biggest – and, this year, longest – race.
"I was hoping to come into this season strong," said Kenseth, who ran well in the Chase last season but saw accidents wipe out his championship chances. "You never expect to come down here and win, but I didn't expect to be as strong as we were down here. I am real anxious to get to the next few tracks and see how we are."
While Kenseth led the way, two of the sport's giant teams got their seasons off to fine starts.
Roush Fenway Racing put Kenseth first, Biffle third and Carl Edwards eighth in the finish order.
Richard Childress Racing covered the fifth-through-seventh spots, with Jeff Burton, Paul Menard and Kevin Harvick finishing in that order.
Joe Gibbs Racing had a representative evening, with Denny Hamlin leading 57 laps – more than any other driver – and finishing fourth. Joey Logano showed renewed strength and came home ninth. But Kyle Busch, expected to be among the favorites, was never a threat.
Earnhardt Jr., who came close to ending his 129-race winless streak, was Hendrick Motorsports' lone star. Jimmie Johnson and Kasey Kahne left the race after accidents, and Jeff Gordon's No. 24 parked with a blown engine.
Mike Hembree is NASCAR Editor for SPEED.com and has been covering motorsports for 30 years. He is a six-time winner of the National Motorsports Press Association Writer of the Year Award.