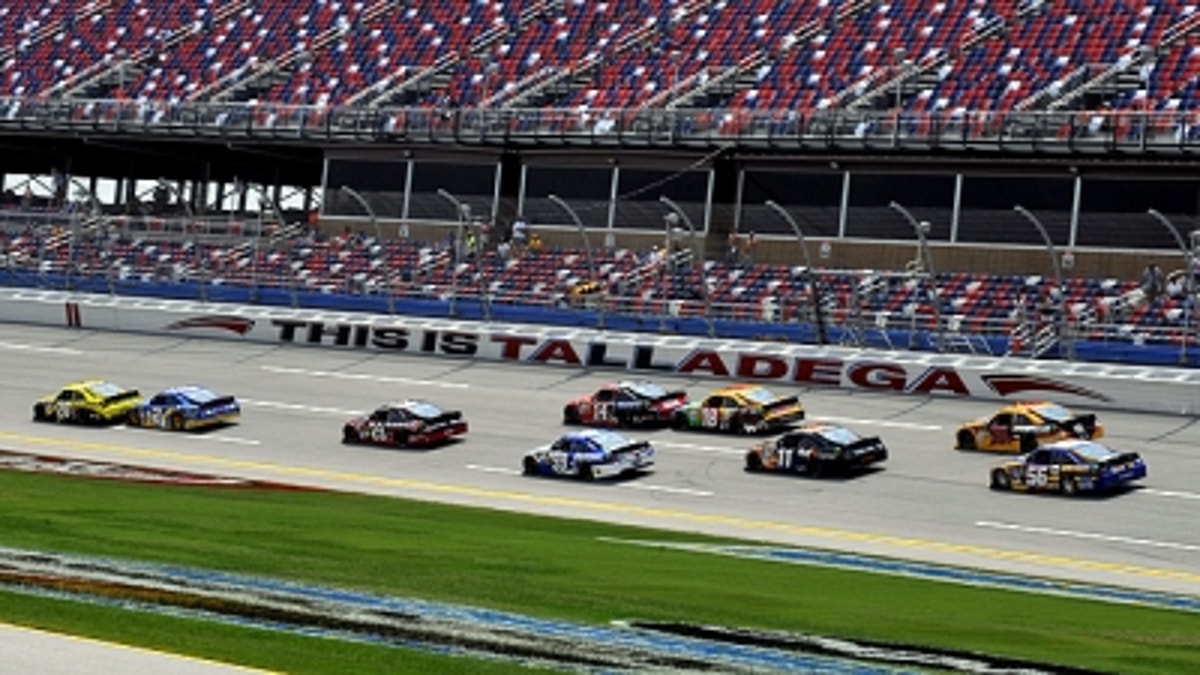 It's official: The two-car tandem is deader than Newt Gingrich's presidential aspirations.
Thanks to the combination of NASCAR rules designed to prevent cars from running nose-to-tail and hot Alabama weather, do not expect to see much tandem racing in Sunday's Aaron's 499 at Talladega Superspeedway. That's a sharp contrast to last year, which featured two-car tandems all race long, with four pairs of cars taking the checkered flag while separated by just 0.145 seconds.
Oh, there will be some last-lap hookups as always, but cars can no longer push each other more than a lap or so without risking overheating.
"With the temperatures being as hot as they are, the ambient track temp being way up from what it was in Daytona, it's just a lot harder to keep your car cool enough and not let it get heat soaked that you have an amount of time that you can push," said Kyle Busch, last weekend's winner at Richmond. "You're just kind of limited on what you can do based off water temp."
Busch is not alone in that analysis. The consensus is that Sunday's race will feature the traditional big pack drafts for the first 186 of the scheduled 188 laps. Then, for the final two circuits, drivers will look for partners to pair up with.
"This (rules) package seems to make it a little harder to bunch up and partner up," said Carl Edwards, driver of the No. 99 Roush Fenway Racing Ford Fusion. "It will keep us, I think, in a big group. I am torn on that. It is worse because you have a better chance of being involved in somebody else's wreck but it is more fun and I guess fun is why we do this anyway. I think it is going to be as good as Talladega can be."
Edwards said drafting was dicey during Friday afternoon's first practice.
"I couldn't get partnered up with anyone," he said. "I was following the 29 car (Kevin Harvick) and the 2 car (Brad Keselowski) and someone else I was trying to get partnered up with. I think people right now are using a little more caution. You don't want to tear something up in practice. ... From my seat in the 99, the cars are moving around a lot and going real fast and they feel a little nervous when you match them bumper-to-bumper right now. If that is how it is in the race, especially in the long run, I think you will see some real effort in those race cars trying to work it out and cars sliding around and finding a partner you can work with. It will be really interesting."
Jeff Gordon, who leads active drivers with six Talladega victories, said keeping his engine cool for 500 miles will be critical.
"It is at the top of our priority list this weekend, knowing that temperatures in Daytona were much cooler," said Gordon, who made it just 81 laps before losing an engine in the Daytona 500. "... We come in here with the same opening in the grille. We all know how big of an issue it was to keep the engines cool or the water temp cool there. It's going to be a major issue here. I think that is the first thing that we are going to be working on. ... It is going to be a real challenge."
Busch agreed.
"We're running 230, 240 (degrees water temperature) just pack drafting and then once you get pushed from behind or you have somebody close to you, it kind of moves you forward a little bit to the car that's in front of you," said Busch. "You're already 245, 250. That's already borderline for our engines. You can probably take them to 260, 265 on water temperature before you start pushing water, but we don't want to jeopardize that and push water too early in the race and run ourselves out of water. Our limit is about 240 until two (laps) to go."
Tom Jensen is the Editor in Chief of SPEED.com, Senior NASCAR Editor at RACER and a contributing Editor for TruckSeries.com. You can follow him online at twitter.com/tomjensen100.