CUP: The List — Rating The Chases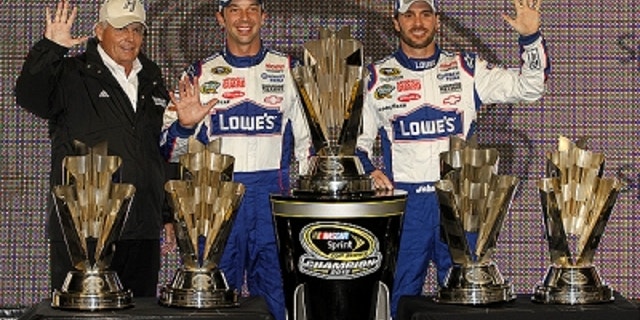 When Brad Keselowski won this year's NASCAR Sprint Cup championship, it was a historic triumph, given that it was car owner Roger Penske's first Cup title.
But where does this year's Chase rank among the nine that have been run since NASCAR adopted the playoff format in 2004?
Here's our ranking of how the Chases measure up.
1. 2011 — There was no more improbable championship run than Tony Stewart's 2011 campaign. So bad was Stewart during NASCAR's regular season — just three top-five finishes and no race victories — that when the Chase began, the driver/co-owner of Stewart-Haas Racing had already decided to replace crew chief Darian Grubb at the end of the season.
And yet, in the Chase, Stewart put on an incredible run, winning five of the 10 Chase races, including three of the last four to tie Carl Edwards and take the championship on the basis of most race victories. In the last race of the season at Homestead-Miami Speedway, Stewart fell to the back of the pack twice, but rallied to win, passing 118 cars in the process.
It was an unbelievable finish to an unbelievable Chase, one that made Stewart a three-time champion and sent Edwards into a deep tailspin for 2012.
2. 2004 — No one knew what to expect in the first edition of the Chase. There was no established strategy except go out and win, which is exactly what seventh-seed Kurt Busch did in the first Chase race at Loudon, N.H. Four races into the Chase, Jimmie Johnson crashed at Kansas and fell 247 points behind Busch, the equivalent of about 62 points in today's system.
What followed was a combination of high drama and unfathomable tragedy: Johnson would win the next three races at Charlotte, Martinsville and Atlanta to pull himself back into title contention. But prior to the Martinsville race, the crash of a Hendrick Motorsports plane killed 10 people, including team owner Rick Hendrick's son and brother.
Johnson and the 48 team put on an amazing rally, aided by Busch losing an engine at Atlanta. In the finale at Homestead, Busch lost a wheel and narrowly avoided hitting the pit wall, somehow staying on the lead lap and rebounding to finish fifth. Johnson finished second in the race and second in points as Busch took the championship.
3. 2010 — The eighth race of the Chase at Texas Motor Speedway set the stage for a bizarre and fascinating end to the season. Under caution, Jeff Burton ran Jeff Gordon into the wall, sparking an angry confrontation on pit road. With Gordon out, Johnson's crew chief Chad Knaus appropriated Gordon's pit crew to finish the race, because the No. 48 crew had been horrible on pit road all race long.
Denny Hamlin won at Texas to take the points lead and, after the race, his crew chief, Mike Ford, ripped Knaus and Hendrick for switching crews. The following week at Phoenix, Hamlin led the most laps and appeared to be headed to an easy victory — and the championship — when he had to make an extra stop for fuel, finishing 12th.
Prior to the finale, Johnson and third-place Kevin Harvick ribbed Hamlin relentlessly about the fact that all the pressure was on him. Sure enough, Hamlin had a horrible weekend at Homestead, qualifying 37th and wrecking on Lap 24. Johnson went on to finish second and win his fifth consecutive championship.
4. 2006 — Jeff Burton's victory at Dover in the second race of the Chase put the veteran driver ahead in points and on track to give car owner Richard Childress his first Sprint Cup championship since Dale Earnhardt won his seventh and final title in 1994.
Burton would hold onto the lead through Kansas, Talladega and Charlotte, with Johnson seventh in points after five of the 10 Chase races. But it all changed at Martinsville, where a Johnson victory and a 42nd-place finish by Burton shuffled the pack.
Johnson's win at Martinsville moved him to third points; a week later, a runner-up finish at Atlanta allowed him to pick up another position in points. That was followed by a second consecutive runner-up run at Texas, which gave Johnson a points lead he would never relinquish.
5. 2005 — Tony Stewart's second championship was accomplished in somewhat odd fashion, as he became the only driver in the Chase era to win a championship without winning a race during the Chase.
Johnson had hoped to win his first championship in 2005 and came into the final race of the year second in points to Stewart. But a flat tire ended his title hopes, as he dropped three places in the final standings.
The emotional stress of the failed run nearly broke up Johnson and Knaus in the off-season, but team owner Rick Hendrick mediated a repair of their relationship, triggering Johnson's five-year championship run.
6. 2012 — No disrespect to Brad Keselowski and Penske Racing, for their amazing title run, but this Chase ended more with a whimper than a bang, thanks to Johnson's season-ending finishes of 32nd at Phoenix and 36th at Homestead.
This Chase absolutely did feature some heavyweight punching and counterpunching, with Keselowski winning two of the first three Chase races and then Johnson seemingly reasserting control with victories and maximum points days at both Martinsville and Texas.
Even though Keselowski had just one top-five finish in the final seven races of the year, Johnson's disastrous final two races dropped him to third in points, with Clint Bowyer coming home second thanks to a runner-up finish at Homestead.
7. 2007 — When Jeff Gordon won consecutive Chase races at Talladega and Charlotte, he was in perfect position to finally complete his Drive for Five and add another championship to the four he already won.
In the next four races, Gordon finished third at Martinsville, seventh at Atlanta and Texas and 10th at Phoenix, a four-race average of 6.75.
Unfortunately for Gordon, Johnson won all four of those races and drove a stake through the heart of Gordon's championship hopes. It would be the second of Johnson's five consecutive titles.
8. 2008 — At the start of the Chase, it looked like another championship year for Roush Fenway Racing, with Greg Biffle winning the first two races at New Hampshire and Dover, and Carl Edwards finishing third both times. Johnson then won at Kansas to take a narrow points lead.
The next week at Talladega proved disastrous for the Roush duo. With about 15 laps left in the race, Biffle was running third when Edwards attempted to bump draft him and instead turned him, setting off a pileup that ultimately took out six of the 12 Chase drivers.
A phantom ignition failure the following week at Charlotte killed Edwards' championship hopes completely. Even though Edwards won three of the final races of the year, Johnson cruised to his third championship.
9. 2009 — The least compelling of the Chases came during Johnson's fourth championship season. A dominant weekend at Charlotte in October left Johnson well and truly in control of the Chase, and from there he was unchallenged, winning the title ahead of Hendrick teammates Mark Martin and Jeff Gordon.
Tom Jensen is the Editor in Chief of SPEED.com, Senior NASCAR Editor at RACER and a contributing Editor for TruckSeries.com. You can follow him online at twitter.com/tomjensen100.