CUP: The Franchise Finds A New Home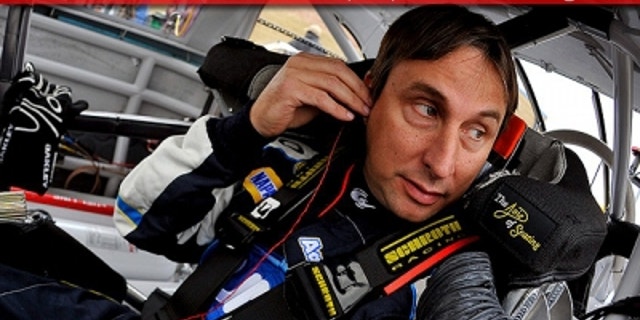 Sometimes even being "The Franchise" isn't enough.
David Reutimann found that out the hard way late last year.
"The Franchise" was Reutimann's nickname at Michael Waltrip Racing, earned after he gave the team its first NASCAR Sprint Cup victory by winning the Coca-Cola 600 at Charlotte Motor Speedway in May 2009.
Reutimann, who will appear on tonight's NASCAR Race Hub at 6 p.m. ET on SPEED, won again for MWR at Chicagoland Speedway in 2010, when he dominated the field and scored a convincing and impressive victory. To date, he remains the only driver who has won a race for MWR.
But after slumping to 28th in points last year, Reutimann was dropped by MWR in favor of Mark Martin, a surprise move that came so late in the season that "The Franchise" had no realistic chance to find a quality full-time ride.
Instead, for 2012 he's part of an unorthodox deal between car owners Tommy Baldwin and Tony Stewart: Baldwin's No. 36 car finished in the top 35 in Sprint Cup owner points last season, which means it's guaranteed a starting spot in the first five races of the season — including the Daytona 500.
Baldwin is changing the car's number to 10 this year. In the Daytona 500 and nine other Cup races, it will be driven by Danica Patrick and run out of Stewart-Haas Racing, with Greg Zipadelli the crew chief and sponsorship from GoDaddy.com.
In the remaining 26 races, it will driven by Reutimann and run out of Tommy Baldwin Racing, with Baldwin himself serving as crew chief. Sponsorship is still being sought.
How much money TBR raises will define how much actual racing Reutimann does and how much starting and parking he does. The driver is OK with the arrangement.
"There are no hidden agendas with Tommy," Reutimann told SPEED.com Thursday afternoon. "It is what it is. It's pretty black and white. So you know going in what you have and you know what you're going to try to do, so there's really no room for any other interpretation, which is neat because sometimes you go into situations where there are some gray areas.
"With Tommy, it's like, 'OK, we've got some cars, this is what we're going to do and do you want to drive them?'
'Sure.'
"That was the negotiating process with Tommy," said Reutimann.
While much remains to be seen, Reutimann is hopeful that the SHR relationship will improve Baldwin's scrappy team.
"I think there's an opportunity for some engineering support and some other things that will kind of filter down and help TBR become a stronger team," Reutimann said. "Just being associated with a Cup team like Stewart-Haas is a pretty big deal."
Tom Jensen is the Editor in Chief of SPEED.com, Senior NASCAR Editor at RACER and a contributing Editor for TruckSeries.com. You can follow him online at twitter.com/tomjensen100.