CUP: The Big One Strikes Early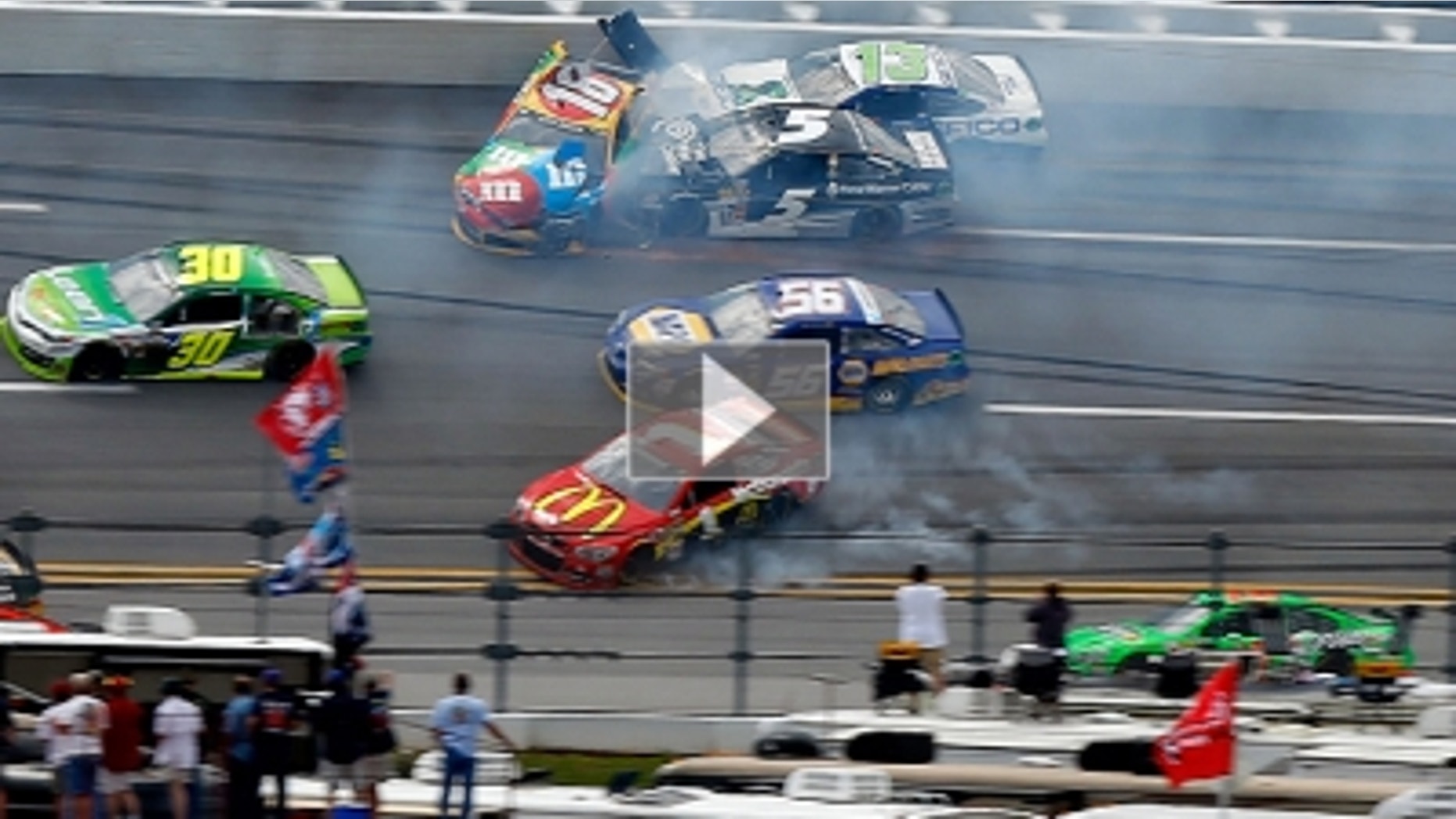 The Big One – early?
Yes.
Sunday's Aaron's 499 was only 43 laps old when 16 cars were involved in a massive crash that either eliminated or damaged the victory hopes of some of the field's best drivers.
The wreck started with slight contact between the cars of Kyle Busch and Kasey Kahne. Busch was running behind Kahne and tapped the rear of Kahne's car in heavy traffic. Kahne's car slid into the outside wall, followed by Busch.
Cars in the following pack maneuvered in attempts to avoid the spinning Busch and Kahne, and general chaos ensued.
By the time the smoke cleared, 16 cars were involved, and several left the race.
"I just kind of got shot through the center there, just a lot of momentum coming from behind," Kahne said. "Felt the No. 18 (Busch) pushing me, and next thing I know I was spinning. You just can't push with these cars. We learned that at Daytona (in the 500). He was pushing me and spun me in the wall and then it happened again, so that is what it is."
Kahne said he didn't discuss the incident with Busch in the infield medical center. "I think we both probably understand what happened, and we will figure it out from there," Kahne said.
Greg Biffle parked because of the crash.
"I just saw them wrecking above me," Biffle said. "I thought about going to the left. I had plenty of room and probably should have, but I didn't. I just stayed straight and moved down all I could, and it wasn't enough.
"They got me in the right rear and turned me the wrong way up into the wall, a pretty hard hit, but that's all you can do is hang on when stuff like that happens.
"It can happen at any time. You just never know. We were trying to be cautious, but that didn't work."
Among those involved in the crash was Brian Vickers, who had been on the track for only a short time after replacing Denny Hamlin in the No. 11 Joe Gibbs Racing Toyota.
The Vickers car was damaged seriously, dropping Hamlin in the finish order and impacting his chances to move into the points top 20 and thus have a shot at making the Chase despite missing four races.
Mike Hembree is NASCAR Editor for SPEED.com and has been covering motorsports for 31 years. He is a six-time winner of the National Motorsports Press Association Writer of the Year Award.