CUP: Ten Big Wins In Hendrick's 200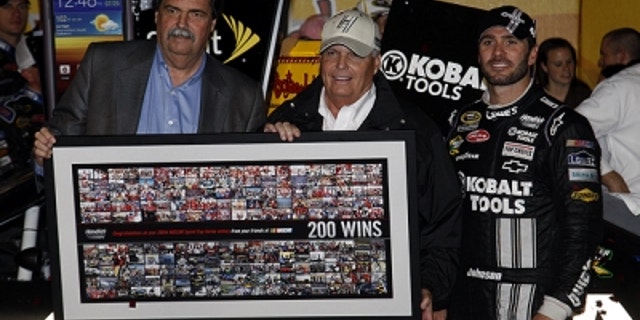 The long and winding road to Hendrick Motorsports' 200th Sprint Cup victory finally reached an end Saturday night with Jimmie Johnson's win in the Bojangles Southern 500 at Darlington Raceway.
Rick Hendrick edged into the sport in 1984, starting a team on a wing and a prayer. He named it All-Star Racing. He didn't have a sponsor, and he barely had a shop and team, but he had a representative driver in New Yorker Geoff Bodine.
Two months into his first season, Hendrick would get his first win courtesy of Bodine. That started the ball rolling along a rollicking course that would lead to dozens of victories and a boatload of championships.
Following are 10 key wins along the trail to 200:
1. Geoff Bodine – Martinsville, VA, April 29, 1984. The organization's first Cup victory led to sponsorship and hope.
2. Geoff Bodine – Daytona Beach, FL, Feb. 16, 1986. Team's first Daytona 500 victory.
3. Tim Richmond – Riverside, CA, July 21, 1987. The last win in Richmond's star-crossed career.
4. Jeff Gordon – Concord, NC, May 29, 1994. Gordon's first Sprint Cup victory, launching him on a magical mystery tour that would revolutionize the sport.
5. Jeff Gordon – Indianapolis, IN, Aug. 6, 1994. Gordon and Hendrick win the first Brickyard 400, a landmark moment for the sport.
6. Jeff Gordon Daytona Beach, FL, Feb. 16, 1997. Gordon wins the Daytona 500 and leads an unprecedented 1-2-3 sweep for Hendrick cars. Teammates Terry Labonte and Ricky Craven are second and third.
7. Jeff Gordon – Darlington, SC, Aug. 31, 1997. Gordon outduels Ford rival Jeff Burton in a tense, fender-banging finish of the Southern 500 at Darlington Raceway, also winning the Winston Million-dollar bonus.
8. Jimmie Johnson – Fontana, CA, April 28, 2002. Johnson, who had moved up from a mediocre run in the Nationwide Series, scores his first Cup victory.
9. Brian Vickers – Talladega, AL, Oct. 8, 2006. Vickers' relatively brief Cup career at Hendrick was highlighted by this victory. He crashed teammate Jimmie Johnson – and, not incidentally, Dale Earnhardt Jr. – while trying to bump-draft with Johnson on the last lap.
10. Jimmie Johnson – Darlington, SC, May 12, 2012. After six months of winless frustration, Johnson finally brought out those 200th victory caps on a marathon night at Darlington. The landmark reached – finally.
Mike Hembree is NASCAR Editor for SPEED.com and has been covering motorsports for 30 years. He is a six-time winner of the National Motorsports Press Association Writer of the Year Award.