CUP: Team Preview - Michael Waltrip Racing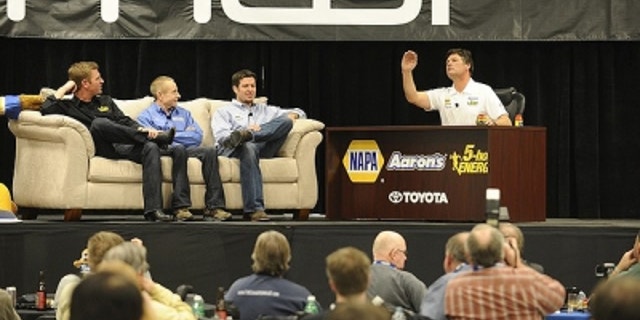 2012 Team Preview: Michael Waltrip Racing
Owners: Michael Waltrip, Rob Kauffman (2 career wins, 0 career championships)
Drivers: Clint Bowyer (Finished 13th in 2011 driving for Richard Childress Racing); Martin Truex Jr. (Finished 18th in 2011); Mark Martin (Finished 22nd in 2011 driving for Hendrick Motorsports)
Crew Chiefs: Brian Pattie, Chad Johnston, Rodney Childers
Key offseason changes: Clint Bowyer joins MWR as a full-time driver, and Mark Martin is on board for a 25-race run. Team co-owner Waltrip will drive Martin's car (No. 55) in five races. David Reutimann is no longer with the team. Overview: Change is the active word this season at MWR.
Clint Bowyer left an uncertain situation at Richard Childress Racing to take a driving spot at MWR and hopes to reignite a career that found him falling short of the Chase last season.
Also new to the team is veteran driver Mark Martin, who plans to run a limited schedule and also provide the team with advice and support gleaned from his long career as a driver. Waltrip will drive five races in
Martin's car, and the remaining six probably will be split among several drivers.
Martin Truex Jr. is back for his third season with the team.
Scott Miller, who joined MWR last year as competition director, continues in that role.
The team has a stronger alliance with Toyota Racing Development and manufacturer partner Joe Gibbs Racing, a move that is expected to improve MWR's engines and its access to the latest in aerodynamic developments.
"We believe our driver lineup is the best it's ever been," said team general manager Ty Norris. "There's no reason to think that we can't go and win races and earn a spot in the Chase.
"When we say we're better for 2012, it's not just that we feel like we're better. The numbers prove it. We've gained over 10 percent in the last nine months on the aero side."
The team takes particular pride in Truex Jr.'s final weeks last season. He rolled home fifth at Phoenix and second at Homestead in cars that had produced significantly improved aero numbers, providing a momentum boost the team hopes will carry over into this season.
Still, team officials realize they have more ground to cover.
"If somebody expects that in six months we're going to be the rival of Hendrick Motorsports, then that's an unrealistic expectation," Miller said. "We have to take small steps to improve the organization, to improve the systems, and that will hopefully in turn start to allow us to have a more consistent product every week and build on it.
"I don't expect it to be an overnight sensation, but as long as we can put reliable race cars on the track and keep the drivers pumped up, it's a realistic goal for us to put a car in the Chase.
"In terms of trying to improve some of the internal systems and streamline things and get a little more efficient about stuff, we've come a good little way, but we definitely have more to do. To be competitive in this arena, these teams have turned into almost a manufacturing facility. We get tubing in the door, and, at the end of the day, a race car rolls out the other end. You have to be efficient in that process to make things happen quickly. That's what I've been trying to work on."
Prediction: Barring a run of mechanical woes, MWR should put one of its drivers – probably Clint Bowyer – either in the Chase or on the edge of it.
The team figures to be lifted considerably by more input from Toyota Racing Development and from a closer relationship with Joe Gibbs Racing, which has been Toyota's No. 1 Sprint Cup team for several seasons.
It will be interesting to see how Mark Martin performs in an abbreviated season. A win isn't out of the question, but his biggest value might be as an advisor.
Offseason testing – MWR drivers ran five consecutive days of tests in Florida last month – indicates that the team cars are solid.
Mike Hembree is NASCAR Editor for SPEED.com and has been covering motorsports for 30 years. He is a six-time winner of the National Motorsports Press Association Writer of the Year Award.