CUP: Talladega Big One Has Big Consequences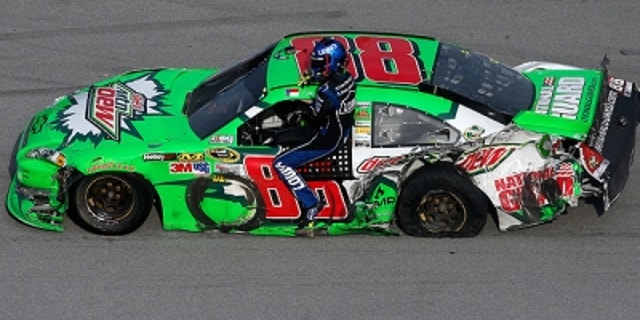 At Talladega Superspeedway, it only takes a fraction of a second for a great day to end very badly, for a potential victory to suddenly become an expensive and painful outcome laced with large doses of anger and frustration.
And no one is immune.
Jeff Gordon has six NASCAR Sprint Cup race victories at Talladega, most of any active driver. But the four-time series champion also has finished 25th or worse a whopping 13 times. And he has come to expect the worst.
"Here at Talladega, the only unknown is when that big wreck is going to happen and what's going to cause it and sometimes it happens when you least expect it, but you can be assured that you get a full group of cars down to the closing laps of this race and it's going to happen," said Gordon. "It's just whether or not you get caught up in it or not."
In the most recent Talladega race last fall, Clint Bowyer was third going into the last lap. But when 25 cars wrecked thanks to a Tony Stewart block, Bowyer ended up 23rd, effectively putting him out of championship contention. Instead, Bowyer finished second to Brad Keselowski in the final points.
"Looking at my Chase last year, this race right here cost me a shot at a championship," said Bowyer. "This was the one race that I felt like we lost enough points that we couldn't make up for it racing against the caliber of teams that we were."
Worse yet, in the same crash cost Bowyer 20 finishing spots, Dale Earnhardt Jr. suffered his second concussion of the season, causing him to miss the next two races and eliminating him for championship contention.
"Restrictor plate racing is a race where you can get swept up in something that is totally out of your control and totally random and at times ridiculous," said Earnhardt. " You can be so frustrated by how out of your hands that happens. How there was nothing you could do to avoid that fate. You've really got to be able to put that behind you fast. You've got to be able to know that is a possibility, a real possibility much more than any other track."
That kind of chaos part and parcel to restrictor-plate racing, especially at the end, where the closing laps tend to be a free-for-all.
Earnhardt admitted that last year's crash upset him.
"It's frustrating when you run around and we spend all day running 495 miles and then crash in the last five (miles)," he said. "The whole field crashes. It's really frustrating to sort of accept that as what I decided to do today. I got up Sunday morning and decided to run 495 miles to crash in the last five miles and now I'm going to go home, and I'm all right with that. That's hard to wrap your brain around, and 'I'm okay with it and everything's cool.'"
But those last few laps, all bets are off.
For everybody.
"You are pushing whoever is in front of you, no matter what color, what brand, what driver, who you hate, who you don't hate," said Kevin Harvick, one of the more skilled plate racers. "You are pushing the guy in front of you to try to make the best position at the finish that you can. Sometimes you push too hard; sometimes somebody else pushes too hard and you are in their mess, and you get out and go home."
That's the chance you take though, and the drivers accept that.
"Yes, the level of intensity on the racetrack is a lot more than some other racetracks, especially those last 15 to 20 laps," said Bowyer. "Your odds of getting in a crash and probably a big hit is pretty great right there at the last few laps. If you can get that far."
Tom Jensen is the Editor in Chief of SPEED.com, Senior NASCAR Editor at RACER and a contributing Editor for TruckSeries.com. You can follow him online at twitter.com/tomjensen100.