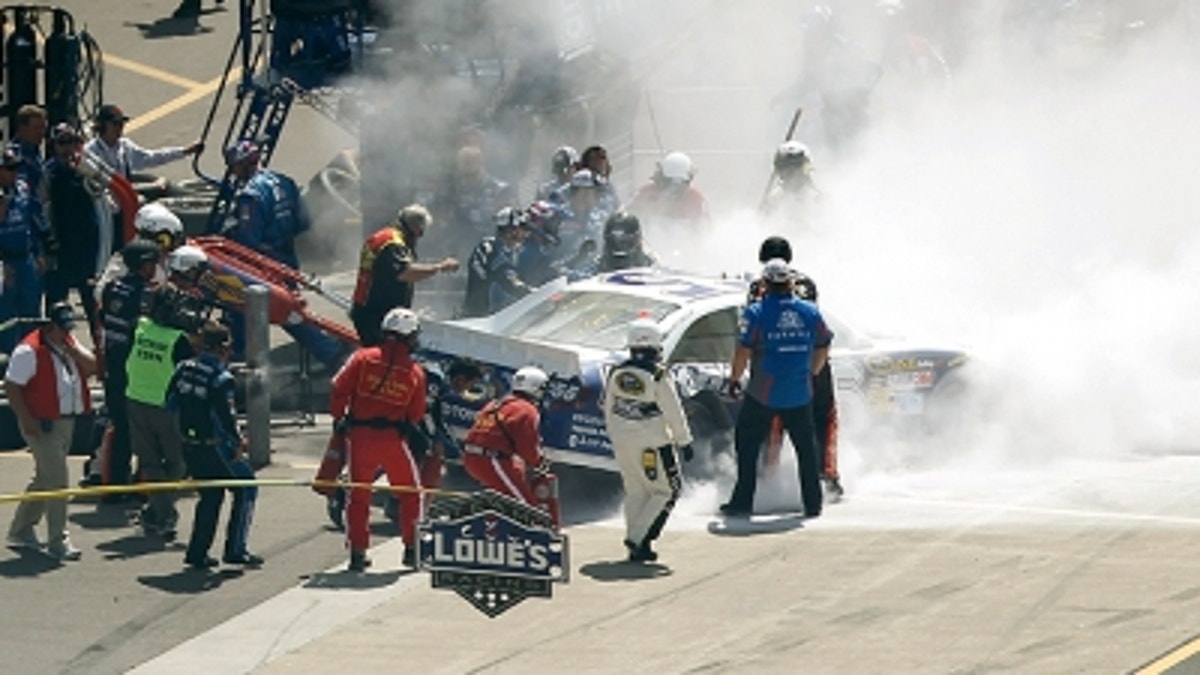 DODGING A BULLET — Brad Keselowski was in the middle of a news conference after his second-place finish Sunday in the NASCAR Sprint Cup race when he became distracted by a replay on TV.
It was Mark Martin's car slamming violently into the end of a short, narrow barrier on pit road during the first half of the race.
"Whoa. Damn," Keselowski said, stopping in the middle of an answer to a reporter's question. "That's the first time I'd seen that. Jeez. My God."
Martin walked away from his crash at Michigan International Speedway, but the side of his car was essentially impaled by the end of the wall, raising questions about whether that spot -- a gap in the barrier on pit road that leaves the edge of the wall exposed -- creates a safety risk.
"Could have been a lot worse than it was," Keselowski said. "Over the course of time, we get complacent and think that we've hit all the buttons on the safety side. Then you see something like that. It shows why you have to never quit working at making these cars and tracks safer because that could have been a lot worse, whether it was for Mark or for the crew members or anybody."
MIS later released a statement.
"The safety of the drivers is paramount," a spokeswoman said. "So we will seek NASCAR's opinion and work with them on any recommendations they may have on how we can improve any part of the competition area -- that includes pit road, pit wall, the track, anything competition-related."
Martin was the pole sitter and led most of the first 65 laps of the race -- which ended abruptly for him.
"I was hoping that I was going to miss the pit wall completely and not tear the car up, but then I saw that the angle I was going that I was going to hit the end of pit wall," Martin said.
CHAMPS STRUGGLE AGAIN — For the second straight weekend, Tony Stewart and Jeff Gordon both experienced frustrating race days.
Last week at Watkins Glen, Stewart had a pair of pit stop miscues and hit an inner guardrail, and Gordon spun his car on the last lap. Sunday, Stewart and Gordon had valve spring issues, forcing them to the garage during the first half of the race.
Stewart, who finished in 32nd place, returned just prior to the midway point of the race but he was forced out after completing only 109 laps. Gordon also came back with just over 50 laps left and placed 28th. That was Gordon's worst finish at Michigan since August 2008 when he was 42nd. It was the first race Stewart did not finish at the track since June 2006, when he placed 41st.
"I was just running along there and all of a sudden I dropped a cylinder," Gordon said. "This is a tough place on engines. We rarely have these issues. It's unfortunate to have this one here today, but that's the kind of year we've been having.
"I was hoping after Pocono that we could carry some momentum and not have these kind of back-to-back weekends."
KENSETH AIRED OUT — A flat tire with 51 laps remaining cost Matt Kenseth a shot at winning his second race of the season.
Kenseth, who had been running consistently in the top five through most of the race, was forced to the pits for a tire change, dropping him to 23rd place. He finished in 17th after starting on the second row.
"I came home 17th because we just had everything go wrong," Kenseth said. "It was really an uphill battle. ... For us the biggest challenge was we were really good in the beginning. As soon as the sun came out we were kind of junk. The farther we got back the more problems we had, and the tougher it was for us."