CUP: Sunday Kansas Notebook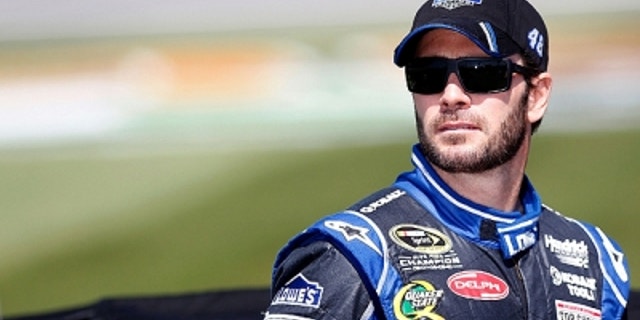 NO HAT DANCE — Jimmie Johnson came into Sunday's STP 400 at Kansas Speedway as the last driver to win a NASCAR Sprint Cup race at the 1.5-mile oval. He desperately wanted to give team owner Rick Hendrick career race victory No. 200, after giving him No. 199 last October here. And he wanted to win his first race of the season, after coming close at Texas last week and at Martinsville two races earlier. Given all that, it might be logical to assume that Johnson was frustrated this time out at Kansas, where on Sunday he finished third behind race-winner Denny Hamlin and runner-up Martin Truex Jr. It might be logical, but it would be wrong.
Asked after the race if he was disappointed at his finishing position, Johnson insisted he wasn't.
"This week it doesn't register," said the five-time Cup champion. "To me last week at Texas, the week before at Martinsville or to lead a lot of laps at Martinsville and have our cars lead 1-2-3 and not get the victory ... and today to get near the end and not close the deal does sting. Today we ran well but we weren't a dominant car and kind of finished where we should have. Today doesn't bother me. Sure, I'd love to do it (win), but the 56 (Truex) and the 11 (Hamlin) at the end had more pace than we did."
But make no mistake, Johnson wants to win soon and silence the questions about 200 victories for the team. Asked how badly he wants that to happen, Johnson said, "More than you could ever imagine."
For the rest of the Hendrick Motorsports squad it was not a great outing. Dale Earnhardt Jr. finished seventh, one position ahead of Kasey Kahne, while Jeff Gordon nursed a damaged motor home to finish 21st.
"We lucked out in some ways, I feel like, by finishing 21st," said Gordon. "It could have been a lot worse. We struggled today. We missed the set-up. And we were still going to finish seventh or eighth. So I think that says a lot about our race team. But yeah, we obviously had a valve spring, I believe, something in the valve train that broke. They gave us more gear here this time and I think that took a toll on not only us, but on a lot of guys out there."
TEAMMATE ACT — It wasn't a great weekend for Roush Fenway Racing, but it wasn't a bad one, either. NASCAR Sprint Cup points leader Greg Biffle finished the STP 400 at Kansas Speedway in fifth place with his No. 16 Roush Fenway Ford, one position behind teammate Matt Kenseth. Both Biffle and Kenseth now have a victory and five top-five finishes in eight races so far this year.
"It's not a disappointing day for a fifth-place finish, it's probably a disappointing day for how the car ran," said Biffle, who now leads race-winner Martin Truex Jr. by 15 points and Kenseth by 17. "I thought we were gonna be a little better than that and we weren't, but we'll keep working on it and come back better the next time."
Kenseth credited his fourth-place run to a flurry of adjustments made by crew chief Jimmy Fennig and the crew. "I was not happy with it at all this weekend and they made a lot of changes this morning and last night and it drove a lot better today," Kenseth said of his crew and his car. "We were a little bit off. I got that one just horrendously awful restart in the middle of the race and we could just never quite get it exactly right, but it was a good day for us."
Carl Edwards finished the worst of the three Roush drivers, coming home ninth, although he did lead his first lap all year long. "If that's the worst Roush Fenway Ford, then we're gonna be OK," Edwards said.
HAPPY TOGETHER — Although he hasn't made a big deal of it publicly, Kevin Harvick helped orchestrate a lot of changes on his No. 29 Richard Childress Racing Chevrolet team over the winter. While the crew is still having some minor teething problems, Harvick continues to run well. On Sunday at Kansas Speedway, Harvick finished sixth despite a lengthy mid-race pitstop after he ran out of fuel.
"We have fast cars right now," said Harvick, who is sixth in points after eight races. "We just are making mistakes. We will clean those up. This team has been together for probably eight weeks now. The Rheem Chevrolet was not exactly like it was in practice. The car was really tight today. It took us until the end to get it right. The guys did a great job rebounding on pit road this week. To run out of gas under green flag and come back and finish sixth is a good rebound."
Tom Jensen is the Editor in Chief of SPEED.com, Senior NASCAR Editor at RACER and a contributing Editor for TruckSeries.com. You can follow him online at twitter.com/tomjensen100.