CUP: Stewart Wins First Daytona Duel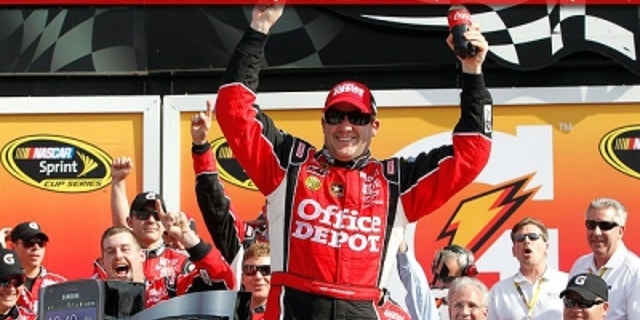 Tony Stewart took a big step Thursday on the road to scoring what would be his first Daytona 500 victory.
The three-time Sprint Cup champion held on in front of a pack of traffic on a wild last lap and won Thursday's first Gatorade Duel qualifying race for the 500. Stewart will start third in the 500.
"We took care of business today," Stewart said. "We had an awesome car there [drafting] with (Kevin) Harvick. I thought I could get him through there, but we had a good run there."
Stewart and Harvick drafted together over the closing laps, but Harvick fell back at the finish and was seventh.
The afternoon was decidedly different for Danica Patrick. Readying for her first Daytona 500 start Sunday, Patrick finished Thursday's race in virtually the worst way possible – with a vicious hit to the inside wall off turn two.
Patrick was running on the inside of a big pack when Jamie McMurray apparently moved low and hit Aric Almirola, who dropped down and hit Patrick, sending her bright green car into a slide and then into the SAFER barrier in the second turn.
Despite the crunching hit, Patrick was not hurt, but her Chevrolet was smashed, and the team will go with a backup car for the 500.
Television replays showed Patrick taking her hands off the car's steering wheel seconds before the crash to avoid the possibility of injuring her hands or arms.
Stewart, who has won championships in both IndyCar and Sprint Cup but has failed to win the biggest races of both series, took Thursday's race by leading as the caution fell for Patrick's last-lap crash.
Stewart appeared to be in position to win the race even if the caution had not appeared on the final lap. He was followed by Dale Earnhardt Jr., Marcos Ambrose, Carl Edwards and Jeff Burton.
The race was only nine laps old when a four-car incident in the first turn scrambled the field and mangled several cars.
The wreck appeared to begin when Michael McDowell tapped David Gilliland's car in the rear, sending Gilliland up the track and into Juan Pablo Montoya, who was pushed into Paul Menard, who slammed into the outside wall.
Michael Waltrip lost a shot at trying to make the 500 field when he crashed while driving alone on the backstretch with eight laps to go. Waltrip had pitted and was returning to racing speed when he lost control of his car, spun and hit the outside wall.
Robby Gordon (ninth) and Michael McDowell (sixth) claimed the race's transfer positions for the Daytona 500.
Mike Hembree is NASCAR Editor for SPEED.com and has been covering motorsports for 30 years. He is a six-time winner of the National Motorsports Press Association Writer of the Year Award.