CUP: Stewart Still Seeking Big Prize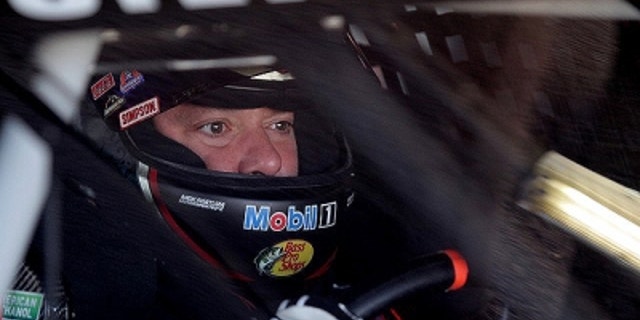 If you do the math, Tony Stewart's numbers at Daytona International Speedway are compelling:
• Eighteen race victories overall at the 2.5-mile track.
• Four victories in the July NASCAR Sprint Cup races.
• Six victories in NASCAR Nationwide Series races.
• Three Sprint Unlimited wins.
Then there are Stewart's three Sprint Cup championships, two Brickyard 400s won, an IndyCar title and his USAC Triple Crown championship.
But there is still one gaping hole in Stewart's otherwise impeccable résumé: The man known to his fans as "Smoke" is still hunting is first Daytona 500 victory. Oh, he's come close before, finishing second in 2004 and third in '08, but he's not been able to seal the deal yet.
Of course, Stewart is hardly alone in his Daytona 500 struggles. It took the late Dale Earnhardt Sr. 20 years to win it, and Darrell Waltrip 17.
Some of today's best NASCAR drivers have never won the 500. The Busch brothers, Denny Hamlin, Kasey Kahne, Clint Bowyer, Carl Edwards, Greg Biffle, Brad Keselowski, Terry Labonte and Mark Martin are among the active drivers who are winless in the 500.
In Stewart's case that could change on Sunday.
Stewart's No. 14 Chevrolet SS Generation-6 cars have been fast all week, as have the cars of teammates Danica Patrick and Ryan Newman.
But to win on Sunday will require an error-free run, Stewart said.
"Everything has to go right," Stewart said. "The Indy 500 is the same way. It's easy to compare those two because everything has to go right that whole day. You don't normally get the opportunity to have a mistake and come back from it. It just seems like it's hard to make up from a mistake. You look at the guys that normally have that trophy at the end of the day, they're guys that had no drama at all during their race. It's one that you just can't afford to make a mistake."
This year has been a different Speedweeks for Stewart.
Patrick was not guaranteed a spot in this year's Daytona 500 field, so the team pulled out all the stops in giving her the best car possible for qualifying, which she capitalized on by winning the 500 pole on Sunday. That locked her into the race.
Now that Patrick is in, Stewart can turn his full focus from being a car owner trying to protect his investment to a racer trying to win the biggest event in the sport.
"I'll be honest: the pole didn't matter to me personally," Stewart said last Sunday, after Patrick won the pole. "It was more as an owner, wanting Danica to be in the top two today. That way she's locked in, we don't have to worry about what happens on Thursday. To me, my eye is still on next Sunday. Ownership side this Sunday, next Sunday I want it from the driver's side."
Stewart's early speed and his prior success make him one of the favorites to win on Sunday, along with Kevin Harvick, Kyle Busch, Matt Kenseth, Greg Biffle, Michael Waltrip and the Hendrick Motorsports Chevrolets.
Like most years, this Daytona 500 will almost certainly be decided in some combination of a crapshoot and scrum in the closing laps, a mixture of "science project and casino," as one journalist described it.
"That's the most educated way I've ever heard it been put," Stewart said. "It is exactly that way. You do everything in your power to take care of the science or technology side, do everything you can to build the fastest car you've got.
"Then if you don't have the luck to go with it — even if you don't have any drama with getting the car touched, nothing happens to the car. If you're just in the wrong spot at the wrong time at the end, it can take you out of the opportunity to take the best race car in the field, and a chance not to get through. It is exactly that combination."
Tom Jensen is the Editor in Chief of SPEED.com, Senior NASCAR Editor at RACER and a contributing Editor for TruckSeries.com. You can follow him online at twitter.com/tomjensen100.