CUP: Stewart – No Predictions Here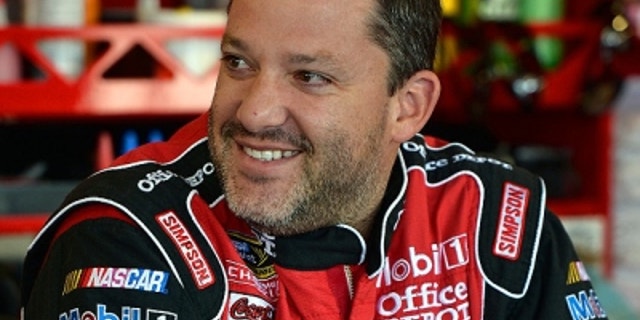 NEWYou can now listen to Fox News articles!
Tony Stewart doesn't make his money prognosticating.
And that's a good thing. Last year, he practically wrote himself off as a championship contender in mid-summer, then came back with a vengeance in the Chase and scored his third title.
Stewart has been pushed to rate his chances of repeating and to predict how many wins – if any – might be needed to take the championship and even to weigh in on this year's Formula 1 title run.
He's having none of it.
"I don't know how you could predict it," Stewart said. "How do you honestly and accurately predict that? … There is no formula. There is no right or wrong answer. It all depends on what the 11 other guys that you are racing with do each week. It strictly is dictated by that.
"There isn't a set formula. There is no blueprint. There is no certain way of doing it. It's just who can put together the 10 best weeks, and there is no set way of doing it. There is no logical answer, I guess.
"Anybody that plays in the World Series of Poker can't tell you how many hands you have to win to win the tournament. You've got to play it one week at a time."
Who knew? Stewart must have coached college football once upon a time.
Stewart's bold run to the 2011 championship still sparks conversation. Five wins in 10 races in the fire and fury of the championship stretch? It's not likely to be repeated.
"I mean, it was a cool run," Stewart said. "The hard part, though, is that was a year ago. I've got to worry about what I've got to do to do it again this year. I can't spend that much time thinking about what we did last year.
"That is why we did all the stuff at the end of the year to talk about what we did last year. It was an awesome run, obviously, but … I would have lost my house and everything because I would have bet totally against what happened. I didn't have the confidence that was even feasible for our team.
"It just shows you can sit here today and feel confident and it not work or you can be feeling like you're going to run dead last and win five races. You just don't know."
Despite Stewart's fierce run last year, he still needed a tiebreaker to take the title from Carl Edwards. He figures that experience will have every Chase driver chasing every available point this year.
"I think probably the one thing that everybody is probably more focused on after last year is the fact that every single point is going to be a big deal," Stewart said. "Whether it's leading a lap to get a point, you know you might stay out on a caution just to lead a lap. … If you get in a crash, you can get that thing fixed, and you are going to fight for every spot you can get just to get that one extra point. We all know what the value of it is, but as far as the approach each week you do the same thing the last 10 weeks that you do the first 26 weeks that gets you here."
Mike Hembree is NASCAR Editor for SPEED.com and has been covering motorsports for 30 years. He is a six-time winner of the National Motorsports Press Association Writer of the Year Award.