CUP: Stewart, Newman Setting Strong Pace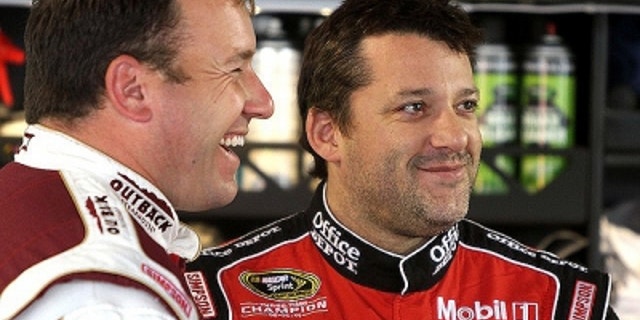 Defending NASCAR Sprint Cup Series champion Tony Stewart, winner of last fall's race at Martinsville Speedway, was mostly a non-factor in Sunday's return to the half-mile track.
Stewart finished seventh after the late-race smashup in turn one scrambled the field, but he couldn't put his No. 14 Chevrolet in front for any of the race's 515 laps.
Not to worry, however. The champ's Stewart-Haas Racing team was well-represented in victory lane by its other driver, Ryan Newman.
Newman's victory, accomplished with a slick inside-lane move through the first-turn mayhem, gave SHR eight victories in the Sprint Cup Series' last 16 races – a remarkable .500 batting average. That average extends into this season, with the team having won three of the first six races. Stewart finished first at Las Vegas and Fontana.
Newman had not won a race since last July at New Hampshire Motor Speedway.
"There was a sense of relief there, but the emotion was, 'Man, we did it,'" Newman said. "I've tried so many times there, and I enjoy short-track racing. I enjoy Martinsville, and I didn't used to. So it made it more sweet for me than maybe another race track."
Although Stewart has been carrying the load victory-wise for SHR, having won five of the 10 Chase races last fall and two of the first five events this year, Newman said he didn't feel under pressure to match his boss by visiting victory lane.
"I don't look at it in that respect," he said. "I can't compare myself to the 14 or Tony Stewart or anybody else. All I know is I can go out there and do the best job that I physically, emotionally and mentally can.
"If that gets us to victory lane, then it does. If it doesn't, we need to sit back and figure out how to be better. Comparing yourself doesn't get you anywhere, in my opinion."
With wins this early in the year, Stewart and Newman have a leg up in the competition for Chase positions. Should they drop in the standings, victories will count in the battle for wild-card spots.
"Well, it's big for us from a points standpoint because we gain an advantage in the points, but primarily to give us something to fall back on if we need to to make it into the Chase," Newman said. "That is a sense of relief. But that relief doesn't get you anywhere when it comes to performance. It just gives you something to fall back on.
"So our job is still to go out there and make the effort to win each and every race and keep moving our way up into the points so we don't have to rely on the win."
For the moment, Newman and Stewart have rather comfortable perches in the point standings, Stewart claiming a tie for third with three other drivers and Newman sitting in eighth, only eight points behind leader Greg Biffle.
Mike Hembree is NASCAR Editor for SPEED.com and has been covering motorsports for 30 years. He is a six-time winner of the National Motorsports Press Association Writer of the Year Award.