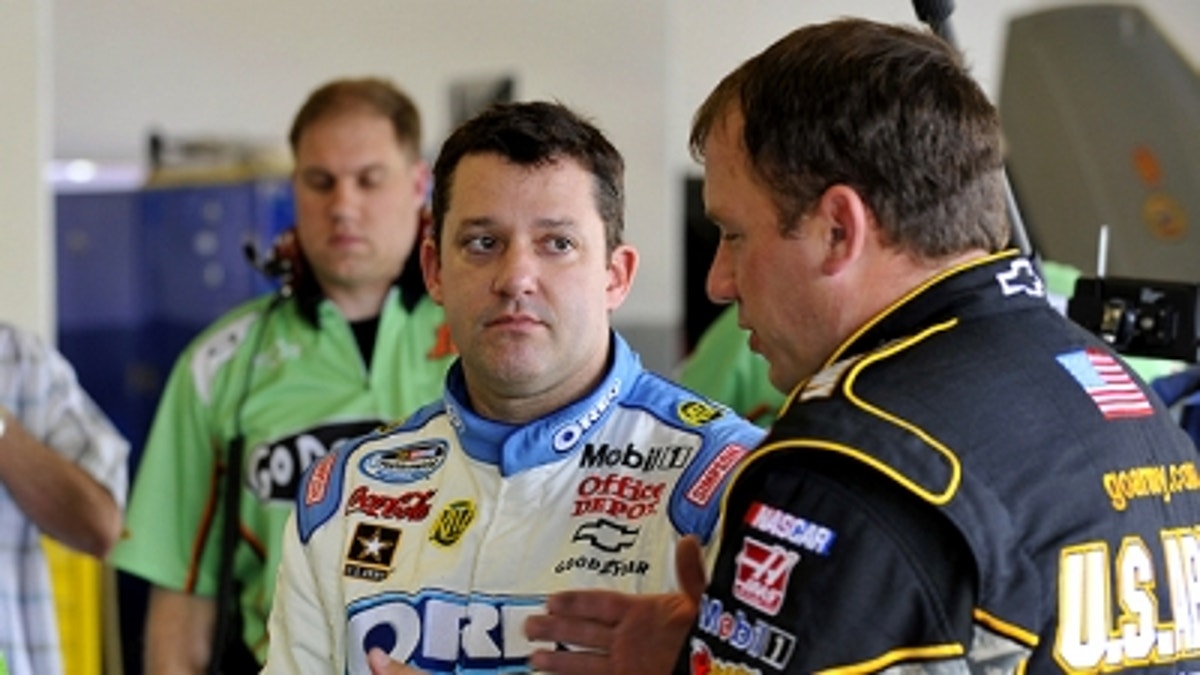 It was not the seasonal start that the defending Sprint Cup Series champion organization might have dreamed about during the long winter.
Tony Stewart, winner of a third Sprint Cup title last season, led only two laps in the Daytona 500 and finished an uninspiring 16th, his quest for a first victory in NASCAR's biggest race turning into something less than spectacular.
Teammate Ryan Newman found the going rougher, limping home with a battered race car and finishing 21st. The mid-pack finish was considered a bonus after an early-race flat tire cost Newman two laps.
And, of course, there was the tough Daytona week experienced by Danica Patrick, semi-teammate of Stewart and Newman. She swirled in masses of publicity and hype but fell victim to a string of crashes not of her making.
The Stewart-Haas Racing gang will be happy to arrive in Phoenix Friday for Round 2 of a long, 36-race struggle.
Phoenix International Raceway is a good landscape for a boost for Newman, who has a win, a second and two fifth-place runs in his past four Sprint Cup races at the relatively flat, one-mile oval. In 19 Cup races at the track (where he made his series debut), Newman has four poles, one win, seven top-five and seven top-10 finishes.
"Although Daytona is our biggest race, I think most people will tell you the season really starts with the second race just because it seems to be a better gauge in determining what you have compared to other teams," Newman said.
"Phoenix is a special track to me. It's where I started my Sprint Cup career. It's the first track I raced on in NASCAR, so it's an important place. And, it's a special track for our team, too, because it's where we were able to get our first win back in 2010.
"It's just a track I have always liked from my USAC days. Back then, Phoenix was the place to race, so it's kind of like a track that's the backbone of how I'm used to racing. We have run so well there the past few years, and we seem to be in tune with the race track, so we're looking forward to continuing our streak of solid finishes there."
Even though the track has undergone a significant reconfiguration and repaving, Newman said its basic characteristics remain much the same.
"Honestly, the changes that were made to the race track – the new pavement and the slight changes to the design – didn't really change my opinions on the race track itself," he said. "Phoenix has always ranked up near the top of my list as one of my favorite race tracks. It's really one of my favorite race tracks because the design of the race track makes it fun and challenging to drive. It's definitely a driver's race track.
"We've always said that because it's so unique. It's different from one end to the other. And, therefore, the crew chief can only get one end perfect, it seems, and the other one the driver has to adapt to. It's not a compromise if your crew chief does a good job setting up the race car because you can do things to try to manipulate those opposite ends of the racetrack. But, when your car is not working, it's up to the driver to make up what you can of what's left, and that I think separates the men from the boys at Phoenix. The driver really has to drive and hustle the car a little bit more and a little bit differently and still be smooth. It's those aspects that make the track a lot of fun to me."
Like Newman, Stewart, who first raced USAC Silver Crown cars at Phoenix in 1993, has a single Sprint Cup win at the track. His career average finish at Phoenix – 11.3 – is better than Newman's 18.6.
Mike Hembree is NASCAR Editor for SPEED.com and has been covering motorsports for 30 years. He is a six-time winner of the National Motorsports Press Association Writer of the Year Award.