CUP: Stewart Dishing Dirt To Feed Hungry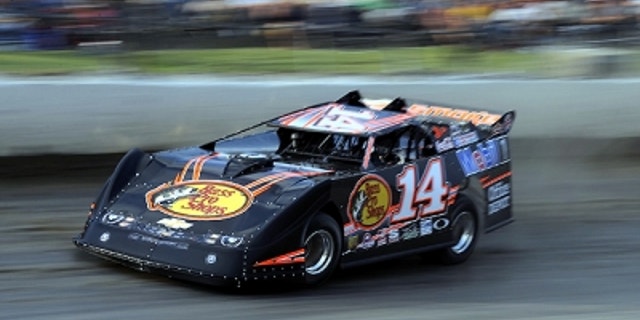 Forget the new pavement at Pocono Raceway this week. Tony Stewart wants to sling some dirt tomorrow night and do it for a good cause.
The three-time and defending NASCAR Sprint Cup will host the eighth annual Prelude to the Dream dirt late model charity race Wednesday night at Eldora Speedway, a half-mile track in Rossburg, Ohio, that Stewart owns.
This year's field will be the deepest and most talented ever at the high-banked, lightning-fast dirt track.
Stewart, Jimmie Johnson, Clint Bowyer, Ryan Newman, Kasey Kahne, Bobby Labonte, Aric Almirola, Danica Patrick, Kurt and Kyle Busch and Austin and Ty Dillon will lead the NASCAR contingent.
Also in the field are Tony Kanaan of the IZOD IndyCar Series, Ron Capps and Cruz Pedregon of the NHRA Full Throttle Drag Racing Series, and Steve Kinser and Donny Schatz, who collectively have won 24 World of Outlaws championships. For Schatz and Kinser, it's their first time in a dirt late model racer.
The event, which is available on HBO Pay-Per-View, will raise money for Feed The Children, a U.S.-based charity that domestically has helped more than 365,000 families since 2009 through its Americans Feeding Americans Caravan.
For the top-10 finishers in the Prelude To The Dream, Feed The Children will send a food truck to each driver's hometown or city of their choice.
The seven prior Prelude events raised a total of $3.5 million. Stewart's target for this year's event is to raise $1 million.
"It's an ambitious goal," said Stewart, "but if we don't set the bar high, we're not pushing ourselves the way we should. That's our goal, and me and everybody else associated with this event is going to do everything we can to meet that goal. Now, we just need everyone out there to purchase the event, enjoy all the action going on at Eldora, and know that their dollars are going to a very worthy cause."
Last month, Stewart came to Concord, N.C., near Charlotte Motor Speedway to promote the Prelude to the Dream. He also spent a good bit of time handing out food and water to local families in need.
"It's very much an eye-opener," Stewart told SPEED.com after the event. "I think there are a lot of times that as a society, we don't want to see things and we don't want to know things are going on, because we want it to be a certain way in our mind. That's what's happening. Days like today are the days a lot of people need to see."
Stewart has supported a variety of worthy causes in the past, including children's hospitals and military veterans. Hunger has got his attention now.
"Hunger in our country is a bigger issue than any of us imagined," he said. "You think about the stuff we squabble about on a daily basis and in the big picture it's not that big a deal compared to what's really going on."
And he's hoping to feed some mouths through the Prelude to the Dream.
"It's very rewarding to be able to do that, but at the same time, as much as you feel good about it, you feel bad that these people are even in that situation that you're having to help," he said.
Tom Jensen is the Editor in Chief of SPEED.com, Senior NASCAR Editor at RACER and a contributing Editor for TruckSeries.com. You can follow him online at twitter.com/tomjensen100.