CUP: Stewart Bests Johnson In Vegas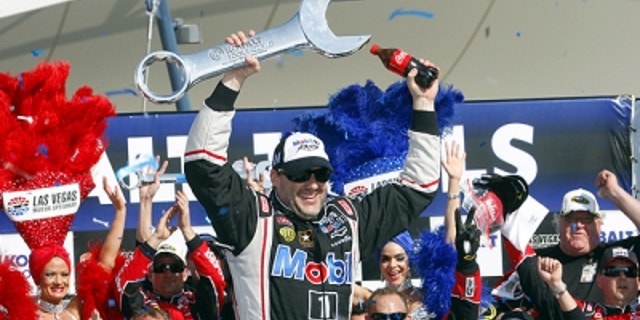 In a battle of NASCAR Sprint Cup champions, Tony Stewart held off Jimmie Johnson to win Sunday's Kobalt Tools 400 at Las Vegas Motor Speedway.
Stewart and his No. 14 Stewart-Haas Racing Chevrolet fended off several determined charges from Johnson during a flurry of late-race restarts to win his first race of the season and sixth in his last 13 starts. It was Stewart's 45th career Cup race victory, with the top two finishers owning eight championships between them.
"We were just so strong on restarts," said Stewart.
"With everything we went through this weekend, we'll take it," said Johnson, who finished second in a back-up car after crashing his primary during Saturday's Happy Hour.
Greg Biffle finished third in a Roush Fenway Racing Ford ahead of Ryan Newman in a second SHR Chevy and Biffle's teammate, Carl Edwards. With his third consecutive third-place finish, Biffle took over the Sprint Cup points lead.
The second five was Clint Bowyer, Paul Menard, Jamie McMurray, Trevor Bayne and Dale Earnhardt Jr.
Earnhardt qualified fourth but jumped into the lead at the start, opening a margin of 2.327 seconds by Lap 30.
Shortly after Earnhardt pitted for the first time on Lap 44, the caution waved for after Timmy Hill smacked the Turn 2 wall. But Earnhardt was able to reassume the point as the rest of the leaders pitted and he pulled away from Kevin Harvick again when the green came out.
On Lap 66, Matt Kenseth passed Harvick for second and set his sights on running down Earnhardt, who by now had led more laps in just this one race than he did in all of 2011.
After a caution for a David Reutimann spin on Lap 73, the leaders came down pit road for service, with Harvick leading over Kenseth and Greg Biffle. Most of the leaders took two tires, but Earnhardt was the first driver to take four tires and came out 18th.
Kenseth went to the lead after the green flag, but he didn't lack for company, as Jimmie Johnson began pressuring him for the lead. The two waged a furious battle lap after lap — as they have many times in the past — with Johnson finally taking the lead on Lap 99.
Earnhardt, meanwhile, could only get back to 14th place by Lap 100.
Johnson pitted from the lead under green on Lap 125, and shortly thereafter, Travis Kvapil brought out a caution when his Toyota engine blew up. Kyle Busch got into the oil from Kvapil's engine, slapping the wall.
When the track went green on Lap 134, Tony Stewart passed Johnson on the low line to take the lead. Stewart was still in the lead when he pitted under green on lap 175.
Once the stops cycled through, Stewart was still out front of Johnson and Kenseth. And the reigning champion did likewise following another caution, this one for debris.
Another yellow flag, this one on Lap 229, set up a round of pit stops and a late-race charge. The order on the restart was Clint Bowyer and Brad Keselowski, who stayed out; then Stewart, Kenseth, Johnson, Jamie McMurray, Kyle Busch and Carl Edwards, all of whom took only fuel.
On the Lap 234 restart, Stewart made a bonzai dive to the bottom of the track to take the lead. Keselowski challenged Stewart for the lead two laps later, but got loose in Turn 2 and couldn't make his pass stick.
With 22 laps to go, Landon Cassill lost the engine in his Toyota, just as teammate Kvapil had earlier.
The track went green on Lap 250, Stewart making a great restart, while Keselowski faltered due to a loss of fuel pressure and Biffle moved to second before being passed by Jimmie Johnson on Lap 252.
Then on Lap 255, Kurt Busch hit the wall at the exit of Turn 2. This time, Stewart led Johnson, Biffle, Kenseth, and Carl Edwards on the restart.
Stewart got a better restart than Johnson and then Kyle Busch spun on the frontstretch, capping a dismal day for the Busch brothers, Las Vegas natives.
The final restart came on Lap 264, Stewart on the inside, Johnson on the outside. Stewart got away clean, but Johnson was right on his tail.
Tom Jensen is the Editor in Chief of SPEED.com, Senior NASCAR Editor at RACER and a contributing Editor for TruckSeries.com. You can follow him online at twitter.com/tomjensen100.