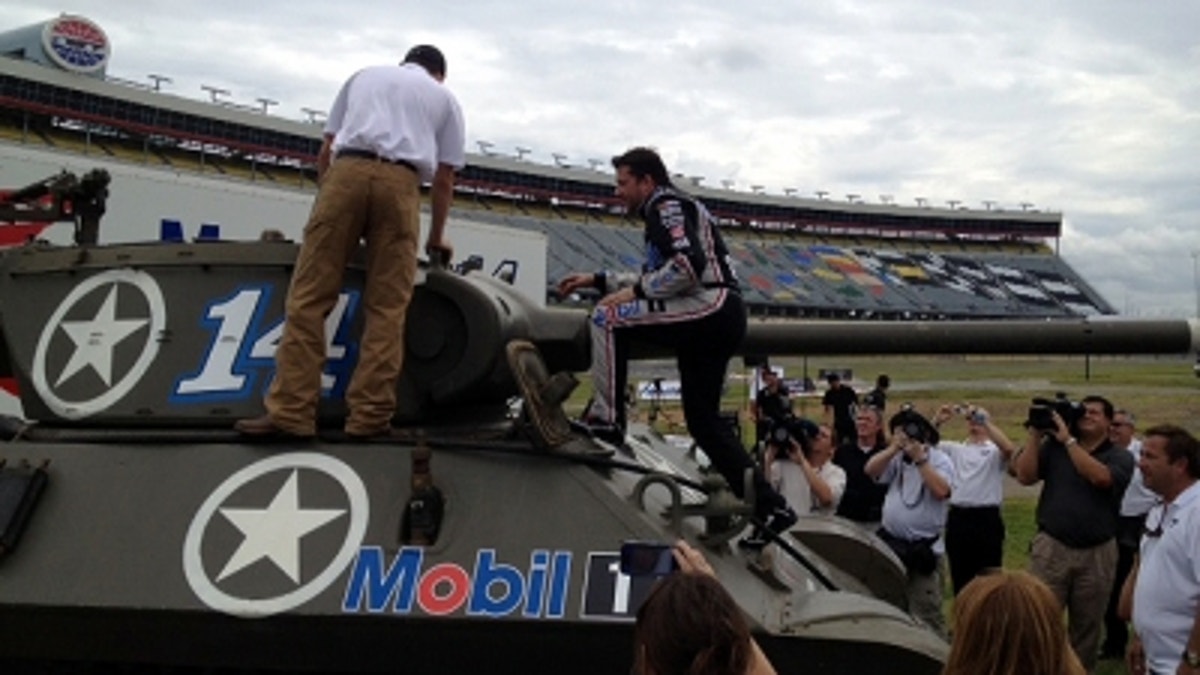 Although he had the significant advantage of a World War II tank at his disposal, Tony Stewart backed away Tuesday from his threat to run over Matt Kenseth at every opportunity.
Three days removed from tossing a helmet at Kenseth's car after they crashed racing for the lead Saturday night at Bristol Motor Speedway, Stewart Tuesday described the incident and his anger about it as simply parts of racing.
"We both have teams that can win championships," Stewart said during a promotional appearance at Charlotte Motor Speedway. "You either spend your time worrying about him, or you spend time worrying about how to win a championship. I consider it more productive to spend time worrying about how to win a championship. He's thinking the same way.
"You get over that stuff. It's been part of racing for as long as I can remember, and that won't be the last time you ever see two drivers have a disagreement."
Stewart was at CMS as part of a promotion by sponsor Mobil1. He drove a drift-competition Camaro and also steered a vintage tank, the latter vehicle, of course, reminding onlookers of his threat to "run over" Kenseth "every chance I get" after the Bristol incident.
"I definitely could have used this," Stewart said about the tank. "I don't know if we would have stayed on the lead lap."
In the heat of the moment Saturday night, Stewart seemed ready to go after Kenseth no matter the situation. They were racing hard for the lead when contact sent them into the frontstretch pit wall. Stewart climbed from his battered car, waited for Kenseth to drive down pit road after a pit stop, wound up for a two-handed, southpaw delivery and hit the front end of Kenseth's Ford with his helmet.
A few minutes later, he told reporters he would run over Kenseth at every opportunity the rest of the year.
Asked Tuesday if that remained his plan, Stewart said, "Only if I need to. No more than anybody else. I can't guarantee anything's not going to happen. But we've gotten along a lot more races than we've disagreed. We've always gotten through in the past."
He said he has not talked to Kenseth about the incident.
"And we won't, probably," he said. "It's not a big drama if we don't. We've both been through this before, and we know what to expect out of each other. We'll go on to the weekend like we always do.
"We've been racing each other for 15 years now. It's not like we haven't been through this before. We both know what we expect out of each other."
Mike Hembree is NASCAR Editor for SPEED.com and has been covering motorsports for 30 years. He is a six-time winner of the National Motorsports Press Association Writer of the Year Award.