CUP: Stewart Among Favorites At Fontana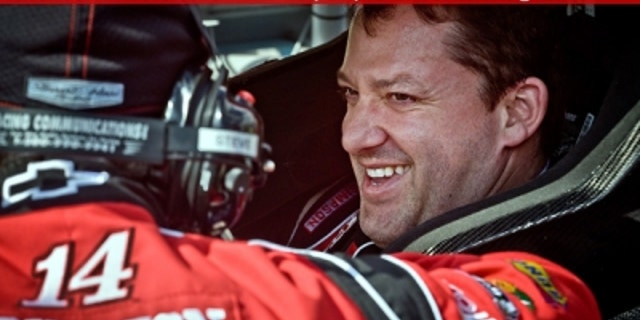 Auto Club Speedway has a reputation for being slick and difficult to "grab" for drivers, and that finds Tony Stewart heading west this week with a smile on his face.
That's Stewart's element.
"If a guy gets going and gets his car balanced, then he'll tend to run away," Stewart said of ACS, which will host the Auto Club 400 Sunday. "That's just the characteristic of that kind of track. It's fast, it's flat, and momentum is so important there, that if a guy is off just a little, he's off a lot. The drivers like it from the standpoint that if you can find a way to get around it a little better, then it'll help them in the long run. You end up racing the race track instead of each other."
Stewart typically excels on such surfaces. The best parts of his seasons tend to be later in the year when warmer temperatures arrive, although he has started this year in earnest, with a victory and a seventh-place spot in the standings.
"Fontana is so momentum driven, and when it's as slick as it was back in October, it puts it back in the driver's hands, and I think that's always going to be to my advantage," Stewart said. "We've had times when we've been good, but I had really struggled there over the course of 12 years.
"It's just a very difficult place to get a hold of, and if you can get your car balanced, you really can drive away from the majority of the field and get a pretty big gap there. But it's hard to do. You have to have that balance perfect. Somebody is going to get it right. I mean, somebody gets it perfect every time we go there.
"It's getting harder and harder to get to where you have an advantage over somebody and can be that much better. But I thought the racing the last couple of years has been really good. The year I won, the restarts early in the race were out of control. We were five-wide sometimes, and I know because I was one of them that put a bunch of guys five-wide early in the deal clear on the bottom, and I think we gained four spots in one corner doing it. But guys know how important these restarts are now, and they're willing to take more chances. And, at Fontana, the track is so wide, you can run so many different lines.
"The track is good and it's racy, but man, it's difficult. The seams are slick. The race track is slick. It's not an old track, but it sure races like an old, worn-out track."
Stewart has it figured out, though. In his last 12 races on the two-mile track, he has finished 13th or better 10 times, including a win in 2010.
Mike Hembree is NASCAR Editor for SPEED.com and has been covering motorsports for 30 years. He is a six-time winner of the National Motorsports Press Association Writer of the Year Award.