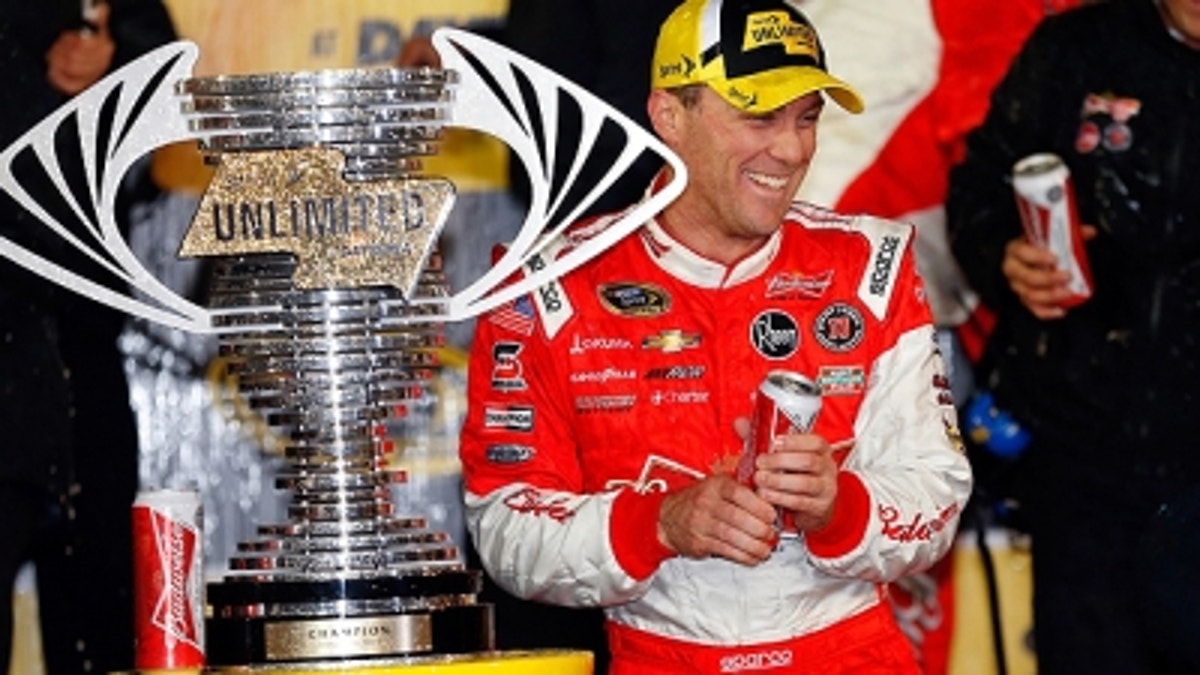 For the 12 drivers that made it to the finish of the NASCAR Sprint Unlimited on Saturday night, the 75 laps of competition at Daytona International Speedway provided a solid test for the new Generation 6 cars.
While a fuller field would have provided a better example of what to expect in the Feb. 24 Daytona 500 (Noon ET on FOX), Kevin Harvick passed the exam with flying colors to earn his third Unlimited victory in the last five years.
"Pit stops, track position, that's what I wanted," said Harvick, who is starting his final season with Richard Childress Racing. "That's one for the lame duck, right? It's just a matter of how many (wins) we can get."
What Harvick received on Saturday was a primer for the rest of Speedweeks.
"Everyone is trying to figure it out," Harvick said. "As the night went on, you kind of started to understand it. I feel like things are a lot slower coming at you than what we had with the tandem stuff in previous years."
Greg Biffle, Joey Logano, Tony Stewart and Matt Kenseth rounded out the top-five finishers, but the style of racing proved enigmatic to many of the competitors.
Certainly, impatience played a part in creating "the big one," the multicar crash that erupted after 14 laps – not even halfway into the first of three segments -- when Stewart made contact with Marcos Ambrose.
"I thought I was clear," Stewart said. "I thought I had enough of a run to be clear of the third-place guy, and I'm pretty sure I clipped whoever was in third. I made a move for the lead and probably was anxious too early."
Although Stewart was able to gather up his car and continue, the swerving cars sent a shock wave to the competitors behind them. As some drivers checked up, others didn't have enough time to hit the brakes when their spotters warned them of imminent danger.
"I didn't see much," said Jimmie Johnson, who finished 14th. "I was just kind of cruising along and saw sparks in front of me. I knew that wasn't good. Then before I knew it, just the cars inside of me and around me, everybody just slid up the racetrack and into me and around we went."
While Johnson said he was encouraged by the speed of his car and the complexion of drafting returning to the style of 2007, his Hendrick Motorsports teammate Jeff Gordon wasn't nearly as satisfied with his car. Gordon had hoped for more seat time.
"Half the battle and goal for this race is to learn something for next week's Duel and the 500," Gordon said. "As far back as I was (15th place, 10 laps in), they became quite a handful a couple of laps before that. But handling wasn't an issue. We had good handling. We need a little more speed, so we'll work on that.
"But I can't tell if guys are just getting out of control or if they're getting hit or what's going on. ... As a driver, you have more responsibility now about how you are going to drive out there, because the cars are going to move around a little bit more. They are going to get turned around a lot easier, so you can't be running into one another. You can't be turning across guys. You have to utilize that handling to your advantage after a longer run. I like that part of it."
Stewart nearly caused a second wreck after contact with Dale Earnhardt Jr. just past midway through the second segment. Although Earnhardt sustained body damage, he was able to continue into the final segment and finished eighth.
For Kenseth, who led 26 circuits in the Sprint Unlimited, speed wasn't an issue. Finding a drafting partner was – particularly in the closing laps when the event shuffled out to a single-file race. On Lap 72, Kenseth finally lost his patience, pulled out of line to the bottom groove and forged his way forward.
"I just couldn't get back in that position – nobody was having any luck on the bottom," Kenseth said. "We were able to make some moves. We were able to lead a little bit. We were in the very back a little bit. I think we learned a lot about it.
"It was a little tough to pass when everybody was committed to the top, but that was just really because everybody was committed to the top. ... I just needed to get a couple more guys on my bumper. One time we had a good enough line to do it and they got three-wide behind me and stalled the line out and we just couldn't go anywhere after that. We had to try."
Biffle experienced a similar situation in the final laps when there was no one to assist him from behind. Still, Biffle likes the way his new Fusion drives. He said there will be more options for passing on the lower groove with a bit more "work on the aero package" and once a full field is on the racetrack.
"The car stalls out really fast and has a lot of drag," Biffle said. "You can't push somebody unless someone shoved you up to the back of them. Then you can. You can stay on them and when you get to a certain speed, they just pull off you, just like magically they drive off your front bumper. Like when your engine gets enough RPM it can't push anymore and the front guy pulls away from you. It happens on the restart and all the time. If you have someone behind you, then you can get up to the guy and give him a little shove.
"It is really hard to maneuver and get a run. The thing about it is that when you get 43 cars out there, it is going to be a ton different. Then the bottom lane is going to work. There will be a middle. A couple people probably aren't happy that I went up the middle a few times. The middle actually worked OK for me. I got put in the middle one time, and I gained a few spots. With more cars out there, I think it will be better."