CUP: SPEED Analysts React To Keselowski, Team Penalties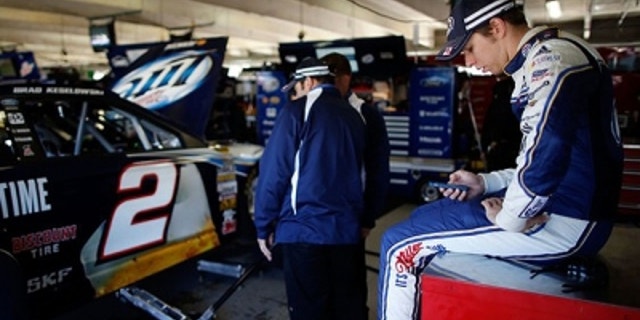 SPEED ANALYSTS ADDRESS PENSKE RACING PENALTIES
Petty: "I would like to think there's still honor among thieves in the garage area. In the old days, you didn't turn other people in. You just copied what you saw them doing …"
NASCAR today penalized the Nos. 2 and 22 teams of Penske Racing for violations found at Texas Motor Speedway prior to the NASCAR Sprint Cup Series event on Saturday. Both teams were assessed 25 driver and owner points, $100,000 fines and six-race suspensions for their crew chiefs, car chiefs, engineers and the No. 2 team's team manager.
Following is reaction from SPEED analysts Bob Dillner, Dave Despain, Larry McReynolds and Kyle Petty on the penalties and circumstances surrounding them:
Q: Did NASCAR get the penalties right?
"This is massive because it also sends a warning to other teams: 'We won't just take your crew chief, car chief and engineer like with the No. 27 last year, but also your team manager -- the guy who probably would have stepped in as crew chief for Brad Keselowski had he not been suspended also.' This is a big message from NASCAR to all teams not to mess in certain areas of the car. This area has been highly scrutinized the past few years and NASCAR came out with rules to try to govern what was going on. Penske Racing tried to use their ingenuity to work in the gray areas, but got busted for working in an area that's a little too much in the wrong."
--Bob Dillner, SPEED analyst/reporter
"You're guilty if NASCAR says you're guilty and the penalty is what NASCAR says it is. Next question."
--Dave Despain, host of Wind Tunnel
"This penalty is what I expected and it's really not a surprise. Go back to last year, even the last few years, and we saw cars dog-tracking down the track. Even when they were racing versus sitting in the garage area, they were dog-tracking. Teams got very creative with rear swaybars and rubber bushings to put more skew into these cars, and there is no telling how much money they spent. Nobody was doing anything wrong but you knew NASCAR would put an end to this, and with a new season and car, they went about that, and took away those avenues. Bottom line is it appears those two cars – when the Texas race started, had they not been caught, those rear ends were going to steer on the track and put a lot of skew into them. They'd dog-track a lot and help the aerodynamics of the car, especially at a high-speed track like Texas. I don't like the wording 'in the spirit of the rule,' but I understand it. Were their parts 100-percent addressed in the rule book? I don't know, but they knew what they were doing and they knew it wasn't okay. But the bottom line is in today's NASCAR world, teams have to submit and get parts approved before they can put them on their car. I think the whole garage was looking, watching and waiting to see how NASCAR would handle this, and had they not dropped the hammer on the Penske teams, it was going to open Pandora's Box once again."
--Larry McReynolds, NASCAR on SPEED & FOX analyst
Q: Brad Keselowski last year spoke out against teams he said were skewing the rear ends of their cars, and stated Penske Racing doesn't operate "in the gray area." If garage rumor is true that another team tipped off NASCAR as to what the Penske teams were doing with their cars, do you think Keselowski's comments last year played a role in this situation?
"I don't care what team you're on, you're always looking for something your competitors are doing that might not be quite right. They're always looking at each other's cars to determine where they're getting an edge or bending the rules a bit. Other competitors probably led NASCAR to this."
--Bob Dillner, SPEED analyst/reporter
"It's a variation on my thoughts on the Stewart/Logano fracas: If I block you, it's just racing. If you block me, you're an idiot. If I hit you, it's just racing. If you hit me, it's an outrage. If I break the rules, it's 'working in the gray area.' If you break the rules, it's cheating. That's just how racing works."
--Dave Despain, host of Wind Tunnel
"Brad is a great guy, a great driver and a great champion. He represents our sport so well in so many ways. But between the things he said at Indy in post-race and then at Michigan last year, coupled with his rant the other night, he's not doing himself or his team any good. If the rumor is true that someone in the garage ratted them out, then I absolutely I get it. If you're sitting there saying your team doesn't do certain things and accusing other teams of doing them, then the garage probably is on a headhunt for you."
--Larry McReynolds, NASCAR on SPEED & FOX analyst
"When you're on top, it's easy to get paranoid, and the No. 2 team is on top right now. I would like to think there's still honor among thieves in the garage area. In the old days, you didn't turn other people in. You just copied what you saw them doing and tried to get by with it just like they were getting by with it. But if we're in a place now where teams are turning other teams in, then there's obviously no honor even among thieves. If they were turned in, then Keselowski's comments last year about other teams, presumably Hendrick Motorsports, probably are a piece of the reason they got ratted out. It all goes back to the 'people in glass houses shouldn't throw rocks' philosophy."
--Kyle Petty, SPEED analyst
Q: What is your perspective on Keselowski's comments that Penske Racing is being unfairly targeted?
"Brad nailed it in his rant - the media and fans really DON'T know a lot of what goes on in the garage because it's tightly controlled. In NASCAR's defense, that's no different from the way a lot of businesses - and certainly most governments - also behave. Strictly from the fan viewpoint, I think your perception of whether a team is unfairly targeted or gets away with things is largely a function of whether you love or hate that team's driver."
--Dave Despain, host of Wind Tunnel
"I think he's just talking. I'm a huge Brad Keselowski fan, but he needs to figure out that the less you say, the better off you'll be. What he said the other night at Texas can do nothing but hurt him. It won't make NASCAR do or act any differently."
--Larry McReynolds, NASCAR on SPEED & FOX analyst