CUP: Sources Say Trickle Fought Health Issues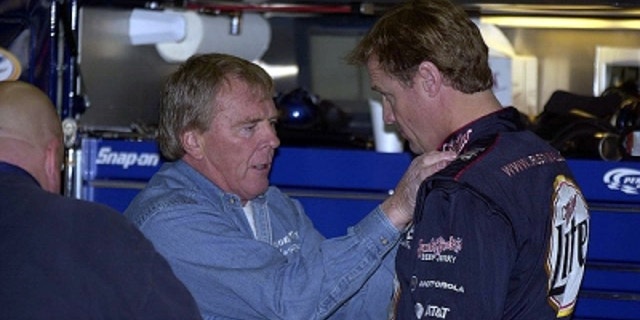 Family and friends said ongoing medical issues could have figured into Dick Trickle's apparent suicide Thursday at the age of 71.
Trickle, one of the most successful short-track racers of all time, died Thursday at Forest Lawn Cemetery in Boger City, N.C., about 30 miles northwest of Charlotte.
According to police reports, Trickle called the Lincoln County Sheriff's Office and told them "there would be a dead body and it would be his." Authorities called the number back, but Trickle never answered.
Las Vegas resident Chuck Trickle, Dick's brother, told the Las Vegas Review-Journal that Dick had constant pain in his left breast, which doctors were never able to treat. The Trickle brothers last spoke about a week ago.
"He was very down," Chuck Trickle told the newspaper. "He more or less said he didn't know how much longer he could take the pain."
Kenny Wallace, a NASCAR racer and SPEED commentator, was a close friend of Trickle's and knew he had health issues, but was shocked that he apparently took his own life.
"We talked every month, every two weeks, ever since he retired. We talked a lot about health. He was definitely, I would say, wearing down, but nothing serious … clogged up arteries. Just some simple things that were just old age."
But Wallace knew that Trickle's condition had taken a turn for the worse recently. "I do know through talking to a close friend of his that he was in a lot of pain in the last three weeks in the chest area," Wallace said.
Several websites, including TMZ.com, reported that Trickle allegedly had been suffering from depression and/or an unspecified medical illness.
Trickle's death is being investigated as an apparent suicide pending autopsy results.
Trickle's apparent suicide was the latest in a series of tragedies the family had endured.
Chuck Trickle's son Chris was shot in the head in February 1997 while going to play tennis with a friend in Las Vegas. Chris never recovered and died in March 1998. His shooting remains unsolved.
In August 2001, Dick Trickle's 16-year-old granddaughter, Nicole Ann Bowman of Iron City, N.C., perished in a car accident on the way home from volleyball practice. She is buried in Forest Lawn Cemetery, where Trickle committed suicide Thursday.
Trickle, a native of Wisconsin, was one of the most successful short-track racers of all time, winning nine series championships in the old American Speed Association and ARTGO series, as well as rookie of the year honors in the USAC stock-car division in 1968 and the NASCAR Sprint Cup Series 21 years later.
Nicknamed "The White Knight" for his preference to drive white race cars, Trickle is estimated to have won 1,000-1,2000 races in his career. Trickle's NASCAR resume included 303 starts in the Sprint Cup Series, where his best finish was third, which he accomplished three times. In the NASCAR Nationwide Series, Trickle won twice in 158 starts.
Tom Jensen is the Editor in Chief of SPEED.com, Senior NASCAR Editor at RACER and a contributing Editor for TruckSeries.com. You can follow him online at twitter.com/tomjensen100.