CUP: Smoke Gets In Johnson's Eyes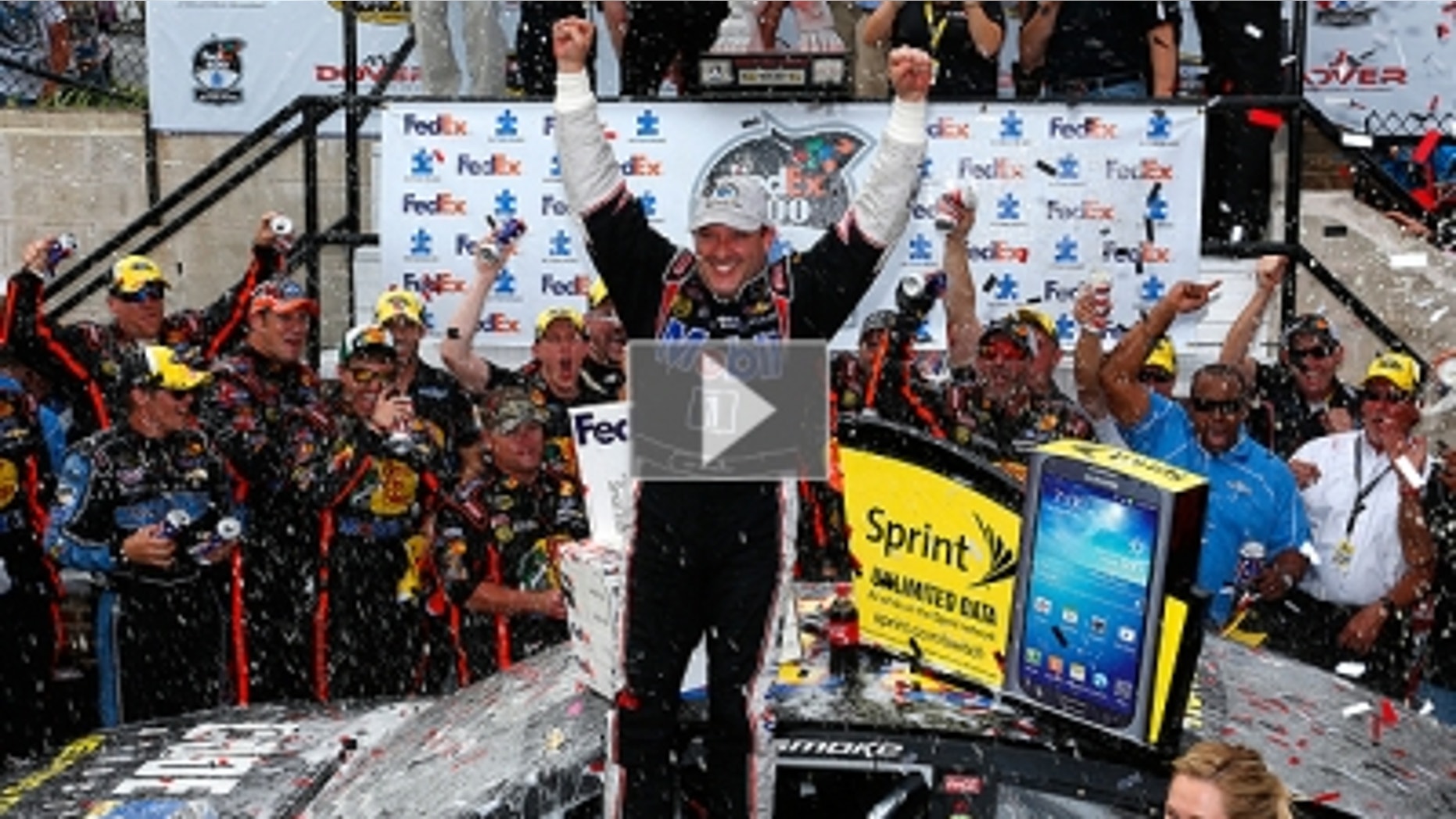 RESULTS
FedEx 400 benefiting Autism Speaks
brightcove.createExperiences();
Jimmie Johnson made a rare mistake, and Tony Stewart made a familiar charge.
The result in Sunday's FedEx 400 Benefiting Autism Speaks was Stewart's first win in what has been a tough Sprint Cup season for the former champion.
NASCAR ruled that Johnson jumped the race's final restart with 19 laps to go, and he went from the lead to pit road to serve a pass-through penalty. That left the battle for the win to Juan Pablo Montoya, who was looking for his first Cup oval-track win, and Stewart, who was looking for his first top five of the year.
Stewart gained steadily on Montoya and passed him with three laps to go to take the lead for good.
Montoya finished second, and Jeff Gordon was third.
"Man, it's been such a tough year," Stewart said. "We've let them (fans) down for a long time. Hopefully, we'll start building that momentum."
The face of the race changed dramatically on lap 378 when Denny Hamlin's car crashed into the second-turn wall after a front tire exploded. Johnson had a comfortable lead at that point, but the caution bunched the field.
After pit stops, Montoya led Johnson, Clint Bowyer, Stewart and Brad Keselowski to the green flag.
Johnson sprinted away from Montoya on the restart, but NASCAR quickly ruled that Johnson had started too soon, blackflagging him.
"I was half-throttle for the whole frontstretch," Johnson said. "At some point, I've got to go. He (Montoya) is not even going. I'm not sure if his car broke or it's off power. I'm running half-throttle down the stretch waiting for him, and he's not coming. It'a bummer. We certainly had the winning car."
The race's strangest crash occurred on lap 301 when Ryan Newman, teammate of the winner, bumped David Gilliland into a spin, and Gilliland's car dropped down the track and into Newman, sending both cars to the garage. Gilliland, normally mild-mannered, approached Newman's car and engaged him in an animated conversation about the incident.
Later, Gilliland told reporters he "got wrecked" and that Newman, who had been racing Gilliland hard for several laps, was too aggressive.
A few laps after the Gilliland-Newman incident, Kasey Kahne, running eighth, slipped and spun into the wall in turn two, bringing out the day's sixth caution.
Matt Kenseth, in pursuit of what would have been a fourth seasonal victory, had a strong car in the first half of the race but fell victim to another in a perplexing series of Toyota engine problems. Kenseth was leading the race on lap 159 when his engine belched smoke, ending his day. He led 29 laps.
The race was eerily reminiscent of the Daytona 500 for Kenseth. He led 86 (of 200) laps in that race but finished 37th after engine trouble.
Martin Truex Jr. also had a potent Toyota Sunday, but he also parked with an engine issue.
Joe Gibbs Racing entries ran away with the early segment of the race. Pole winner Hamlin led the first 23 laps before giving way to teammate Kyle Busch, who led the next 49. After Kenseth led a lap and Keselowski led two, Busch returned to the front for 52 laps.
Debris issues slowed the race in its first half, causing cautions on laps 81, 128 and 161.
Mike Hembree is NASCAR Editor for SPEED.com and has been covering motorsports for 31 years. He is a six-time winner of the National Motorsports Press Association Writer of the Year Award.