CUP: Smith Struggles To Regain Balance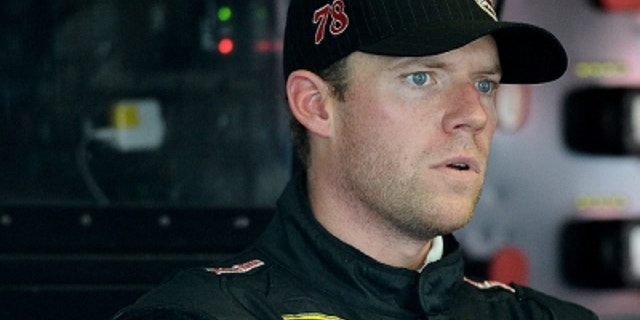 When Regan Smith won the Southern 500 at Darlington Raceway in 2011, the sky didn't open and the world of NASCAR racing wasn't turned on its end.
But it was an important moment in time for Furniture Row Racing, the Denver, Colorado-based Sprint Cup team that is trying to prove that it's possible to house a competitive operation far from the stock car racing homeland of Charlotte, NC.
When Smith held off Carl Edwards over the final laps to score not only a win but also a win that definitely wasn't a fluke, car owner Barney Visser and team manager Joe Garone reached the realization of one goal along the way toward others.
The team finally had won, proving that it could be done. Next on the list was the tougher part – making consistency more of a reality and less of a dream.
A year after the Darlington breakthrough, Furniture Row has struggled to keep its ship on that course, but Garone says the team retains a solid base for growth and advancement.
"It's all hills and valleys," he said. "We've definitely been in a valley, but we're climbing out of it. We're certainly headed in the right direction. We got off track for about a month (in the spring) and got a little behind on testing, but we seem to have a handle back on the cars now. But we haven't gotten the finishes we wanted. We're certainly disappointed in that."
Through the season's first 15 races, Smith's best finish is a 14th at – oddly – Darlington.
Did expectations for the team rise too high for the team after Smith's win last season?
"I don't think so," Garone said. "The goals we had set – with or without the Darlington win, I think we should be able to reach those goals. Going into this year, we really expected to compete for the Chase, and that has not happened (Smith is 25th in points). At the start of the year, we were in the best point positions we've been as a team, but we have had some bad runs. But I think we can win a race at any time. Maybe the Darlington win, from that perspective, helped.
"The wins aren't easy to get. It's really hard. Without winning, you start questioning everything. Can we really do this? Then you get one, and you say, 'Yeah, we really can.' "
Furniture Row has benefited from a technical and support relationship with Richard Childress Racing, but Visser and Garone want to take their operation to the next step by adding a second team. Like so many other teams, however, sponsorship dollars have been elusive.
"We're working on a second team as much as we can without having a check in hand," Garone said. "We're very capable of doing that. We have promises from RCR as far as cars and engines. We just need to get the dollars. I really do believe that will help the team overall as far as synergies between drivers and engineers and having all that internal. We've made it a priority to put more effort into sponsorship."
Furniture Row personnel participate weekly in a conference call with RCR technical personnel, but Garone said the team would benefit from having similar discussions in-house with personnel from two teams.
"Expanding our team would get that element right there in our shop," he said. "It's hard to put a value on that."
Mike Hembree is NASCAR Editor for SPEED.com and has been covering motorsports for 30 years. He is a six-time winner of the National Motorsports Press Association Writer of the Year Award.