CUP: Slick, Fast Surface Tests Drivers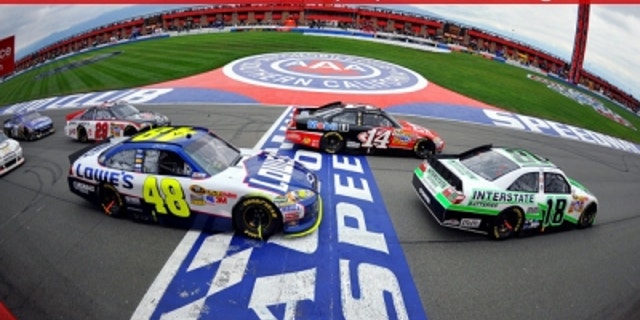 Auto Club Speedway is long, fast – and slick. Success in Sunday's Auto Club 400 will come to those drivers and teams who blend the best mix at what has become one of the Sprint Cup Series' tougher tracks to attack.
"You carry so much speed going down the straightaways fast with being at a two-mile track, but then when you get into the turns you basically get the feeling of being at a short track with just how tight the centers of the corners are and the lack of banking," Kurt Busch said. "It's a challenge in getting your car to turn so that you are able to get back to the gas as quickly as you need for those long straightaways.
"So you have the balance of downforce versus drag, but anytime you have to lift out of the gas and you can't hold it wide open, you need the downforce."
Often, it's a case of giving some of one to get some of the other. And that helps to explain why the fields often get strung out at ACS as teams struggle to find the right balance.
"The interesting thing about Auto Club Speedway is that it's big, but it races like a short track," said Jeff Burton. "There is very low grip. It's amazing how sideways these cars are in the turns going this fast. Restarts are really important because if you gain a few spots on the restart, it is hard for those guys to come up and pass you under a long green-flag run. You're going to be three and four-wide on these restarts.
"You must have good take-off speed and good durability with the car. People don't realize how slick Auto Club Speedway is. It looks like a big track and the cars don't move around that much, but they are out of control."
Matt Puccia, crew chief for point leader Greg Biffle, said having a strong car from the start of the race is a key at ACS.
"California is a big, wide, race track and track position is really important," he said. "The track allows for a lot of different lines to run. You can run the top or the bottom, there's plenty of racing room, but track position is critical. It's a hard track to pass at, so qualifying will be really important."
Kevin Harvick won last year's ACS race in a tight battle with Jimmie Johnson.
"It's one of those race tracks that the tires just wear out a lot," Harvick said. "You can move around the race track, and you have to kind of search for grip, so that comes with a lot of throttle control and momentum to go along with that. It's a race track that fits our cars and our engine package and our driving styles. Really, as a company, we run well there."
The Auto Club 400 weekend is scheduled to begin Friday with practice at 3 p.m. (ET) and qualifying at 7 p.m.
Mike Hembree is NASCAR Editor for SPEED.com and has been covering motorsports for 30 years. He is a six-time winner of the National Motorsports Press Association Writer of the Year Award.