CUP: Six Pack Of G6 Facts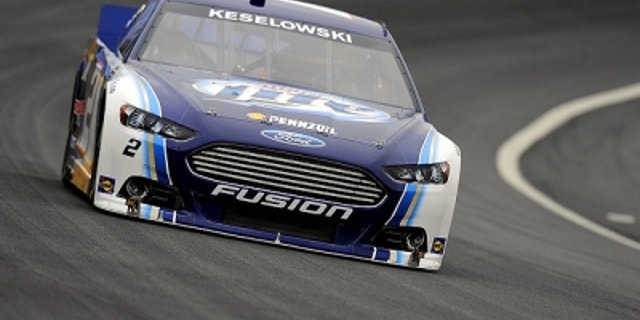 With two days of testing in the books at Charlotte Motor Speedway, race teams presumably learned a lot about the new 2013 NASCAR Sprint Cup cars, dubbed "G6" for sixth-generation.
Some early observations:
1. THEY HAVE FACES — The best news? Even with most of the 16 cars in the test clad in various shades of gray or black primer, you could easily distinguish a Chevrolet SS from a Ford Fusion from a Toyota Camry. The cars no longer look like each other, which is a huge step forward. The manufacturers are happy with the look and race fans surely should be, too. Now, if only Dodge hadn't pulled out of the party…
"Anybody can walk through the parking lot and see a Chevy, and a Ford and a Toyota and know that they are different," said Steve Letarte, crew chief of the No. 88 Hendrick Motorsports Chevrolet driven by Dale Earnhardt Jr.
2. NO MORE CRABBIN' AROUND — Another aesthetic improvement in the cars is that they no longer appear to be going sideways down a straightaway. Although NASCAR has mandated more camber in the rear ends — for now, 3.5 degrees in the G6, vs. 2 degrees in the 2012 cars — rear sway bars are now prohibited at all tracks except road courses. That change, in concert with the elimination of trick rear-end bushings, means the radical sideways look is gone forever, thank goodness.
"I don't think you're going to have those options for 2013," said Kasey Kahne of the sideways racing that was so common last year.
3. A WORK IN PROGRESS —Although the G6 is 99 percent of the way there, teams expect one or more rules changes early in the season, once a couple of races have taken place. Why? Because testing will only reveal so much; the true proof of concept occurs when all 43 cars are on the track, racing each other. The first three or four races may reveal the need for some subtle rules tweaking to take place. Extra practice is scheduled around the Las Vegas, Texas and Southern California events, presumably to allow teams to continue to fine-tune the cars, especially if the rules get adjusted.
"There's still work that we are doing … things that we may implement before the start of the year," said NASCAR Vice President of Competition Robin Pemberton. "And those are the things that help cars run in traffic, not be at a deficit — as much of a deficit — when they're in the back of the pack. We're continuing to work on that. And we won't quit. We're going to continue when the car is introduced, and we'll continue from now until somebody tells us to quit."
4. JUNK ON THE TRUNK — The big rear spoiler on the back of the G6 cars means they have a tremendous amount of rear grip, which makes them easier to drive. Some drivers likened them to NASCAR Nationwide Series cars on steroids. The give and take is that while the spoiler allows the cars to go faster in the corners, it also slows them down on the straightaways.
"Having more downforce, it doesn't feel like you have as much straightaway speed, so you're able to arc the corners more," said Joey Logano, the newest driver at Penske Racing. "The cars handle better, so it goes more to that."
5. SPEED THRILLS — In case anyone was wondering, NASCAR's new 2013 race cars are fast — wicked fast, in fact. Kahne showed as much Wednesday morning at CMS, when he set what would have been a new track record, wheeling his No. 5 Hendrick Motorsports Chevrolet SS to a best lap of 193.771 miles per hour. The speed did not count as an official record because it occurred during testing, not an actual race weekend.
"I knew it was as fast as I've ever went around this track," said Kahne, who has four points race victories at CMS, as well as a win in the 2008 Sprint All-Star Race. "I would say it's like you're qualifying each lap."
6. EXPECT THE UNEXPECTED — Whenever NASCAR makes a major change, some teams adjust quicker than others. During the 2010 season, for example, NASCAR replaced the rear wing on the Sprint Cup cars with a more traditional blade spoiler for the spring Martinsville race. Joe Gibbs Racing won seven of the first 10 races with the spoiler, but only four of the final 21 after that. Do not be surprised if something similar happens early in 2013.
"I think the Toyotas have shown that they're gonna be really, really tough to beat with this new car," said reigning NASCAR Sprint Cup champion Brad Keselowski. "I really like the way they finished last year, and, for them, I think they have the capability of starting out next year even stronger than the field, so that will be interesting to watch, but there's still a lot of testing and a lot of development left to be done."
Tom Jensen is the Editor in Chief of SPEED.com, Senior NASCAR Editor at RACER and a contributing Editor for TruckSeries.com. You can follow him online at twitter.com/tomjensen100.