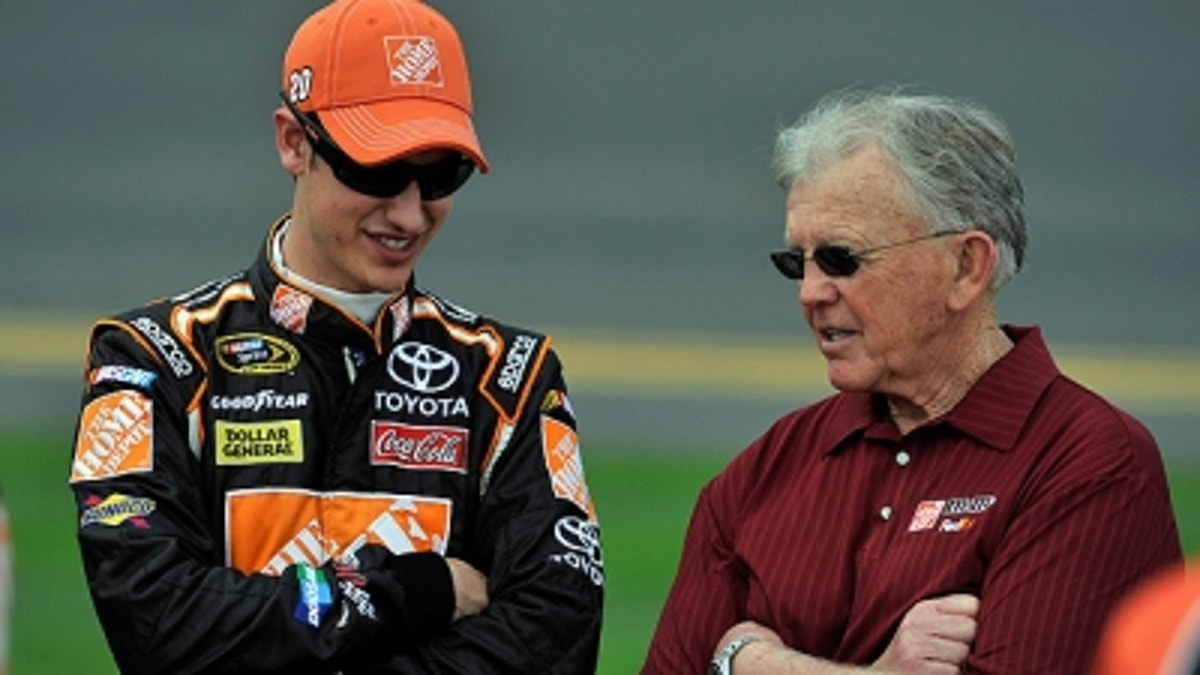 The free agent picture in NASCAR got a whole lot murkier over the last week, thanks to Kurt Busch and Joey Logano.
Fittingly, both are likely eyeing the exact same seat.
It's fairly common knowledge that Joe Gibbs Racing is interested in Busch, and unless the funding for a fourth car magically appears, the only seat the team has available currently belongs to Logano. While Logano was driving the No. 20 Toyota to victory on Sunday at Pocono, Busch was apparently fishing.
A picture posted on Twitter showed the 2004 NASCAR champion with a line in the water, his activity of choice as he served a one-race suspension for verbally abusing a member of the media.
Suddenly, it may not be so easy for JGR to give Logano the boot.
His young career is at a crossroads in the fourth and final year of his Sprint Cup contract. Once heralded as the next big NASCAR superstar, Logano has struggled to deliver at the top level. While he has 13 wins in the Nationwide Series — four so far this season — Sunday's victory was just the second Cup win for Logano in 125 career starts.
With teammates Kyle Busch and Denny Hamlin established as annual title contenders, it's no secret that Logano is lagging far behind the other two in terms of production.
Enter Kurt Busch, who is riding out this year trying to elbow his way back in with an elite team. His kid brother is already entrenched at JGR, and the team has plenty of experience in dealing with volatile drivers dating to its 10-year run with Tony Stewart.
"We love Kurt, mainly because of Kyle and Kyle has got a strong feeling for him," Gibbs told reporters last month.
Neither Gibbs or team president J.D. Gibbs was at Logano's post-race news conference on Sunday, when Logano admitted he doesn't know what's next for his future.
"I haven't been informed on where I stand for next year yet, so it's all up in the air," he said. "Obviously winning a race means a lot and it helps that out a ton. For sure right now my future is not set with anybody. To get this win means a lot. It's at a perfect time."
He's certainly got that right.
The summer stretch is typically when all the jockeying for open seats heats up, and Busch did himself no favors at Dover two weeks ago with his abusive language toward a Sporting News reporter. It was yet another gaffe that NASCAR would not tolerate, and since Busch was already on probation for an incident at Darlington, he was suspended for a weekend.
Busch is not eligible to return to competition until Wednesday, and he's first got to make it through a meeting with current team owner James Finch. That's expected to happen on Tuesday, and Finch has given no indication he's going to deliver a soft message.
"Here's the deal: Quit wrecking the cars, get a good finish, be nice to people. That's not real hard to do," Finch said last week.
Still, Busch's sheer talent is still attractive to most team owners. The issue then becomes how much those owners can tolerate, and that decision is usually dictated by the sponsor. In fairness to Busch, his sponsors often rave about his work ethic and professionalism when away from the track. But it's those at-track flare-ups that hurt him, and it's what led to his December split with Penske Racing and the predicament he's currently in with the Finch-owned Phoenix Racing.
Before his suspension, he was widely considered a candidate along with Ryan Newman for Logano's ride.
Now Logano has picked up a win in that car, and Busch has yet to begin his public attempt at damage control. He has said nothing for a week.
The issue for a team owner, whether it's Gibbs or someone else looking for a driver right now, is rating Busch vs. Logano, who maybe wasn't on many radars before Sunday.
Logano has fallen short of the expectations placed on him when JGR signed him in 2008 then anxiously awaited his 18th birthday when he'd be eligible to race in NASCAR. He was the youngest driver in the Daytona 500 the next season, but hasn't made much progress since, even after a strong close to the 2010 season made him the hot pick to break into the Chase for the Sprint Cup championship.
Instead, he had a terrible final season with crew chief Greg Zipadelli, finishing 24th in the final standings with a career-low six top-10 finishes.
JGR let Zipadelli move to Stewart-Haas Racing at the end of the season, and Jason Ratcliff was promoted from the Nationwide Series to try to give Logano a fresh start. His luck may be about to turn: Sunday's win marked three top-10 finishes in the last four races for Logano, and at 14th in the standings, he is a contender for a wild-card berth into the Chase.
Logano said he hopes to hang onto his job with JGR.
"You never know," he said. "Those things go back and forth, and all I can do is stay focused on my job. The puzzle pieces will fall together eventually."