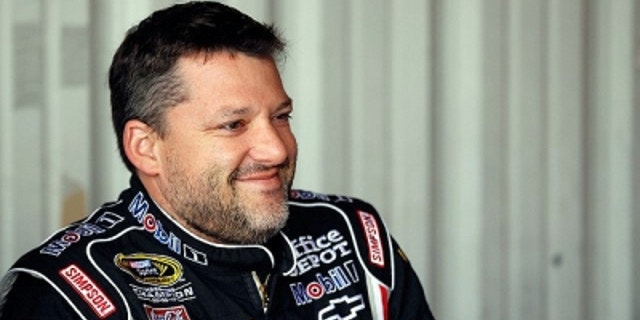 Tony Stewart hasn't won a Sprint Cup race at Talladega Superspeedway, site of Sunday's Aaron's 499, since 2008.
In fact, he has only one Talladega win, that one coming in his last season driving for Joe Gibbs Racing before he moved to the newly named Stewart-Haas Racing as driver and co-owner for the 2009 season.
But Stewart is no slouch at NASCAR's biggest track. He typically runs in the top five and has six second-place finishes.
"We've run in the top two there a gazillion times," Stewart said. "I'm glad we're halfway decent at it, but it's still always frustrating when you have to rely on what everybody else does. It's not what you do. It's what you do along with somebody else who decides that they're going to follow you and help you. That's the part that frustrates you as a driver."
Stewart said practice sessions at Talladega are critical to understanding what might happen in the race.
"You can't see the air, and you hit different pockets (of air)," he said. "You hit a pocket where you get a real big tow, or you hit a pocket where it seems they're getting a tow and pulling you back, and you just have to play the circumstances. That's why we spend so much time and run so many laps in practice.
"You just try getting in different scenarios and try to learn if you get in the middle of the draft, what does it do? Will it give you a push? Will it not give you a push? If you get next to this car, does it suck you up or does it slow you down? That's why so many guys will stay out for so long in practice. It's trial and error, but at the same time, it's like pulling a pin on a grenade. You know through that process that if one guy makes a mistake, the car's torn up for the race. It's just a delicate balance of how hard you go, how many things you try, and how much time you spend doing it."
Stewart learned a few restrictor-plate tricks from the late Dale Earnhardt Sr., the acknowledged master of plate tactics.
"You just always knew that, if he was behind you, it wasn't going to be easy keeping him behind you," he said. "There was a reason that he got the nickname 'Intimidator.' When you looked in the mirror, you were intimidated by him. Not so much that you were actually intimidated, but you knew that it wasn't going to be like racing with someone else.
"If he got to you and if he didn't get by you in a couple of corners, then he was going to lean on you a little bit. You might wreck, you might keep going, but he was going to make it interesting. That's what made him so special. The first Bud Shootout we won at Daytona, we outran him there, and that was as much as I ever wanted to see of that black '3' in my mirror. That was way too much stress. It was more mental stress than it was physical stress.
"My mind was wore out after winning that race because he had such a large bag of tricks at Daytona and Talladega that just watching what he was doing and trying to figure out what he was thinking or trying to set up just made you exhausted. Driving the car was easy, it was just trying to mentally figure out and trying to stay up to pace with what his thought process was at the time and knowing how to anticipate what his next move was going to be to beat him."
Mike Hembree is NASCAR Editor for SPEED.com and has been covering motorsports for 30 years. He is a six-time winner of the National Motorsports Press Association Writer of the Year Award.