CUP: Season On The Brink For JGR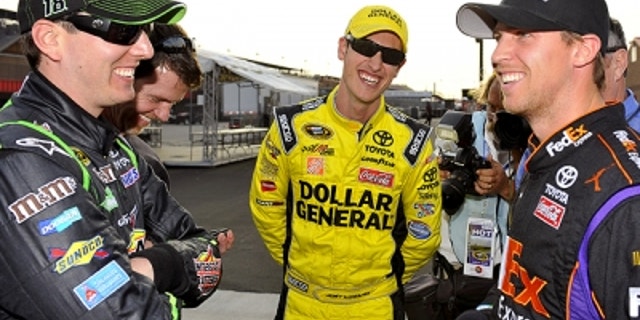 Joe Gibbs Racing enters this weekend with a strong chance for a shot of redemption and perhaps an equally strong chance for another disappointment.
It's been that kind of season for JGR, which entered the year with championship expectations but has bounced back and forth through a series of highs and lows over 23 races.
Good: JGR won three of the first nine races on the 2012 NASCAR Sprint Cup calendar.
Bad: JGR has won just won of the last 11 races.
Good: Denny Hamlin has finished in the top three six times so far.
Bad: Hamlin has finished outside the top 20 six times, including finishes of 29th and 34th in the last two races.
Good: In a four-race stretch from Richmond to the Coca-Cola 600 in the spring, Kyle Busch finished first, second, fourth and third, an average finish of 2.5.
Bad: In 10 races since then, his average finish has been 20.00.
Good: Joey Logano won the second race of his Cup career in June at Pocono.
Bad: In the last eight races, Logano has finished inside the top 10 just once. And with Logano possibly the odd man out at JGR after this season, these last few weeks have been anything but fun.
Good: In the first 11 races of the year, JGR as a team had three wins, nine top fives and an average finish of 13.333.
Bad: In the second 11 races of the year, JGR as a team had one win, eight top fives and average finish of 17.909.
As things sit now, Hamlin is 10th in points, the only one of the team's three drivers currently in a position that would make him eligible for a slot in the Chase for the Sprint Cup.
Of course, another win by Busch or Logano in the final four races of the NASCAR regular season could vault them into contention, too. One great race could turn the season around for the team. A couple of bad ones could spell disaster.
The good news for JGR is that generally speaking, they've had adequate speed in their cars, unlike Richard Childress Racing, another team that's fallen short of expectations this season.
Busch and Hamlin swept the two Michigan races last year and Busch has 11 career victories at the final four tracks in NASCAR's regular season.
"We still have some good tracks coming up," said Busch, who looked like a winner at Watkins Glen on Sunday until last-lap contact with Brad Keselowski knocked him out of the lead and left him seventh.
"Hopefully, we can get our Interstate Batteries Camry to victory lane this weekend," said Busch. "If we do that, we'll have that second win for the wild card and we'll go on into the last three races and see if we can't either keep ourselves in front of the 24 (Jeff Gordon) and the 39 (Ryan Newman) in points, in case one of them does get another win, or maybe even get ourselves another win."
For Logano, his only realistic shot at making the Chase is to win again in the next four races.
"We are at the point to where we need to start taking some chances, start thinking outside the box and going for wins to try and get one of these final wild card spots," said Logano. "So we are going to do everything we can to be fast and to try and win the race. That is all that matters right about now. We just need to win."
Tom Jensen is the Editor in Chief of SPEED.com, Senior NASCAR Editor at RACER and a contributing Editor for TruckSeries.com. You can follow him online at twitter.com/tomjensen100.