CUP: School Back In Session For Danica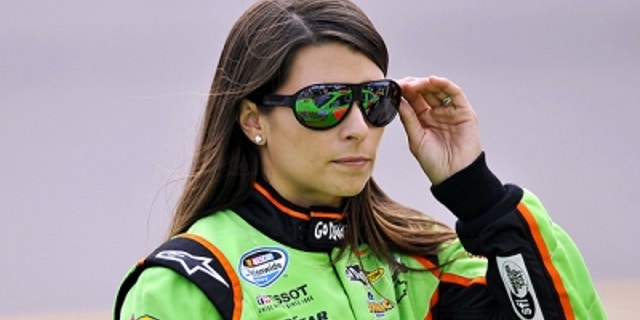 It's no big secret that Danica Patrick's first full season in NASCAR so far has been marked by a very steep learning curve.
The good news for Patrick is that her education is about to get a whole lot more intense very quickly. The bad news is, it's not about to get any easier.
Patrick will perform double duty this weekend at Bristol Motor Speedway, where she'll race in Friday night's Food City 250 NASCAR Nationwide Series race and the Irwin Tools Night Race NASCAR Sprint Cup event on Saturday.
It's been tough sledding so far this year for Patrick, who has been wrecked several times by other drivers, had mechanical problems and even ran over a shoe that was thrown on the track last week at Montreal. After 22 Nationwide races in 2012, she has just one top-10 finish — eighth at Texas in the spring — six DNFs and an average finish of 21.32.
Her three Sprint Cup results so far this year have been even worse: 38th at Daytona after getting wrecked on Lap 2, 31st at Darlington and 30th at Charlotte.
Yet despite the disappointing finishes, Patrick is stepping up her activity and will compete in seven of the final 13 Sprint Cup events in preparation for a full-time Sprint Cup schedule in 2013. And she will run all 11 of the remaining Nationwide races as well.
The goal is to have Patrick ready to go full-time with Stewart-Haas Racing in the Sprint Cup Series next year, even if it means taking a few lumps as she learns this year.
As for the lumps she's already taken, well, they haven't been especially fun.
"It's frustrating. It definitely can get you down and it does get you down a little bit," said Patrick. "I feel like, with the very consistent schedule that keeps coming at you, you need to have a positive attitude and look at each weekend as the weekend it could turn around and the weekend that you could have great luck and come back from the last one. It's really easy. I did it at the beginning of the year."
But Patrick admitted that keeping a positive mental attitude can be a challenge.
"You get down and get a little negative and that carries over to next weekend and things just get worse," she said. "And it can really spiral in a pretty bad direction pretty quickly and easily in NASCAR, with how many races there are and how often you're on track. You just have to keep at it. If we were just slow everywhere, then I think that would almost be worse than being knocked out or having issues or making mistakes. Once you can get on a good, consistent pace, where you're making good decisions, not making mistakes and luck comes your way, you're ready to go."
Patrick said that although the finishes have not been there so far this season, she's encouraged that her cars have been fast.
"One thing I'm always pleased to see is how much overall speed we've picked up from last year and the year before," Patrick said. "In practice, I would struggle to get in the top-20, and now I feel like we're almost always inside the top-10, if not top-five, sometimes. That's a very positive sign moving forward for me because I'm figuring out how to get speed out of the car and work on the car. Qualifying has improved. That was another thing, just getting that race experience."
Now, it's just a matter of translating improvements into better finishes.
"I really feel like a lot of stuff has gone in the right direction," Patrick said. "Now, I feel like I've definitely made mistakes, for sure. There's definitely been a hefty amount of bad luck. At the end of the day, I find it far more important – of course I'd love to get results – but as the whole, looking long-term into the future, the most important thing I can do this year is learn, get experience and be prepared for next year."
Tom Jensen is the Editor in Chief of SPEED.com, Senior NASCAR Editor at RACER and a contributing Editor for TruckSeries.com. You can follow him online at twitter.com/tomjensen100.