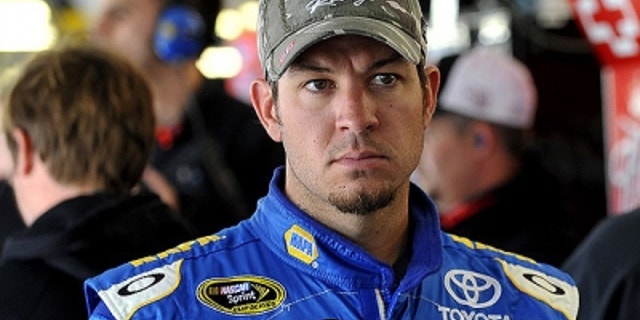 Race-time weather forecasts for Sunday at Talladega Superspeedway show the distinct possibility of temperatures moving into the low 90s.
And a circumstance of that sort could have a significant impact on the finish of the race.
Because of an assortment of NASCAR rules changes since the last visit to Talladega last fall, Sunday's Aaron's 499 is expected to showcase more of the pack racing generally accepted as traditional at Talladega. Teams still depend on tandem drafting to control the sequence of events over the closing laps, however, and a spike in afternoon temperatures could make a big impact in how that process develops – or doesn't develop.
The higher the temperatures, the more difficult it is for two cars to stay locked together in the draft.
"With temperatures approaching 90 degrees, I don't think you'll see a lot of two-car racing until the end," Martin Truex Jr. said Tuesday. "And then not for more than three or four laps. There's no way you can stay hooked up all day like last year.
"I think all 43 cars are going to be in one pack. It's hard to say exactly how it's going to go down, but I don't think you'll see the two-car tandems like last year with the cooling system regulations."
NASCAR's rules modifications knocked a hole in tandem-drafting plans at Daytona in February. Drivers will be experimenting with the two-car drafts in practice Friday at Talladega to see how long they can be hooked together before engine temperatures reach critical levels.
"The rules package is going to be very similar to what we had at Daytona," Truex said. "And it was very cool there. We ran two or three laps max together. I'm guessing it will be less than that at Talladega, but we won't know exactly until we get down there this weekend."
It's difficult to plot the end of the race, Truex said, because of the unknowns.
"There's a fine line between getting together with somebody too early and waiting too long," he said. "The best scenario is that you get the engine cooled off with three to four laps to go and plan to push somebody as long as you can. A lot of it is having a little bit of luck. There are times you want to get with somebody and times you can't."
Although Truex has had good runs at Talladega, he'll be shooting for his first win there. In a season in which he has produced six top-10 runs in nine races and a fifth-place position in points, he figures to have a shot at putting Michael Waltrip Racing in victory lane.
"I talked to countless people throughout the wintertime telling them how excited I was about this year and the job we were going to be able to do," Truex said. "It has been nice to go out and back that up and get the start that we have."
Mike Hembree is NASCAR Editor for SPEED.com and has been covering motorsports for 30 years. He is a six-time winner of the National Motorsports Press Association Writer of the Year Award.