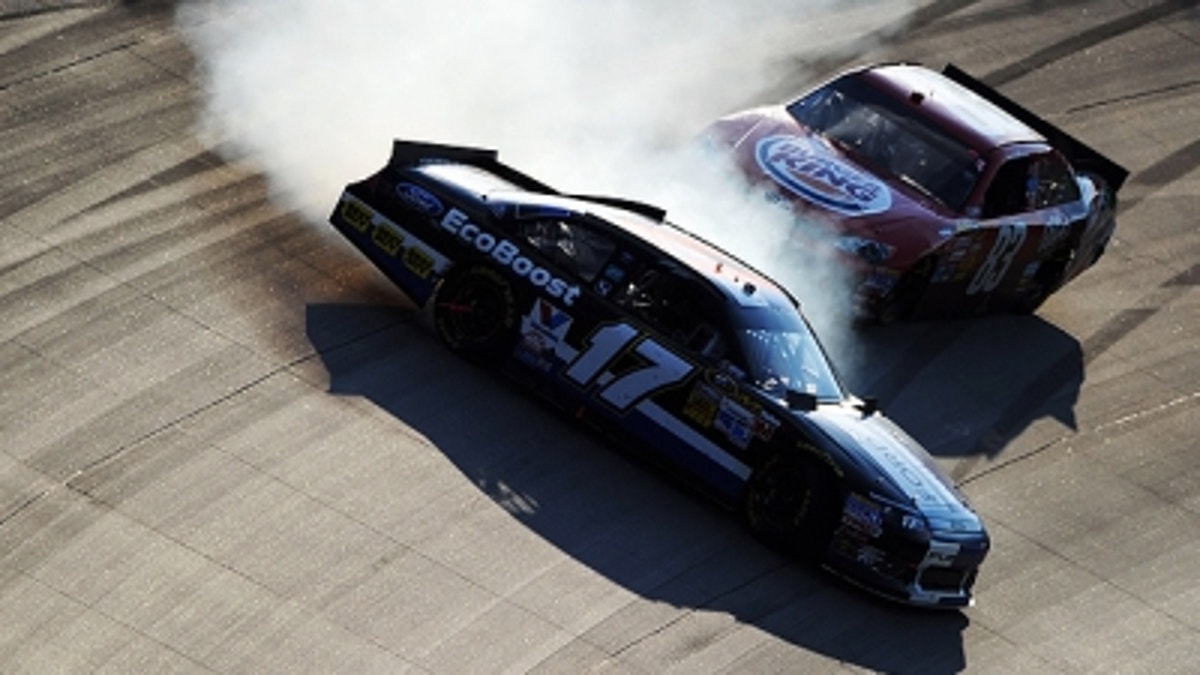 Where is the Roush Fenway Racing organization that led the points for 21 of the first 26 races before the Chase for the Sprint Cup began?
Greg Biffle and Matt Kenseth were so incredibly consistent throughout the regular season that it's hard to believe that the two Roush Fenway Racing entries competing in NASCAR's "playoffs" now sit in the Chase cellar after the first three races.
Yes, you can say that Roush has never been competitive at Chicagoland Speedway. And no, the organization hasn't quite been gangbusters at New Hampshire. But this is Dover for goodness sakes, a track where Jack Roush has nine wins, most recently with Kenseth last year.
But on Sunday, Roush's most recent winner asked if his crew "was trying to kill" him after a truck arm broke off the back of the No. 17 – for a second time on Lap 317. From Kenseth's first pit stop, however, he was already off the lead lap. And his future teammates Kyle Busch and Denny Hamlin added insult to injury every time they put him another lap down. By Lap 172, he was two laps off the pace. In the end, after a lengthy trip to the garage, Kenseth wound up 35th and fell 72-points behind leader Brad Keselowski.
"In two out of three Chase races something either fell off or broke, so obviously that's not good," Kenseth said. "Our performance hasn't been very good either, so I don't know. (Sunday) was a struggle. This is probably the worst we've run here for as long as I can remember. We just really missed it. From the first lap on the track to the last lap on the track we were pretty much junk."
Once Kenseth announced he was leaving RFR for Joe Gibbs Racing in June, no one expected him to be a title contender. However, as solid as the No. 17 team and driver have been over the years, a 12th-place finish was hardly anticipated.
And Biffle, the veteran who delivered titles to Roush in both the truck and Nationwide Series, completely lost his mind on Sunday when issues in the pits destroyed his Dover hopes. Biffle had a solid sixth-place qualifying effort, but like the majority of the field was caught one lap down after the first caution. Biffle was running 12th when a loose tire forced the No. 16 3M Ford to return to the pits on Lap 194.
"All I can do is drive the car," said Biffle, who soldiered back to finish 16th. "The tire changer knew automatically. I saw him know the right-front was loose and that would have got us one lap back, which would have got us about, probably, standing here right now, 10 points or so. So we gave up an extra six, eight or 10 points maybe on losing one more lap to come around and change the lefts with nothing wrong with them.
"We were in great position, so to finish where we did and have that happen is pretty remarkable, but that really kind of takes us out of the title hunt. We really needed to finish in the top three here to really be a factor, but now we'll just work on being in the top 10."
Of the Chase drivers, only Kenseth and Tony Stewart (20th) finished behind Biffle, who fell from ninth to 11th in the point standing. He is currently 51-points behind Keselowski.
If there was any blue sky for Roush Fenway Racing, it was Carl Edwards posting his first top-five finish since Fontana in March. Also, soon to be rookie candidate Ricky Stenhouse Jr. finished a respectable 12th.
Still, considering the promise that Penske Racing holds right now with Keselowski and Joey Logano (who finished 10th on Sunday) coming aboard to the organization, Ford Racing will have a lot more depth next season. It might behoove Roush Fenway Racing to start working on 2013 because any shot at this year's title is over.
Here are 10 other topics to watch over the coming weeks.
1. RACING OR RIDING? Will we see racing at Talladega or will Chase drivers play it safe. None of the Chase drivers took a risk at Dover and this Sunday will likely be no different. "Next week is an absolute crap shoot, but it's going to be for everyone," Denny Hamlin said. "We have to know who we're racing. We have to make smart decisions and keep all the fenders on it. Typically, most superspeedways I'm right in it until the very end and get caught up in a wreck. My job next week is to make sure to concentrate on that weekend, not look forward, and focus on getting the most points possible."
2. AND THE GOLDEN HORSESHOE GOES TO … Brad Keselowski had a 25-second pit stop the second time the team came to the pits when there was a malfunction with the jack. The team still won the race and was third fastest on the pit road time sheet. Always helps when cooler heads prevail.
3. NEW DIRECTION – Joe Gibbs Racing could be close to releasing its Nationwide Series lineup for 2013. Top candidates include Elliott Sadler and Brian Vickers. "That's going to come out pretty quick," Joe Gibbs said. "We still have so much stuff up in the air … we still have some things we're still trying to work out, which will determine where we wind up with everything, but I want it as quick as you guys do. I'd like to get it out quick. I feel really good about (our lineup). I think we're going to have a strong group and I'm excited about our sponsorship." Gibbs added that the company has made "a big effort" to secure sponsorship for Darrell Wallace next year. "This would be one where a sponsor would get a home run if they got on board early with this kid," Gibbs added. While he wouldn't commit to whether there was space to run "Bubba" in a full season, Coach said, "we could get him in a lot of races."
4. LOCKING HIM UP – As we first reported on Saturday, Joe Gibbs Racing hopes to get Kyle Busch's contract renewed sooner than later. Busch's contract expires next year but JGR traditionally locks up drivers before negotiations become a distraction. "The sooner the better," says president J.D. Gibbs.
5. BLUE OVAL BRIGADE –Hearing an announcement could be coming from Richard Petty Racing regarding a renewal with Ford as early as this week. Team co-owner Andy Murstein says, "We're pretty close on that. We're still ironing out the details over the next week or so, but I think it's safe to say we'll be with Ford next year."
6. RPM'S DRIVER LINEUP – While the manufacturer deal appears to be lined up for the Pettys, where does the company stand with its' drivers for next year. Both Marcos Ambrose and Aric Almirola's contracts expire at the end of 2012. Before Kurt Busch signed with Furniture Row Racing, Murstein says RPM made a run for the former champ but apparently now Almirola is still auditioning. "We want to give Aric an opportunity to give it his best shot," Murstein said. "He's a great kid and the sponsors love him but he understands it's a business and we need to have performance also." As far assessing the success of the crew swap three weeks ago, Murstein said, "not by the performance of it." He added that they're open to reversing the decision if things don't improve.
7. TEARING OFF THAT ROOKIE STRIPE – Following their first year in the Sprint Cup Series, BK Racing is concentrating on what it will take to get better. While enlisting a better engine program might not be an option for the organization yet, the ownership group is considering a shakeup in the roster. Landon Cassill is secure in the No. 83 Toyota, but BKR could be exploring options with the No. 93 car. "We're talking to the guys about the lineup for next year," said co-owner Ron Devine. "We know AJ (Allmendinger) is available. We like him. We know he's a talented driver. He's certainly one of the names that everyone is looking at to drive a car. By the way, Travis (Kvapil) is still very much a part of our team and hopefully, will be a factor in it as well. There's a lot of drivers out there … you never know what's going to shake out … One thing I learned this year is change is inevitable in this sport. If we change, we're going to change to improve."
8. WILL THEY OR WON'T THEY – It's that time of the year when renewals are signed with engine and chassis partners but the jury is still out on whether Earnhardt Ganassi Racing will remain with Richard Childress Racing or make the jump to Hendrick Motorsports. Two factors to consider: first, is the financial commitment to HMS worth the investment for two teams running 21st and 22nd? Secondly, what's the best equipment EGR can hope to get after the Hendrick and Stewart/Haas Racing teams are supplied? Then again, on the RCR side of the equation, Childress' top Cup car is seventh, while Hendrick has all four cars in the top 10. Decisions, decisions.
9. A FOND FAREWELL – Kurt Bush will make his curtain call with Phoenix Raceway this weekend at Talladega – a track where he channeled Ricky Bobby in the spring and led four laps before Brad Keselowski dumped him with 12 laps remaining in the Aaron's 499 then went on to win the race. While Team Red Solo Cup will roll on (likely with Regan Smith behind the wheel, though Elliott Sadler has also been in touch with team owner James Finch), the radio chatter will never be as entertaining as it was with the 2004 Cup champ behind the wheel.
10. CHANGE OF MIND? The IndyCar Series released the 2013 schedule on Sunday. After a 23-year absence, Pocono Raceway is on the list of venues. Curiously, when I asked Pocono Raceway president Brandon Igdalsky his thoughts on including an IndyCar race to his schedule in June, he questioned the viability. Why? Igdalsky replied, "The biggest reason is, are the fans around? Are there enough fans here to support the race? In my heart of hearts, I know we could have a great crowd here for the first year. What happens after that? Does it sustain? We used to subsidize our IndyCar race with our NASCAR races, then Doc (Igdalsky's late grandfather and Pocono founder Joseph Mattioli) said 'enough is enough'. " Hopefully, Pocono will have a better experience with the series this time around.