CUP: Roush Fenway – Some Ups, Some Downs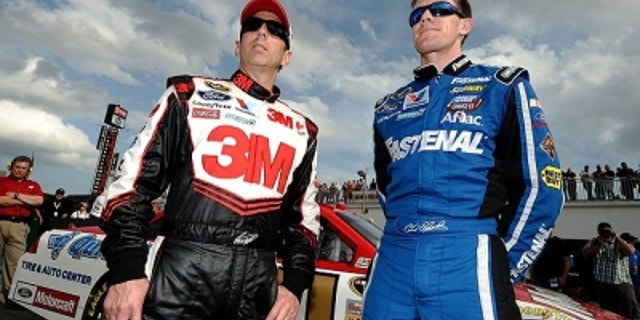 Any season that includes a Daytona 500 victory, four wins in other spotlighted big-track races and a Nationwide Series championship would be considered a spectacular success at most motorsports addresses.
At Roush Fenway Racing, however, more is expected. RFR will remember 2012 for a total of five wins by Greg Biffle and Matt Kenseth, and for Ricky Stenhouse Jr.'s second straight Nationwide title, but the downsides – Carl Edwards' winless season and failure to make the Chase, and another year without a RFR Sprint Cup title – will be topics of the off-season.
Biffle and Kenseth made the Chase. Biffle led the points for 11 straight weeks in the first half of the season and bounced back later in the year to lead three more times. For the first 25 weeks of the season, Biffle was never out of the top four in the standings as he won races at Texas and Michigan.
Kenseth scored his second victory in the Daytona 500, then put together a string of top-10 runs to lead the point race in mid-summer.
Biffle started the Chase in a tie for fifth, and Kenseth started in a tie for seventh. Their championship hopes faded fairly early, however, with Biffle finishing 13th, 18th and 16th and Kenseth 18th, 14th and 35th in the Chase's first three races.
Kenseth later scored Chase wins at Talladega and Kansas, but his point deficit to the leaders was too wide to close.
Biffle finished fifth in points, while Kenseth, in his final season at RFR, was seventh. They will have spots on stage next week at the season-ending awards banquet in Las Vegas.
The season was a mysterious one for Edwards, who tied Tony Stewart for the 2011 championship but lost the title on the first tiebreaker – number of wins. He was essentially never a factor this season as he went 0-for-36 and stretched his winless streak to 69 races. He hasn't visited victory lane since March 2011 at Las Vegas.
Edwards finished 15th in points, far south of where he was expected to land.
Edwards and Biffle will be joined on the RFR Sprint Cup roster next season by Stenhouse, who graduates to the top level of the sport after scoring two straight Nationwide titles for the team. He replaces Kenseth, who leaves a long and solid tenure at RFR to join Joe Gibbs Racing.
Next season, Edwards will seek to reverse his downward swing with the aid of veteran RFR crew chief Jimmy Fennig.
Roush hasn't won a Sprint Cup title since 2004, when Kurt Busch finished first in the first year of the Chase format.
Mike Hembree is NASCAR Editor for SPEED.com and has been covering motorsports for 30 years. He is a six-time winner of the National Motorsports Press Association Writer of the Year Award.