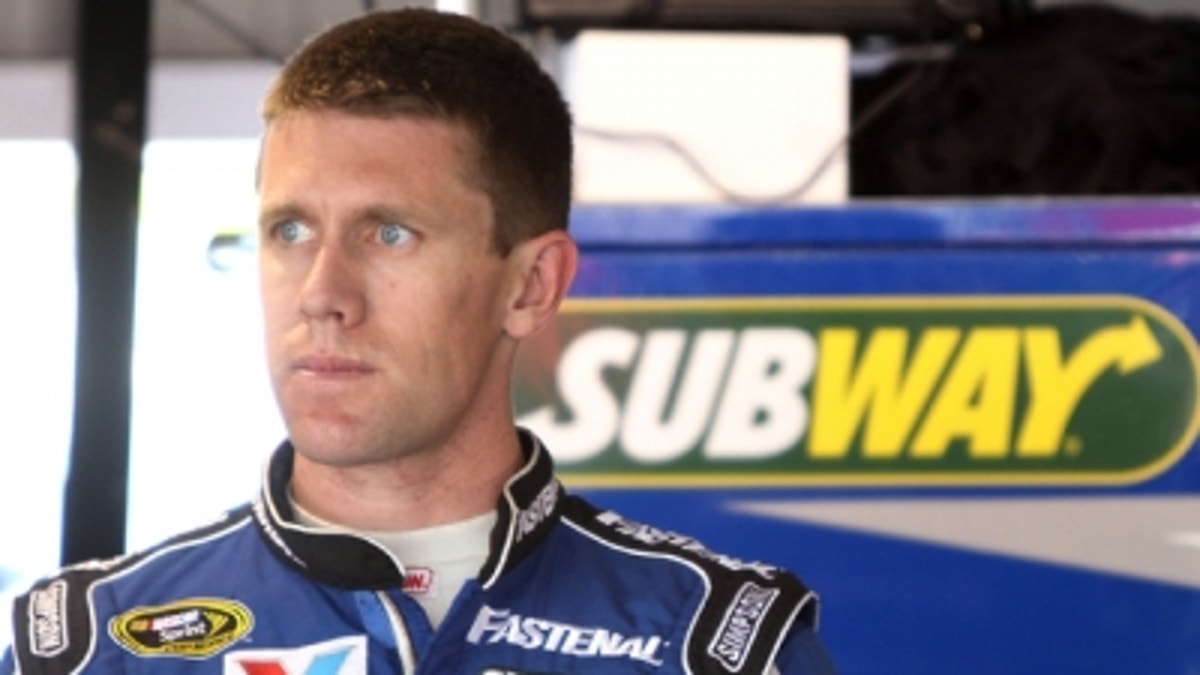 The last time a Roush Fenway Racing Ford won a NASCAR Sprint Cup race at Martinsville Speedway was way back in 2002. And after Friday's woeful showing in practice Friday, the prospects of a Roush Fenway victory in Sunday's Goody's Fast Relief 500 seem dim at best.
"I'll just level with you guys," Carl Edwards told reporters after he was just 20th fastest in the first of Friday's two practice sessions at the 0.526-mile paper clip-shaped track. "If we have a good run here on Sunday after that practice, we're gonna be really, really ecstatic."
And Edwards was the best of the three Roush Fenway Fords during the first session, with Sprint Cup points leader Greg Biffle 21st and two-time Daytona 500 winner Matt Kenseth 30th.
Things didn't get any better during Happy Hour. In fact, they got worse, with Kenseth 27th, Edwards 32nd and Biffle 33rd.
"We've got a long ways to go because there are some really fast cars relative to ours," said Edwards. "This has been a place we've run well at here. I know what it feels like to run well here, we've just got to get this thing dialed in. This is a very tough race and it'll be really tough if we don't make the car a little faster."
Usually one of the most optimistic people in the sport, Edwards clearly was discouraged with his team's performance on Friday.
"We just have such a hard time, myself included, Bob (Osborne, crew chief) and I both have a hard time getting the car dialed in," said Edwards. "I don't know if it's the way we practice, but there's something that we're missing. And in general our whole team has never been extremely strong here, but we have had those glimpses of speed. … It's not that I don't like (the track), I keep expecting to have that real breakthrough run where we go out and lead a bunch of the race and it all clicks."
Kenseth, who has just two top-five finishes in 24 Martinsville starts, wasn't especially sanguine about his fortunes, either.
"This hasn't been my best track, for sure," Kenseth said. "… This has never been one of my great tracks. I can't really speak for anybody else, but, for me, I feel like I'm kind of the weak link here about getting those guys the information and all the stuff they need to make the car drive how I need it to drive."
With only qualifying on Saturday and no more practice time, Sunday could be a long afternoon for the Roush Fenway drivers.
"Even when you run well here it's a hard-fought battle and it's tough," said Edwards. "When you're hanging on battling with that race car the whole day, it leaves an impression on you. You leave here and you remember the place, so I think that's why you see more guys frustrated with this race track. Now, that doesn't mean it's a bad race track or anything. The fans love that. The more frustrated we get, usually the better off the racing is, so I guess it's good for the sport, but it is a tough place."
Tom Jensen is the Editor in Chief of SPEED.com, Senior NASCAR Editor at RACER and a contributing Editor for TruckSeries.com. You can follow him online at twitter.com/tomjensen100.