CUP: Roush Fenway Drivers Tough To Beat In Texas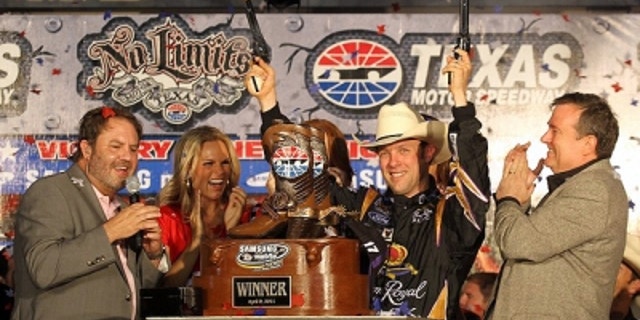 Roush Fenway Racing has been a dominant force at Texas Motor Speedway.
Since the inaugural NASCAR Sprint Cup race there in 1997 — when Jeff Burton powered the No. 99 car to Victory Lane and Mark Martin backed up that success with a win the following year — Roush Fenway Fords have won eight of 22 Cup events and 16 races overall at Texas.
Matt Kenseth, the defending winner of the Samsung Mobile 500, has two Cup and two Nationwide series wins on the 1.5-mile track. His average finish of 8.7 at Texas is tops among all competitors.
"I've always liked the racetrack, and sometimes you run better at some tracks more than others and you don't always know why," said Kenseth, who was seventh on the speed chart Thursday with a lap of 188.587 mph.
"I don't really know why, but it has been a pretty good track for us in the past. We have had a lot of good runs and finishes here.
"Whenever you come back to a track you've had success at, then I think you probably always look forward to coming back to it maybe a little bit more. As far as mile-and-a-half tracks, we have only been to Vegas (this season) and I thought we performed really well there. That track is a lot different than this track, but I thought we ran really good and we were a contender until the end when I wrecked it. ...
"Until we get deeper in the season, I am not really sure, but the bulk of the schedule is the mile-and-a-half tracks, and you've gotta be good to have success."
Teammate Carl Edwards has five Texas trophies, including three from Cup races — the most of any competitor on the tour. In 2008, he became the first driver to sweep the Cup events at TMS.
"When you win at Texas, it is always exciting," Edwards said. "You get to stand there in Victory Lane and everybody gets a cowboy hat and then they hand you loaded (with blanks) handguns that you shoot off there. It is a lot of fun. It's Texas. It's a fun place to go visit, a great racetrack and hopefully we can get a win, and Saturday night racing is a lot of fun."
Edwards, who posted the 10th-fastest lap (188.422 mph) in practice, is encouraged by the effort of Roush Fenway Racing as well as the power provided by the Roush Yates Racing engines. He believes promoting former team engineer Chip Bolin to head engineer to work alongside general manager Robbie Reiser is paying benefits to the entire company.
"All the guys at the shop have been working hard all year to build the very best race cars that we have ever had," Edwards said.
"They are very good cars. The cars are lighter, and we've learned some things. Doug Yates and the guys at the engine shop have worked really hard with this FR9 to make sure we have a ton of power, which is hugely important on a mile-and-a-half racetrack."
Points leader Greg Biffle has not finished worse than 10th in his last seven Texas starts, and finished among the top five in the last three races at the track. Biffle, who won the spring Texas race in 2005, posted the second quickest time in the first practice, 0.031-seconds off of Mark Martin's lap of 189. 427 mph.
"The track is good," Biffle said. "Good ol' Texas, right? It gets hot and slick when the sun comes out and gets a lot of rubber on it. We were sliding the front tires and trying to figure out how to get the car to rotate and not be too loose. It has been fun working on it today.
"I am really happy with the car. The guys did a great job getting it ready, but I messed up that last qualifying run a little bit. I got into (Turns) 3 and 4, and the wind is playing a little havoc. I got in a little hot and slid up, so we don't know what we have really for a good solid qualifying lap. We are going to free it up a little bit because we know it will be a little faster tomorrow. Overall I am really happy."
A better Bristol?
Bristol Motor Speedway has scheduled a press conference for April 25 to announce upcoming changes to the track.
Fans expressed disapproval — with a lack of support in ticket sales last month — of the new racing surface that was altered to include variable banking in 2007. The half-mile oval at Thunder Valley held the sparsest audience for the Food City 500 since the track expanded its seating to 160,000 in 2002.
"Everybody in Bristol was trying to make the racetrack better, and in the end it didn't work for them," former Bristol winner Kevin Harvick said the following week at Fontana. "The telltale sign of that was standing in the infield and looking at the crowd. It used to be years-upon-years of waiting lists.
"When you take a risk like they took on changing the racetrack with engineers, and thoughts, and whatever process they went through, you're taking a big risk. Now they are going to pay probably the ultimate [price], just because of the fact they changed it. Now they've got to change it back."
Although Dale Earnhardt Jr. wasn't consulted regarding the upcoming changes, the winner of the 2004 night race thinks that part of the track's magic escaped when the apron was changed in the repave.
"There's only one thing that's particular to me about the old racetrack that made it different," said Earnhardt.
"This particular thing to me about the old racetrack made the difference in the track entirely, and without it, I'm not sure how good it can be. With the old surface, the yellow line around the bottom of the track was about a foot up away from the apron, and the apron was sealed — black — quite often. They would seal all the way up to the line. That sealer is grippy.
"So there was about a foot of sealer on the very, very bottom of the racetrack right above the apron, and then there would be the yellow line. And if you were smart, and you hooked your left front tire on that sealer and didn't overdrive the car and get the car up off that, you could find grip and find speed.
"If you were smart enough to do that and be patient, you could make speed on guys who weren't smart enough to use that. It made the racing look better and made the race funner from the driver's point of view, too. Without that, I don't know if that track will be as good as it was."
The proof will be in the racing come August.
Pressure-packed
David Reutimann received a rash of criticism following the Martinsville Speedway race after his car stalled on the track with three laps remaining in the race.
Reutimann's defense was the necessity "to finish the next couple of laps to try to stay in the top 35" in points and secure a guaranteed starting position for the No. 10 Tommy Baldwin Racing Chevrolet in upcoming events.
While Reutimann has historically been a stout qualifier, his situation is complicated due to sharing his ride with Sprint Cup newcomer Danica Patrick. However, Patrick, who finished 38th in her Cup debut at Daytona after she was swept up in a five-car wreck on the first lap, doesn't seem concerned.
"I feel pretty confident in the car and Tommy Baldwin to get it in the top 35," said Patrick, who will make her next start at Darlington Raceway on May 12. "They're a great group, and they're working really hard. We haven't talked about a backup plan, but there's always that backup plan that, if you have to qualify, that's what you do."
Numbers game
4: Sprint Cup drivers (Jeff Burton, Jeff Gordon, Mark Martin, Bobby Labonte) who have competed in all 22 Texas Motor Speedway races.
31: Nationwide Series starts for Danica Patrick, including Friday.
45: Nationwide Series entries for the O'Reilly Auto Parts 300.
Say what?
Sam Hornish Jr. on breaking in the new Texas Motor Speedway Media Center set: "I feel like I'm going to anchor a news show or something.