CUP: Richard Petty, Family Sit Down With SPEED For 'Tell-All' Special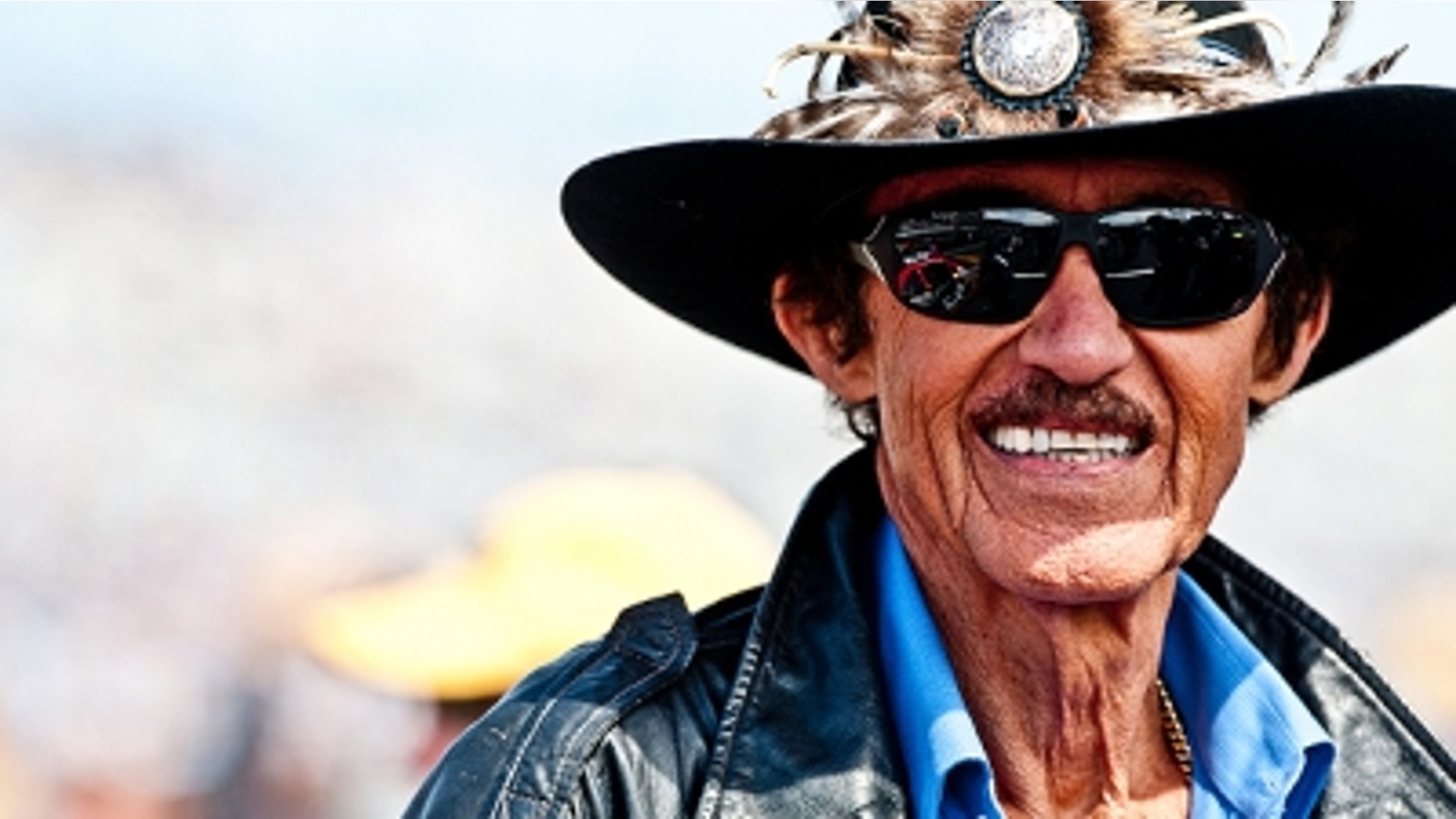 AT KING'S REQUEST, RICHARD PETTY & FAMILY SIT DOWN WITH SPEED FOR ONE-HOUR 'TELL-ALL' SPECIAL
A RACER'S LIFE PREMIERES FEB. 18 AT 8:30 P.M. ET WITH RARE, PERSONAL INTERVIEWS WITH NASCAR LEGEND AND HIS FOUR CHILDREN
"The King" was on NASCAR Race Hub with me last spring, and when we finished our interview, he removed his mic, looked me in the eye and said, 'Hey, you need to come to Randleman and interview me for about three or four hours about everything. You need to ask me anything and everything. We need to put that together,'" SPEED host Steve Byrnes said. "I was blown away. He knows we need to record history and I think this was his way of doing it."
Richard Petty's request to divulge intimate details of his and his family's life is embodied in a one-hour SPEED special premiering Feb. 18 at 8:30 p.m. ET. A Racer's Life features rare, personal and insightful interviews with Petty and his four children – Kyle Petty, Rebecca Petty Moffitt, Sharon Petty Farlow and Lisa Petty Luck. Also included are interviews recorded with wife Lynda in 2009, most of which have never aired before.
This intimate look at the Petty family include topics ranging from Richard and Lynda's courtship and marriage to raising their four children, the couple's deep love for each other, the impact of Richard's career on his family, Petty family tragedies, Lynda's current health status and his longevity in the sport.
Producer Pam Mariani says her biggest challenge was exposing a facet of the Petty story that hasn't already been portrayed numerous times in the past.
"The challenge from the word 'go' was delivering stories that either the public never has been told or rarely has been told," Mariani said. "That's why we interviewed Richard's family first - to uncover some personal topics he probably wouldn't have volunteered on his own. We tried not to focus on racing but instead on everyday topics with which every family deals."
Below are excerpts from the SPEED special:
On maintaining his residence in his hometown of Randleman, N.C.:
Richard Petty was born and raised in Randleman, N.C., and more than 70 years later, still calls that same piece of earth home because it is there where he can be a "regular guy."
"This is home," Richard said. "A lot of people (in racing) move to another community and they aren't the same people because the people around them won't let them be the same people. Here, if I go to town or church or school functions, it's 'Hi Richard, how are you doing?' It's no big deal. You're just one of the gang, and that's the satisfying part of being at home."
On courting Lynda:
Amidst all the wins and fame, there is one girl who kept Richard grounded, a local girl who became the love of his life. Richard married Lynda in 1958 when she was 17 and still in high school. He was 21 and his career had just begun. The couple eloped in South Carolina and kept it a secret, waiting until he could afford a ring.
"I brought her home, dumped her out in the middle of town, she went into her house and I went home," Richard recalled. "I took me three or four months to get a diamond for her, and by the time we got the money, I bought a diamond and told everybody we were married."
On dividing family duties and raising children as a couple with Richard away from home:
Establishing his family and bringing his first child into the world came about the same time Richard's career took off. With two victories to his credit when Kyle was born, Richard says he and Lynda clearly defined their individual responsibilities within the family.
"We sort of sat down and said, 'This is how it's going to be,'" Richard related. "'I'm going to go out and I'm going to be gone but I'm going to make the living. You bring the kid. Make sure he's fed. You do your part and you pay the bills. I'll bring the money in and throw it on the table. You take care of everything.' That's the way it worked. She had her responsibilities and I had mine."
Fighting for his family's financial survival sometimes turned life's proudest moments into a luxury Richard couldn't afford. Racing forced him to miss Kyle's birth.
"My mom will tell you that all she remembers about waking up was that when she woke up from having delivered me was she had a baby boy and a black eye that was swollen because the doctor had punched her in the face because she had screamed so loud," Kyle related. "She never says anything about the King being there."
As Petty's stock car kingdom was growing, Lynda ruled at home, and disciplining their four children rested solely on her shoulders.
"I was the one, and you can ask them … you'd ask Kyle, 'Did your daddy ever whip you?' and he'd say, 'No, but my mother wailed the daylights out of me.,'" Lynda said in a 2009 interview. "I disciplined and I never even bothered Richard with it. I didn't want to put the fear of God in him that he was going to beat his children to death for doing something, so I took care of them and they loved him to death and still do."
On being tough and racing when injured:
Richard drove during the golden age of racing – a time when injuries came with the territory. However, when paychecks are earned on the track, lengthy recoveries weren't an option. The King says he raced countless times with broken bones and probably competed with a concussion every other weekend.
"He was in the hospital because he had a bleeding ulcer and they came in one night and said, 'Mr. Petty, we're probably going to let you go home in the morning,'" Farlow recalled. "So he thought, 'The morning?' So he put his clothes on, went down the fire escape, got home, beat on the door. Mama didn't heard it because their bedroom was on the end of the house, so he goes to her bedroom, started beating on the window, scares her to death, checks the window, and there was Daddy. She'd just left him at the hospital. He just is not a good patient."
"No matter how bad you hurt, your mind is what tells you, you hurt," Richard explained. "So, what you tried to do was control your mind so that you didn't hurt. For some reason I was fortunate to have a threshold that pain doesn't bother me like it does some people."
On tragedies the Petty family endured:
The Petty family's life wasn't all one big Victory Lane celebration. Lee Petty nearly lost his life on the track, and the family suffered the tragic loss of Richard's 19-year-old grandson, Adam, in a race car. The Petty triumphs always have been tempered by tragedy.
"Our life isn't a lot different than a lot of other people's lives," Richard pointed out. "We're just in a different arena. We're in racing where people pay attention and they think you're on a pedestal. You're not. You're just a regular guy doing a different job. My job was racing. Kyle's job was racing. Adam's job was racing. And once something like that happens, then we look around and say, 'Why me?' But it's happening all around the world and to other people, too. There's more attention thrown to us than what our neighbors would be. They're going through the same situation just with a smaller crowd of people.
"We had looked at Adam as being the next Petty taking it to the fourth generation," Richard continued. "Whatever it took, we was going to give him what we thought was the best so he could go forward, and the good Lord didn't see it fit like that. He said, 'This is the end of that dynasty.'"
On Lynda's current health:
In 2010, Lynda was diagnosed with a brain tumor and cancer of the central nervous system. She is cancer-free now but the treatments didn't come without side effects, which Richard says include numerous mini-strokes and a less physically-active state.
"They've always had an ability to communicate," Luck said. "It makes me sad … He still calls her twice a day if he travels and even though she can't really remember that he's called, she always lights up when she hears his voice on the phone. He always says, 'I love you,' and she always says, 'I love you too.' Even though there isn't a lot they can communicate about these days, they always tell each other they love each other."
On his longevity in the sport:
"I've been here 60 years at the race track," Richard stated. "I went to the very first race and I've been to 99-percent of them since then. It's my home. It's my life. I think when people see me and talk to me, they realize how much I really loved what I did and I love what I do now. There's very few people who can say that … I'm just going to sort of hang onto what's going on and enjoy the rest of my life."
"He's been there to all those races from the first to the last one that was run, and he still remembers so much of that," Kyle said. "It's so deeply embedded in his hopes and dreams and his psyche that Richard Petty without racing wouldn't be Richard Petty. He would just wander around up there in that house … Racing is his connection to life and he has to go have it every Sunday to get that influx of excitement and that influx of people in the sport, the smell of gasoline and rubber, and being around people who love the same thing he does. That's where he gets his life force or his energy from."