CUP: Red-Hot Johnson Targeting Title No. 6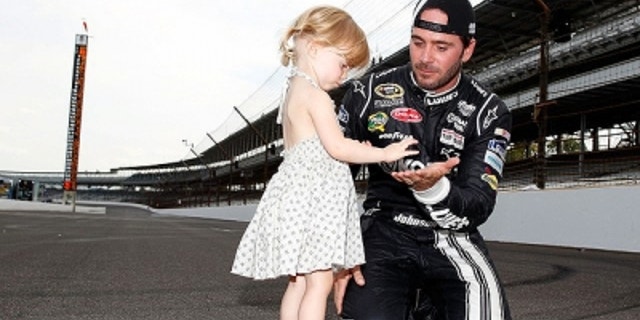 Sunday's Crown Royal 400 at Indianapolis might have been a statement race for Jimmie Johnson.
And, if that's the case, Johnson's ride toward a sixth Sprint Cup championship is well underway.
Johnson was so dominant Sunday in one of the season's most important races that second-place Kyle Busch basically wrote off any chance of catching him. Johnson was not only in his own zip code, Busch said, but also in his own country.
The victory capped off a 10-race run in which Johnson has won three times, has posted five top fives and has clearly established himself as one of the top three – if not the top – threats to win this year's title.
It's the kind of momentum that brings back memories of Johnson's five straight championships from 2006 to 2010, a string finally broken last season by Tony Stewart.
Johnson, Stewart and Brad Keselowski lead the series in victories with three each, which would put them atop the standings for the Sept. 16 start of the Chase for the Sprint Cup.
"I feel that from a performance standpoint, we're as strong as we've ever been," Johnson said. "We've had issues late in a race that's cost us track position for a variety of reasons, and that's the part that we need to make sure is buttoned up before the Chase starts and carry that through the Chase.
"But from a performance standpoint, these are amazing race cars. We've made a lot of progress through the off‑season and then getting started this year. I feel really good about the Chase. I'm ready for it to start."
Johnson said he felt like he had a winning car during Indy practice Saturday but wanted a little more from the car.
"I think that I feel as though that the product we're bringing to the race track right now is very competitive week in and week out, and once again, it's in the details," crew chief Chad Knaus said. "Jimmie does a fantastic job of driving the race cars. But he can't clearly do it without good pit stops and a good race car, and Jimmie communicating what it is that he needs in the race car, how comfortable he is in the car, much like what he did yesterday, he was able to say, look, the car is good, we may be a half a tenth off the pace, but the car is good."
Johnson said his current cars are "far superior" to the ones he drove in last year's Chase.
"I feel like our shortcomings of last year are corrected right now, and that's why I want the Chase to start immediately, so we don't have time to be caught or lose our magic," Johnson said.
"It's tough to stay on top consistently week in and week out and for a long stretch of time. A 10‑race stretch is just long enough to have some magic and watch it leave. You watch Tony and what he did last year and the magic he pulled through."
Johnson and Knaus have six more races before the start of the Chase to make their cars even better. It could be a long autumn for everyone else if they do.
Mike Hembree is NASCAR Editor for SPEED.com and has been covering motorsports for 30 years. He is a six-time winner of the National Motorsports Press Association Writer of the Year Award.